The Giggs omen
Ryan Giggs has a 100% winning record versus Olympiakos. Could he be Manchester United's lucky charm as history repeats itself in a period of transition?
By Words: Peter Fraser (@SkySportsPeteF) Graphics: Richard Byrne
Last Updated: 25/02/14 10:39pm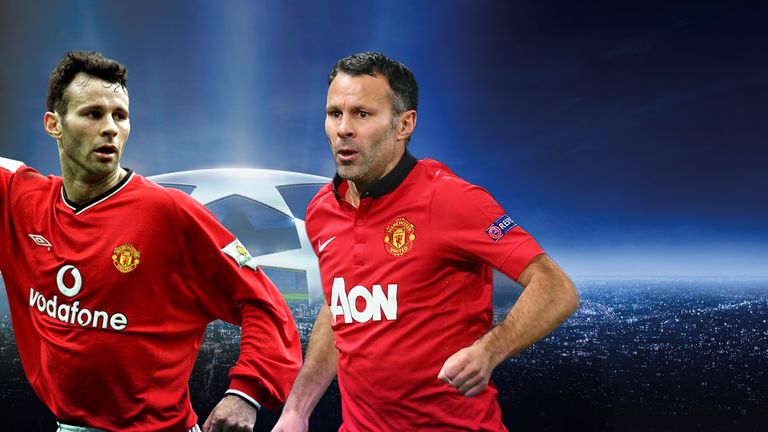 In what has been almost a quarter-of-a-Century at Manchester United, in more than 950 appearances and more than 160 goals, Ryan Giggs has faced more opponents than many could contemplate.
There have of course been certain teams against whom the now-40-year-old, who presently combines his ongoing playing career with a role as a United coach, has enjoyed a particularly good record. For example, since the beginning of the Premier League in 1992/93, Giggs has a 100 per cent winning record against Watford, Barnsley, Bradford City, Hull City and Blackpool while he has lost only once in 15 games against Coventry City. Similarly in that era, he has won more games (25) and scored more goals (10) against Tottenham Hotspur than any other English top-flight opponent.
In Europe, Olympiakos are another such club. In United's four meetings with the Greek side, stretching over more than a decade, Giggs has started each game and has been on the winning side on every occasion. It is his best record against any opponent in the UEFA Champions League. Not only that but the Welshman also scored three times in those matches.
It is a positive omen as United, who need some luck in a poor season, prepare to again meet Olympiakos in the European Cup. But perhaps more interestingly, before Tuesday's last 16 first leg at Stadio Georgios Karaiskakis - when Giggs could make his 150th Champions League appearance in what will be United's 250th appearance in the European Cup, is that those past encounters came in the 2001/02 and 2002/03 campaigns. As in the case of the present day, they represented a critical era in the transition of United as a club.
Giggs first faced Olympiakos back in October 2001. It was a group game in Greece. He was not on the scoresheet that evening but played the full match as one of the advanced three in an early Sir Alex Ferguson flirtation with the now common 4-2-3-1 formation. United won the game 2-0 and it was Giggs' cross which led to the first goal from David Beckham, just four days after the England captain's free-kick against Greece had secured qualification for the 2002 World Cup. Andy Cole would make it 2-0 in the 82nd minute.
In the return fixture of that 2001/02 group stage, later in that same month of October 2001, Giggs again played the full 90 minutes. United won this Old Trafford meeting 3-0, securing their qualification for that season's Champions League's next round with a game to spare. But United had left it late to earn the win, with super sub Ole Gunnar Solskjaer only opening the scoring in the 79th minute. Giggs' goal was the second in the 88th minute and Ruud van Nistelrooy scored United's third before the final whistle.
United would ultimately progress from that first group stage as runners-up to Deportivo La Coruna and qualification meant a second group stage during UEFA's short-lived experiment with that element of the competition's format. Ferguson's team were even more successful in that second group stage, topping their group ahead of Bayern Munich, and they would also go on to reach the semi-finals before being upset by Bayer Leverkusen on away goals.
Although they did not reach the final, it was clearly a relatively successful 2001/02 European season for United. But it also meant it was a strange campaign when compared to their domestic form.
The 2001/02 season was one of United's evolutionary domestic eras under Ferguson. The United boss had announced at the start of the campaign that he would be retiring when it finished and that decision severally affected United's form. Ferguson would famously perform a U-turn on his decision and went on to manage United for another 11 years before retiring last summer but United still dramatically struggled in the Premier League and FA Cup in 2001/02.

In the Premier League, owing largely to losing six home games, which equalled their record low, United finished third. It was their lowest finish in the Premier League at that time. They were 10 points behind champions Arsenal, who did not lose an away game all season and secured the title with a 1-0 win at Old Trafford in their penultimate game, and three points behind runners-up and fierce North West rivals Liverpool. Arsenal were also Double winners after lifting the FA Cup. Meanwhile, United were also dumped out in an early round in the FA Cup, exiting in the fourth round after being beaten by Middlesbrough.
Ferguson's retirement plans, before they were scrapped, appeared to give United's rivals an advantage. But Ray Parlour, who made 40 appearances in all competitions for the Arsenal side who did the Double in 2001/02, remembers he and his team-mates did not view the potential departure of United's manager as an advantage. Parlour, who was speaking at a Vauxhall Football Mash Up event in Paddington, told Sky Sports when asked whether Arsenal viewed it as an advantage: "Not really. All the players at United were top class and knew they still had to do their job. It was always tough playing against United. From 1998 onwards, it was always United against Arsenal for the league so we knew if we could get one over on them, we had an advantage. It was a weird season in 2001/02, because we had won the FA Cup four days before we played United at Old Trafford. We wanted to celebrate the FA Cup but had to play Manchester United on the Wednesday night. We knew we had to go to Old Trafford and get a result. They would have loved to have turned us over that night but we were excellent. We knew we had to be at our best."
Regardless of Parlour's opinion on the Arsenal stance, the history book suggests otherwise. United struggled and the echoes, the prospect of life after Ferguson and domestic shortcomings contrasting against European progress, are similar to this season's current 2013/14 campaign under David Moyes.
United would again find themselves in the same Champions League group as Olympiakos in the 2002/03 season and Giggs once more started in both the home and away matches. In the first game, this time in October 2002, with United unusually playing in their changed away blue kit at Old Trafford due to the referee deeming an apparent clash between their home shirts and a red stripe in Olympiakos' shorts, Giggs was substituted after 69 minutes. However, this was more in appreciation of his performance than a negative reflection.
Giggs was enjoying a rejuvenation in form which had also brought about an uplift in the fortunes of the non-retiring Ferguson's United. It had previously been a scruffy start to the campaign, which had seen them drop 10 points in their first six Premier League games despite the record-breaking summer signing of £30million Rio Ferdinand. United had also begun the season with a shock 1-0 first-leg loss to Hungarian minnows Zalaegerszeg in the Champions League qualifiers before coming back to win the second leg 5-0.
That first game against Olympiakos in 2002/03 was the fifth in a run of seven wins in nine-games unbeaten in all competitions and Giggs had already scored twice by the time he was substituted. Firstly, he reacted the quickest to finish from close range following Paul Scholes' square ball in the 19th minute and, secondly, he was credited with another goal in the 67th minute despite his cross-shot appearing to deflect off Olympiakos defender Georgios Amanatidis. Juan Sebastian Veron and Solskjaer were United's other goalscorers on the night as Olympiakos were beaten 4-0.
In the return game in Greece later that October, Giggs did not score and was substituted in the 63rd minute. This was because United were cruising and two goals in front through efforts from Laurent Blanc and, again, Veron. However, Giggs' departure from the field represented a change in fortune and Olympiakos fought back to 2-2. Paul Scholes duly had to give United a trademark, dramatic 3-2 victory with an 84th minute winner to secure qualification. United would go on to top the group and once again did likewise in the second group stage ahead of Juventus. However, they would lose a thrilling quarter-final 6-5 on aggregate to Real Madrid courtesy of Brazil legend Ronaldo's famous hat-trick at Old Trafford.
But unlike the previous season, when European success was contrary to domestic form, United would win the Premier League having overtaken Arsenal. There had been a 15-point swing in points, with United lifting the title ahead of Arsene Wenger's dethroned champions by five points. United had gone out in the fifth round of the FA Cup after losing to holders Arsenal, who would also defend the cup, but they enjoyed a relatively good season in the League Cup. United reached the final in that competition before suffering a painful defeat by Liverpool.
Amid all of this, and while United were changing around him with fortunes going up and down, Giggs had been a presence, playing 128 club games, excluding the Community Shield, between 2001/02 and 2002/03.
Moyes is no doubt sick of being reminded of his club's history and it is folly to suggest the past is repeating itself amid the current turmoil at Old Trafford. But it could be possible to look at the transition between 2001/02 and 2002/03 - the managerial uncertainty which shrouded that time, and domestic struggles in contrast to European success - in an optimistic sense. And any extra positives are an advantage in what is proving to be Moyes' tricky first season in charge. Giggs' past 100 per cent record versus Olympiakos offers encouragement but so too do those similarities to the past.
United progressed as winners of this season's relatively-straightforward Champions League Group A without too much fuss and it means they will again meet Olympiakos in European competition. They are favourites to beat Michel's side regardless of the Greeks enjoying far better domestic form this season, having dropped only four points in their domestic top flight alongside a 100 per cent home record.
Given the completely unpredictable nature of United this season, and regardless of the Old Trafford club's overall unbeaten record against Greek opposition in all competitions, anything could happen in the Champions League and beyond. But Moyes' United could do worse than have yet another look at history.
Ray Parlour was speaking at Vauxhall's Football Mash Up, which is aimed at getting more 14 to 17-year-olds playing football for more information go to www.facebook.com/footballmashup