Manchester United players under more threat than David Moyes, says Gary Neville
Man United's players are in more danger of getting the chop than David Moyes, says Gary Neville
Last Updated: 27/02/14 6:55pm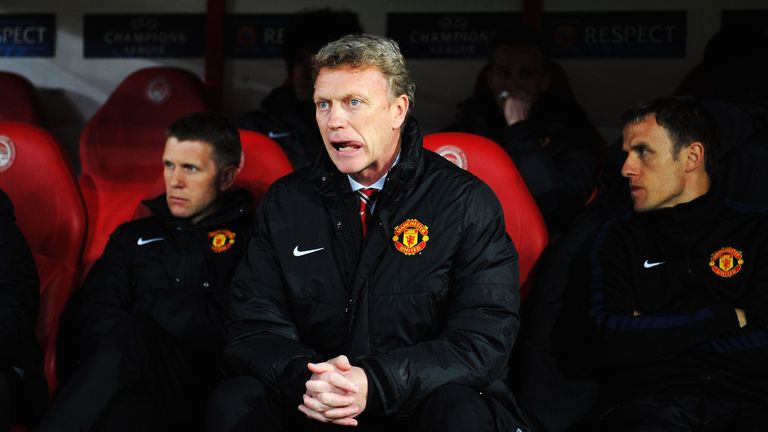 Neville joined Geoff Sheeves on this week's Champions League Podcast where he reiterated that Moyes will have the backing of the board despite the under-par results this season.
"I said earlier on in the season the players will be in more danger than the manager," said the former United captain. "The way in which Manchester United have always worked is to give the manager time and I believe in that philosophy.
"Managers are getting sacked after 70 days but to even think of sacking a manager after seven months is nonsense, so I think [United] will support Moyes.
"You look at the people on the board, and we're talking about the Glazer family and whether they've ever been put in this position before.
"But you look at the likes of David Gill, Sir Bobby Charlton, Sir Alex Ferguson - who are obviously the main football people at Manchester United - and I don't think for one second it will be crossing their minds at this moment in time.
"The players will be more at threat and feeling nervous about whether they are part of the future."
Time and money
Neville's comments come off the back of another disappointing week for United who were beaten 2-0 by Olympiakos in the first-leg, last-16 fixture, but he insists that his former club will stand by Moyes and offer him money to develop his squad over the summer.
Neville added: "I think Ed Woodwood said as part of his shareholder announcement a couple of weeks ago that the money would be there for Moyes to invest in the summer.
"I truly believe Moyes will get given the opportunity at Manchester United to complete his work.
"I've said myself, two to three years is the time that should be given to a manager for him to try and do a piece of work - there will be people who will disagree with that but that's my opinion and you won't change that.
"Sir Alex Ferguson got given two to three years and now people turn around and say that's 25 years ago, well alright, what's changed? Are we saying managers can't get given time now?
"I don't know what the board are going to do but my view of that club, which is the way they always speak and the way they've always behaved, is that managers get given time - Ron Atkinson gets given time, Dave Sexton gets given time, Sir Alex Ferguson gets given time.
Safest
"A lot of the same people are still there - Sir Bobby Charlton, Martin Edwards is still around the club.
"The people who are there believe in the philosophy around the club and have been at United for many, many years and that's why they've given David Moyes a six-year contract.
"I have to say at another football club, whether it be Chelsea - we saw with Andre Villas-Boas who was sacked - or Tottenham, Moyes would be in a lot more trouble.
"But he's at the club that you'd say he was probably safest, where the club will stand by him - think about Sir Alex Ferguson, he's public on his philosophy around giving people time.
"It probably jars against what most clubs are doing these days but, that's the Manchester United way and always has been and they would have to change that philosophy.
"In terms of an acceptable season it's gone because Manchester United have to win a trophy - that's the barometer of measuring Manchester United's seasons.
"It's not acceptable that Manchester United don't win a trophy, it's not been acceptable for 25 years, it's not going to change this year."