Football Expert & Columnist
Wayne Rooney: Jamie Carragher says striker has all the credentials to become Man United captain
Sky Sports expert reckons Old Trafford side are still better WITH Robin van Persie
Last Updated: 12/03/14 4:17pm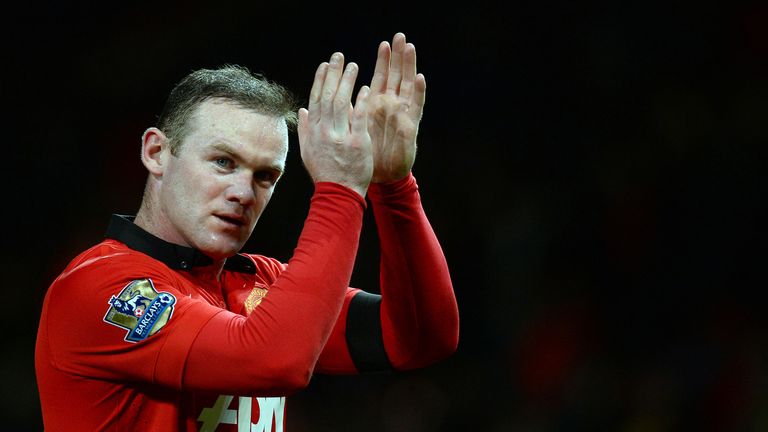 Only David Moyes knows whether he sees a striker filling that role for him - some managers like their skipper to be right at the centre of things in midfield or at the back - but I don't think many people would have qualms with Rooney getting the armband.
Wayne - who wants to captain club and country - could see his claims strengthened at United by the fact Nemanja Vidic is definitely off to Inter Milan, there are doubts over the future of Rio Ferdinand, and Darren Fletcher doesn't always play.
These situations mean Moyes might not have senior players in your typical captaincy positions but if Rooney did get the job I don't think it would be by default, but because he deserves it.
He is experienced and more mature now and while he is very demanding of his team mates - you often see him getting frustrated when he sees things he doesn't like - I know from my time with him at England that he can speak to people in different ways.
Wayne leads by example and while I don't think he has been at his absolute best this year - which is understandable considering the players around him have struggled - he has dragged results out for United and they would be in a much worse position without him.
Perhaps fans in this country forget sometimes how special a player Rooney is because we have been familiar with him since he burst on the scene against Arsenal at the age of 16, and because lots of exciting, new people come to the Premier League each summer.
But he has been United and England's talisman for a while and after committing his future to his club for another five-and-a-half years, I think he would make a great captain at Old Trafford.
Age
Whether Rooney partners Robin van Persie up front for United next season remains to be seen, though, and while it would be a slight shock if the Dutchman left, I'm not sure it would be a massive surprise.
Van Persie is a top player - I think everyone agrees that he won United the Premier League title last year with his 26 goals - but he is 31 in August, has been hit by injury this season and in the past, and is on extremely good money, so those things could come into account.
Van Persie was also a Sir Alex Ferguson signing so we don't know if he fits into what Moyes, who is trying to stamp his authority on the side after a tough start, is trying to create.
I still think United are better off with him as he is a world-class performer and there aren't too many of those about, plus, if he did leave, there does not seem too many places where he could end up.
As good as he is, the age, the injuries, the transfer fee and the wages could put off other clubs, even though they know that if he is fit and firing he will bang in the goals and boost their chances of winning things.
You couldn't say Van Persie would be a long-term singing as while 31 is not ancient by any means, centre-forwards don't tend to go on as long at the top level as centre-backs or defensive-midfielders.
In-house
I haven't particularly liked Van Persie coming out and saying a few things about United's struggles this year, though, as I feel those things should stay in-house and you should have the old 'win together, lose together' mentality.
He might have been misinterpreted - only he knows that - but Moyes seems pretty unbothered by the comments about his team-mates and I don't think too big a thing will be made of it as United try to end the season on a high.
I think top four is gone for them now but their next few fixtures give them a chance to make a big statement - they have got Liverpool on Sunday as well as Olympiakos in the Champions League and Man City in the Premier League to come, all at Old Trafford.
Good results in those games will give the fans, the players, David Moyes and the whole club a massive lift - and prove to prospective new signings that United are a big force.
Champions League football might be slipping away, but there is still plenty to play for.
The great sport keeps coming during Magnificent March. Here are some of the highlights you can enjoy with Sky Sports.