Chris Kamara: Manner of Liverpool loss will disappoint Man Utd fans
Kammy blogs on Liverpool's derby win at Old Trafford, the North London derby and explains what happened with Hawkeye when Fulham beat Newcastle...
Last Updated: 18/03/14 6:03pm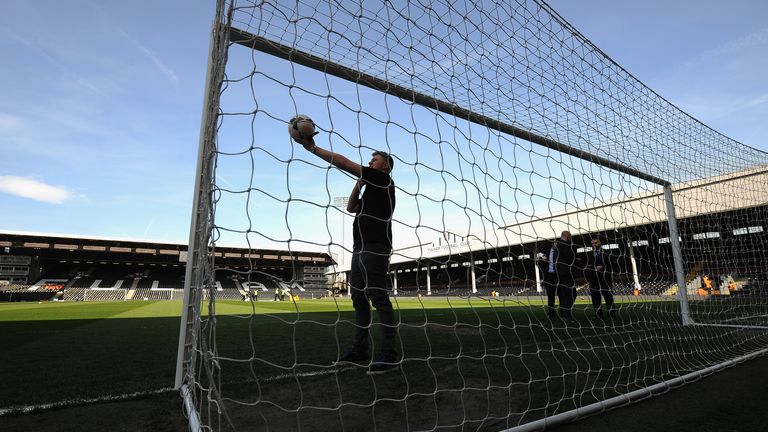 It absolutely looked like a goal but referee Howard Webb hadn't received the buzz from the Decision Review System to say it was so play went on and the game remained 0-0.
I was there watching the game for Soccer Saturday and at this point Jeff Stelling throws to me from the studio almost immediately after the incident and I said to him, 'from the naked eye that looked over the line but obviously Hawkeye hasn't buzzed Howard Webb so could it be wrong?'
All I said was 'has Hawkeye failed us for once'?
We waited several minutes for the footage - Hawkeye's evidence - to be shown to us; imagine if that was going to be determined on the side of the pitch, it would be impossible.
It's made impossible because the TV companies - not Sky Sports for this match - who at the game on the day have to send the replays through to Hawkeye and that took 15 minutes. How on earth can that be viable?
There was nothing arrogant about me asking the question of Hawkeye; we were all desperate to see the result. Once we had seen the ball was on the line we gave Hawkeye the biggest credit, which we did again on Goals on Sunday. This incident just goes to show that technology was needed and should always be there.
Mail On Sunday journalist Martin Samuel said 'the arrogance of football folk was encapsulated' with my report but if he understood the circumstances and how it was portrayed he would see that this is all in favour of Hawkeye, not against it. I'm disgusted that he said 'arrogant football folk' would do that because there's nothing arrogant about it.
When Jeff and I had both seen the evidence we praised Hawkeye because we want goal-line technology - I've been preaching it for years and years and years - so I'm not going to be arrogant and say it shouldn't be used, that's one thing for sure.
We should always be able to ask 'is it right?' when we see something, it can't just be a case of 'you've got to take what we've shown you', especially from the naked eye.
I don't mind if I'm wrong because I hold my hands up and say I'm wrong but all I asked - and what everyone in the ground was asking - was did the ball cross the line?
It would have been a disaster had DRS not have got the decision right but we have to say it did and proved just how well it works.
This is the best thing that could have happened for Hawkeye and it's beyond me how someone can make that into a story in a national newspaper.
The title race is heating up
With Chelsea dropping three points at Villa Park, Manchester City grinding out a 2-0 win at Hull City with 10 men and then Liverpool getting a fantastic 3-0 win at Manchester United, the pressure was on Arsenal to keep up the pace at Spurs, which they did.
Tottenham boss Tim Sherwood can come out and say 'we played them off the park' as many times as he wants but as far as we're concerned no one is going to remember that at the end of the season, they'll just remember the three points and where you finished in the league.
It's good for Arsene Wenger to know that even though his team didn't play well, they didn't concede and took something from the game that they might not have got anything from.
Sensational Liverpool
Everybody seemed to expect Liverpool to beat Manchester United and that makes the result even worse for David Moyes' side.
They were sensational and if I was Roy Hodgson I would give Daniel Sturridge the role that he plays at Liverpool for England and also give Steven Gerrard, Jordan Henderson and Raheem Sterling the roles they have as well.
Just look at these players, don't try and fit them in to your system let the system that they're most comfortable in be the one you use and try and be successful with it.
This will hurt Moyes
The big problem for United is the manner of this defeat and the manner of all their defeats. If Torquay, who are bottom of League Two, got to play against Liverpool they would be up for it like nothing else. They might end up getting beat but they would perform brilliantly and they put in a performance as if their life depended on it and it would be like a cup final.
So if the team at the bottom of the Football League could give one of the big teams a go in a one-off game, why does it seem like Manchester United can't? And they desperately need to do so in the midweek Champions League game against Olympiakos.
Moyes needs to get those players to feel that each of these games is their final swansong. They should have been playing against Liverpool like their lives depended on it, they should have been trying to win challenges and stop them from playing; the manner of the defeat, not the actual defeat is what hurts the fans.
The one thing Manchester United always did when they had the likes of Beckham, Giggs, Scholes, Neville and Cantona was that they outfought people before they showed their own class and quality and at the moment we don't know whether United have got that class and that quality because they haven't outfought anyone.
People have spoken about how unconvincing Robin van Persie has been recently but he's not the only one. When the form goes it's the whole team not just one player and it's hard to fathom out why it's happening and why it continues to happen. Manchester United fans, players and the manager are at their lowest point.