A gift for Moyes
Manchester United worked hard for their win over Olympiakos, but they will have been surprised by how easily the Greek champions collapsed. Matt Stanger wasn't impressed...
By Matt Stanger
Last Updated: 20/03/14 6:47am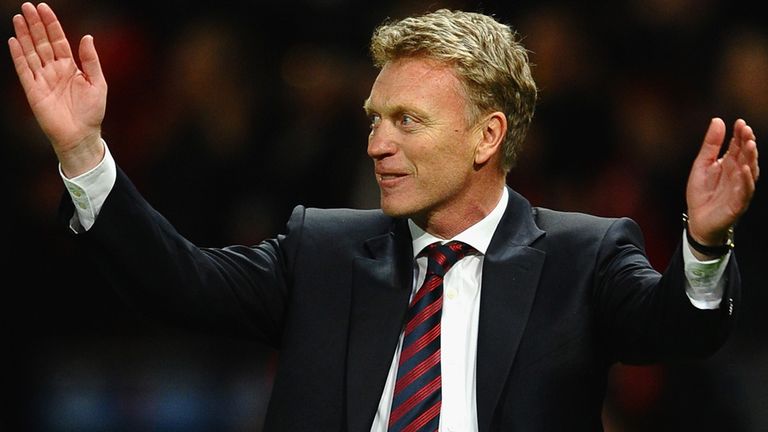 "He's finding it tough," was Gary Neville's appraisal of David Moyes before Manchester United's 3-0 victory over Olympiakos. "He's going to have to come out of it quickly. At the moment these fans have stuck with him...but it won't take too much longer because the performances have been so dull. And you can't be dull; you can lose - United have lost games over the years, they've lost championships - but never be dull. Always have that fire at the end of matches and die trying."
United certainly weren't dull on Wednesday as they snuffed out a 2-0 first-leg deficit in the first half and then scored a third after the break to secure their place in the quarter-finals. It was perhaps Moyes' greatest night as manager following the nadir of the humbling defeat to Liverpool on Sunday. But it was not an occasion on which to judge whether he can escape his predicament.
That was ensured by the visitors being so utterly woeful. The embarrassment of United's first-leg defeat - their worst performance in Europe, according to Moyes - is that Olympiakos are clearly a much inferior team, waiting to be carved open with even a modicum of invention. On Wednesday, that proved to be the case. Two exquisite searching passes from Ryan Giggs, two occasions when Robin van Persie was inexplicably unmarked in the box, and United were back in the driving seat.
In truth, United were gifted victory in a manner so pathetic that it mirrored their own efforts against Liverpool. Olympiakos may have created two excellent chances to snatch an away goal before the break but, on the whole, they were dreadful. Why was Van Persie left in so much space, ruthlessly exploited by Giggs? Why did Jose Holebas believe it to be a good idea to bundle into the striker, thus presenting United with the penalty to get the ball rolling? Why was Van Persie again left completely free in the box to tuck home Wayne Rooney's cross on the stroke of half-time?
All questions that will surely play on the mind of Olympiakos coach Michel for some time. All questions that will presumably be ignored amid the talk of Moyes' Mark Robins moment. Except Mark Robins was nowhere near the same level as United's hat-trick hero against Olympiakos. It's seemingly easy to forget that the current squad won the Premier League by 11 points last season.
The champions played with purpose and desire, heeding Moyes' calls for an early goal, but the supposed 'boost' of their 3-0 victory had died away even before the referee blew the final whistle. Following Van Persie's free-kick - which drifted two yards to the side of a motionless Roberto - the hosts retreated back to the safety of their own half. Seven of Olympiakos' 13 attempts came in the last 35 minutes - compared to just three United efforts in the same period - as Michel's side made Moyes sweat in that uncomfortable manner that has become so familiar.
A better team would have punished United's lack of confidence - a lesson they may be forced to learn in the quarter-finals. While Olympiakos tickled, Bayern Munich will probe. When Barcelona create clear-cut chances, they don't usually pass up the opportunity. Even West Ham will provide a tougher test on Saturday, before next Tuesday's Manchester derby at Old Trafford. That is the real examination for Moyes, not Wednesday's mock test that made a mockery of the Champions League knock-out stage.
Perhaps this will eventually prove to be the first step on the road to recovery for Moyes - although it seems enormously unlikely - and the manager was certainly in buoyant mood after the game. "The players were incredibly committed," he said. "They're hurting as well, they know we're not doing as well as we should be doing. Tonight they put it right. They deserved it." He will need to see much more of the same in the next two matches and over the rest of the season to avoid the pressure mounting any further.
Matt Stanger - follow him on Twitter.