Manchester United 'transformed' ahead of West Ham trip, says David Jones
Man Utd can target a fifth-placed finish after their Champions League boost, says David Jones.
Last Updated: 20/03/14 9:58am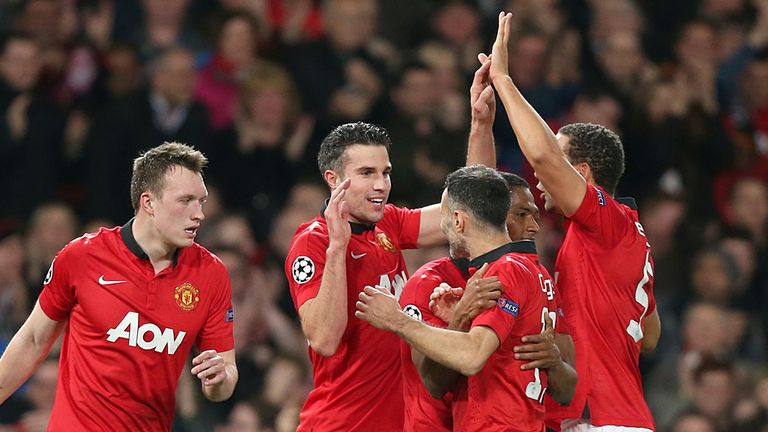 In many ways the scenario and the opposition were perfect for them after Sunday's humiliation against Liverpool, but the 3-0 victory over Olympiakos can have a major impact on the rest of United's season.
Moyes can take huge credit for the transformation of his team within the space of just three days - and the bold selection which finally brought the best out of Wayne Rooney and Robin van Persie.
As Gary Neville predicted before the game, Danny Welbeck's pace proved a potent weapon, as did the probing passes of Ryan Giggs; afforded time and space he would never have enjoyed against Liverpool.
And three goals finally brought a wide smile back to the face of Van Persie - a striker who tends to score in streaks, he may be ready to finish the season with a flourish.
It was refreshing to see Moyes look so relaxed and appear so upbeat in his post-match interview, too: and that positivity really can spread to the terraces and the dressing room.
Now they can look forward to a jam packed end to a campaign which will still most likely end as their worst ever in the Premier League.
But surely fifth place will be United's target now: victory at West Ham on Saturday Night Football would be their third on the bounce away from home and would take them within two points of Spurs who play on Sunday.
And having reached the last eight in Europe, they should be able to play with a freedom that has looked beyond them for much of this season.
Then after the Hammers come Manchester City and what more incentive do United need than to hurt the title chances of their nearest and dearest?
Danger
Saturday night will not be straightforward though; West Ham have won their last three at home and have a snarling Andy Carroll desperate to prove his worth to his country in time for a World Cup call up.
And they still have much to play for.
Yes those four wins on the bounce in February lifted the Hammers away from immediate danger but by kick off on Saturday night the gap to safety could be down to just three points again.
They won't feel safe until they're way beyond the 40 point mark: remember this is a club once relegated with as many as 42 points on the board!
Their remaining fixtures look fascinating: title chasing teams, sides fighting for Europe or battling for survival ... and first the Champions.