Does Robin van Persie's hat-trick against Olympiakos suggest he can get back to his very best?
The performances of Robin van Persie have been under the spotlight during a difficult season for Manchester United. Adam Bate looks at the reasons for concern, dispels a few of the myths and offers some hope for the Dutchman's future at Old Trafford...
By Adam Bate
Last Updated: 21/03/14 12:48pm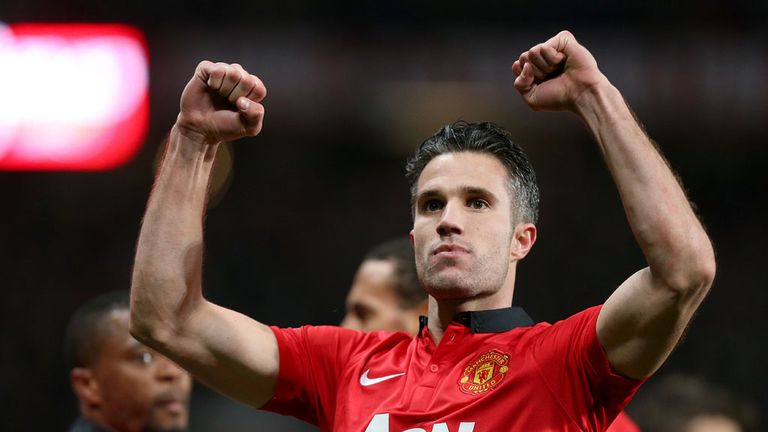 Wednesday night against Olympiakos was a pressure game and big moments call for big players. Ryan Giggs returned to the Manchester United starting line-up for the first time since January to deliver a virtuoso performance. And, of course, Robin van Persie scored a hat-trick.
The struggles of David Moyes have been compelling viewing this season and provided the over-arching narrative for much of the goings-on at Old Trafford in this post-Ferguson world. Unlike the players, the new manager had not been part of United's success. As equations go, this seems a simple one.
However, that doesn't mean the star names have been anything other than disappointing. Clearly, the manager is responsible for failing to get the best from his team. And yet, it wasn't Moyes who crashed his shot into the side-netting against Liverpool last weekend. Prior to the three goals against Olympiakos, the consensus had been that Van Persie was struggling to reproduce his best form. The question was why… And there are a number of theories:
Positioning
Anyone who's been to Old Trafford this season will have noticed a little habit that the new Manchester United manager has of gesticulating to his players – seemingly attempting to micro-manage their movement on the pitch. The signal that Van Persie has become accustomed to seeing is the little hand movement urging him to stay high up the pitch. But is he too high?
It's become widely accepted that Van Persie has developed into a classic No 9 striker, having shown potential as a prodigiously talented No 10 in his younger years. Comfortable on the last man and having filled out into a deceptively strong target man, here was a world-class finisher happy to stay out of things – the man to deliver the punch-line not the introductions.
But you don't lose those desires to get involved; you suppress them. And when the service is good, any striker knows that the penalty box is the place to be. It's when things aren't going so well that the picture changes. Perhaps that explains those complaints about space – he wants to come deep to help a struggling side but finds others there and a manager urging him to stay where he is.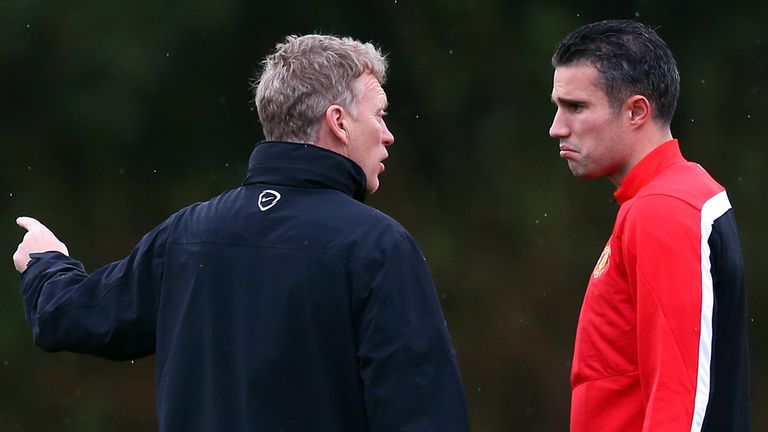 Age
All players must face this question when they get older. Suddenly a dip in performance levels is not a matter to be explained away by the vagaries of form but rather the relentless ticking of the clock. Van Persie turned 30 in August – a moment to bring a shudder from many a man but particularly poignant for a football player given that it traditionally heralds the start of a career's decline.
While Van Persie is certainly not as reliant on his pace as former top-class strikers such as Michael Owen or, more recently, Fernando Torres, this speed has undoubtedly been an asset. Witness the goal scored by Danny Welbeck against West Brom earlier this month as he burst free down the left channel. It's not a goal Van Persie has scored enough of this season as he's become more reliant on the timing of his runs with age.
Fitness
"It's not the years, honey, it's the mileage." So said Indiana Jones in his search for the Holy Grail. But Van Persie thought he'd found his own version of enlightenment in recent seasons, featuring in every single Premier League game during his final year with Arsenal as well as his first campaign with United. For a player who'd once been regarded as injury prone, it was a dramatic turnaround credited to the fact that he had taken responsibility for his own training regime.
Speculation as early as the summer was that this freedom was proving a problem under Moyes. While that cannot be confirmed, what's clear is that the injuries have returned. "I've been a bit up and down," Van Persie told United's official website. "I had a couple of niggles here and there – a problem with my toes, a groin injury and then, for the first time in a few years, a problem with my thigh. After an injury you lose a bit of rhythm, which makes it harder to come back and produce that same level of performance straight away."
That assessment is reflected in his sprinting statistics. There has been a sharp downturn in the number of intense runs Van Persie has made for United over the course of his 18 Premier League appearances this season. He made a minimum of 50 sprints per full game in each of his first nine appearances, but has failed to hit that number in any of the last nine. The average has dropped from 61 in those games to just 40 since. In a game of small margins where finding space and pushing defenders is vital, there is evidence to suggest Van Persie simply hasn't done it enough.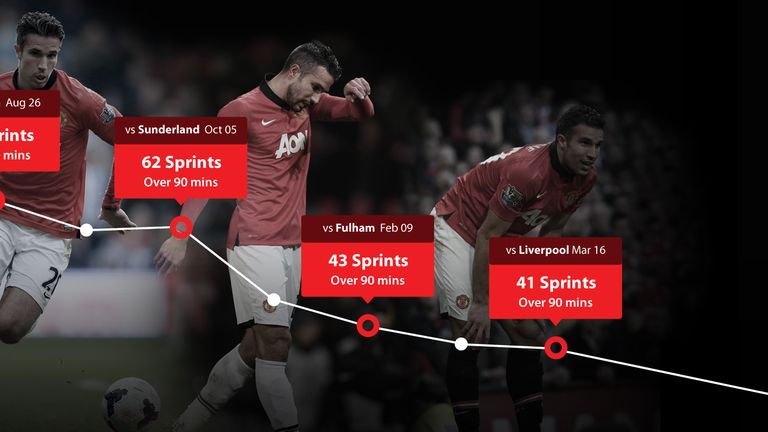 Motivation
Whether the reason for these declining numbers is principally physical or mental is another matter. The season began with braces against both Wigan and Swansea before he completed the most sprints of any United player in the next two Premier League games against Chelsea (66) and Liverpool (58). It's been a different story since as things have deteriorated on (and off?) the field. The 38 sprints against Newcastle in December might be explained away by a lack of fitness but the 41 against Liverpool hinted at a player who was just not at it.
As a result, the speculation was inevitable. Winning a title had become a mission for Van Persie after years of disappointment with Arsenal. But with that goal achieved – as Roy Keane famously noted of certain members of the '99 dressing room – it takes a different mentality to want to push on. With Sir Alex Ferguson gone, in a World Cup year and under a manager of whom there might be doubts, could it be trickier to maintain the unerring focus on the job at hand?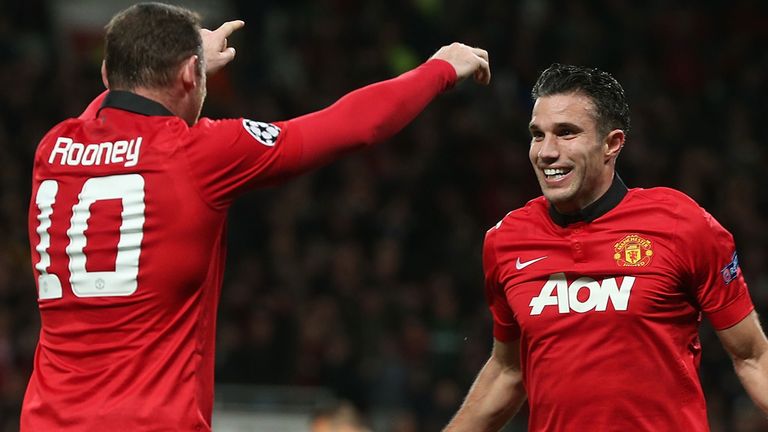 Perception and reality
But enough with the harbingers of doom. The alternative argument is that Van Persie has been something of a victim of the Manchester United malaise. In a season that has become characterised as a failure, everything is being questioned. Take that partnership with Wayne Rooney. "They were a pair a year ago," said Gary Neville before Wednesday's game. "Everyone was saying when they were out that it'd be OK when they were back. It hasn't been. They're playing themselves into a situation now where you're asking yourself whether they can play together." 
Rooney's assist for Van Persie's second goal against Olympiakos felt like a cathartic moment that brought back memories of last season's joy. But counter-intuitive as it may seem, Van Persie and Rooney have now assisted more goals for each other this season than they managed through the entirety of the 2012/13 campaign. Examine the stats for their interaction with each other and there is no discernible pattern of decline.
It's a similar story with Van Persie's goalscoring record. The bald numbers show that the striker has netted 11 goals in 18 Premier League games, while his overall record of 17 from 21 actually represents a significantly better goals per game record than he managed last season. Encouraging stuff given the stop-start nature of his season so far.  
Conclusion
Football is a team game and it's the Manchester United team that will have to turn it around. Van Persie cannot do that alone and it may be that the pace of players such as Welbeck is now something of a prerequisite for him to thrive. As Neville said: "He's a man who needs space creating around him at times because he hasn't got huge movement – his movement's more efficient. He needs players to run past him." If that can happen then Wednesday night was a reminder that United still possess one of the world's greatest finishers. They just need to work out how to get the best out of him.