Chris Kamara: Andre Marriner needed assistant support; Suarez and Toure on fire
Kammy has his say on Andre Marriner and reckons Luis Suarez is now the third best player in the world.
Last Updated: 24/03/14 1:48pm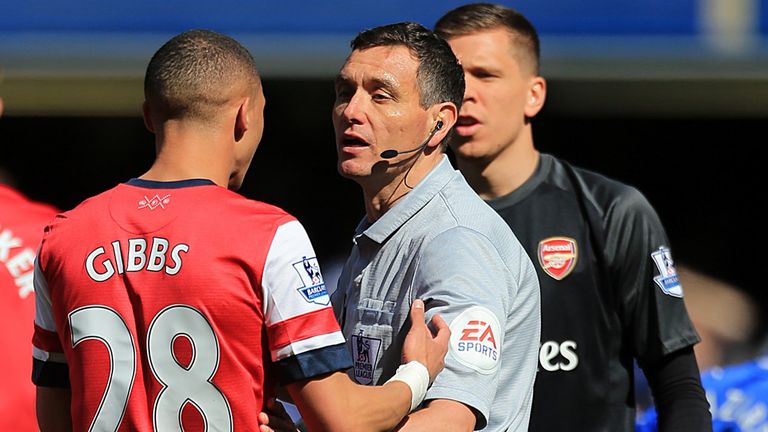 Andre Marriner should have been helped by assistants
KAMMY SAYS: After Andre Marriner mistakenly sent off Kieran Gibbs instead of Alex Oxlade-Chamberlain on Saturday everybody is talking about technology once again. Well, never mind that, the officials just need to talk to each other! When Oxlade-Chamberlain tells the ref he's made a mistake he should go and check by asking somebody else. That's what the assistants are there for. It's amazing the other assistants do not get involved and that leaves the referees hung out to dry.
All the fans knew, all the players knew - the only people who didn't were the referee and the other three officials. That can't be right. There's something wrong if between them they don't know and everybody else does. One person can make a mistake, two people can make a mistake. But three? Four? What's the point in officials being microphoned up if they're not going to pass on information?
Hawkeye showed it's worth in the Fulham-Newcastle game last week and I'm not a dinosaur, I'm not going to say we shouldn't use technology. And yes, it would have cleared the confusion up immediately on Saturday - but none of the players needed a video to tell them it was Oxlade-Chamberlain who handled the ball!
Mourinho won't get carried away by 6-0 win
KAMMY SAYS: It was a cracking win for Chelsea, though, and confidence-wise it will do them the world of good.
Samuel Eto'o will always score goals; his goalscoring instinct to stick it in when it comes across the box or nick it from a goalkeeper will always be there. But that little bit of craft and cleverness to drop the shoulder on Oxlade-Chamberlain, I thought that had deserted him. We always say players need time to come to terms with the pace of the Premier League and maybe now he's finding his feet.
However, in terms of the six goals, we know the circumstances - it was 2-0 and then the sending off and penalty left Arsenal 3-0 down and with 10 men for more than an hour to play. You'd expect Chelsea to come out on top and make the most of that situation - but I'm sure Jose won't get too carried away with it all.
Luis Suarez is the third best player on the planet
KAMMY SAYS: Luis Suarez has got to be the third best player in the world right now. I said that on Goals on Sunday and I got a few tweets from people saying 'Iniesta' or 'Ibrahimovic' but I'm still convinced. To have been suspended at the start of the season and still be top goalscorer is incredible. But you also have to look at his assists as well.
The whole world is now sitting up and taking notice of Luis Suarez for the good reasons. This fella, still at a young age, could eventually win world player of the year if he continues the form he's got.
... and his Liverpool side are right in contention for the title
KAMMY SAYS:Liverpool are in there with a shout, there's no doubt about it. But you've got to take one game at a time. They've got Sunderland on Wednesday live on Sky, and the Black Cats are fighting for their lives. Gus Poyet will be looking for a response after saying they didn't turn up against Norwich and they won't make it easy for Liverpool.
We've seen this season that you write teams off at your peril. People discounted Man City after they lost to Chelsea and they've come back strongly, while Chelsea looked like they had it sewn up but then, against Aston Villa, we saw how one refereeing decision can change the course of a game. Until someone has it mathematically in the bag I don't think any of those teams will think they're there yet.
Roberto Mancini deserves credit for Yaya Toure's performances
Yaya Toure's hat-trick on Saturday took him to 20 goals for the season, which is very impressive for a midfielder. The first two were penalties but the third goal was special - and something very few players can do. We saw in the Capital One Cup final the wonderful goals he can score and he just seems to be getting better and better.
We never saw this level of performance from Toure when he was at Barcelona, this real quality. Roberto Mancini deserves a lot of credit for turning him into an attacking midfielder because he's blossomed since then. He's had a fantastic season.
Wayne Rooney's strike was sensational
KAMMY SAYS: Wayne Rooney's opener against West Ham was a brilliant goal. To have the audacity and vision to finish it off was sensational. We had Teddy Sheringham on Goals on Sunday yesterday and, comparing it to David Beckham's similar goal against Wimbledon in 1996, he tried to put it in context. In the game against Wimbledon all the United players were trying things, they were 2-0 up and going for 'olés'. On Saturday night it was 0-0 when Rooney tried that and he'd get the jeers and howls if he didn't get it right.
He had the captain's armband in that game and there's no reason why he won't be wearing it more often next season. David Moyes needs as many allies as he can get and he's got no bigger ally than Wayne Rooney at the moment.
However, in terms of captaincy, it doesn't mean what it used to mean. You're the ambassador for the club but managers don't pick captains in the old way. When I was at Leeds, Gordon Strachan was the whole club, organised everything and led by example on the pitch. The captain isn't the same any more - he wears an armband and does the toss before kick off and that's about it.