Paul Scholes on... Manchester United legend has his say
Man United great Paul Scholes was among the guests for Sky Sports' coverage of the Manchester Derby. He discusses Juan Mata, who will win the league and launches a scathing attack on Arsenal...
Last Updated: 26/03/14 1:53pm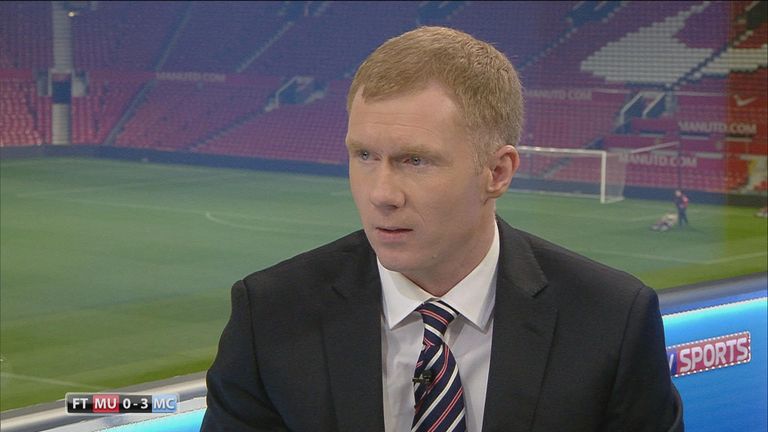 Before, during and after the contest, the 11-time Premier League winner had his say on a wide range of issues - and launched a scathing attack on Arsenal.
As well as a frank assessment of the Gunners' plummet from the summit of the Premier League, Scholes discussed Man United talking points, such as David Moyes' future at Old Trafford and how the club can get the best out of £37m signing Juan Mata, as well as this season's title race and Ross Barkley's rise.
Read on for his views on...
David Moyes' difficult tenure at Manchester United
It's difficult for a new manager coming in. He needs time to get to know his players and I think a big problem is that he doesn't know his best team yet. The players haven't helped in that way because they're not playing in the way they should do and that makes it even harder for the manager to find his best team. Away from home I don't think they've been too bad at all, without the Man City defeat and the Chelsea defeat they've done really well away from home. The problem has been at home. But when you haven't got pace you're going to struggle. Man United without pace is nothing.
Moyes is only nine months into the job, though. You have to stand by him. OK, he's made a couple of signings that haven't quite worked out yet but in the summer he's going to need backing, there's no doubt about that. Was he backed as well as he could have been last summer? I'm not too sure. But this summer, he has to be backed - and I think he knows he needs players.
Which areas must Man Utd strengthen in the summer
It looks to me like there's a few areas that need addressing. You could say that they've been looking for a central midfielder for quite a few years now, and maybe haven't quite come up with the answer. Defensively as well, (Nemanja) Vidic is going, it looks like Rio (Ferdinand) and maybe (Patrice) Evra are going as well so that's three of your back four. That's another area he's got to look after. I think going forward we're alright, with the quality of (Robin) van Persie, and Wayne Rooney, and (Juan) Mata in his right position. I think we're alright up there, so it's probably midfield and defence where we need to look.
How does Moyes get the best out of Juan Mata?
He's a classic number 10 off the front. He played that position against West Ham and did quite well but he's not really hit the ground running as much as you'd expect. For £37m you want goals. In his defence he has played out of position quite a bit, out wide. I played on the left hand side quite a few times and quite enjoyed it because you can come inside and the right-back didn't have to pick you up, the midfield player didn't know where you were and the centre half, does he come or not. It was a decent position to get yourself in the box and score goals. But on the other hand, when the other team had the ball you're up and down all day. That just wasn't my game and I don't think it's Juan Mata's game either.
United's mentality this season
It was always the way for us, we could be two or three down but we never felt we were beaten. But I never felt United were going to get back into this game, even at 1-0. I was never confident we were going to create chances and score goals.
Which was better, the halfway line efforts of Wayne Rooney or David Beckham?
They're both great goals. Wayne's is probably a little bit more difficult. It's a volley, it's a harder technique - but I'd probably still stick with David Beckham's goal, just with the way it went on the full into the net made it look a more beautiful goal. But they're two unbelievable players and two unbelievable goals.
Manchester City's attacking talent
They're a great team, there's no doubt about that. They had that run in the first part of the season when they were just destroying teams. Sergio Aguero then got injured and they went off the boil a little bit but the great thing about them is they've got goals absolutely everywhere. If you look across the midfield, Yaya Toure has scored 20 goals - which for a centre midfield player is brilliant - but these forwards haven't needed much help, they're all contributing. Their biggest strength is the amount of goals they have in the team.
Vincent Kompany
He'd have to be right up there. I've been lucky enough to play with some great defenders. Rio Ferdinand in his pomp, what a defender he was, and he could come forward and play as well. Jaap Stam was a great centre-half. Vincent Kompany looks the real deal though and is probably the best in the world right now. If City were to lose him through injury - which is possible - they could really struggle without him.
The skill of David Silva
You have to be impressed with what he does. It's almost glued to his left foot - and then he can do the same with his right foot. Not many left-footed players are good with their right foot but either foot he'll take it. He can play a pass as well. He's got a little bit of pace about him although he's not the quickest and he can manoeuvre the ball well and he can get past people. He's got a goal in him too. In the first 20 minutes against Man United he was unplayable. I'd say it was a joy to watch but I'm not too sure about that!
Arsenal's waning title challenge
They capitulated at Chelsea and it seems to be a similar theme when they play the top teams - it happened at Liverpool and they conceded six against City. For one reason or another, players just seem to go missing. The Artetas, Cazorlas, Rosickys, Ozils, it seems like they go on the pitch with no discipline. They play a few nice little one-twos, a bit of tippy-tappy football and don't bother running back. There's no leader with them, no Patrick Vieira, no Tony Adams, no Martin Keown. Sometimes when you're a midfield player up against it, you just need to try and stop the flow of attacks - but these, they go 2-0 down, have a walk up front, lose the ball, play a nice little one-two and not bother sprinting back. And they wonder why they're in the position they're in.
It's the Arsenal fans you feel sorry for, because they seem to get the same thing every year, maybe a little hint of the title for a few weeks and then go to Chelsea, City or Liverpool and do nothing. Fans expect Arsenal to be going for the league trophy but although they're in fourth, they're a million miles away in my eyes. When we played against those Arsenal teams that had the leaders I mentioned, it was really tough. You play against Arsenal now and you think 'just get stuck in and you've won the game'.
Jack Wilshere came on the scene and what a top young player he looked, but he's never really gone on. He needs characters like Vieira next to him to take him to the next level. Injuries haven't helped him, but he doesn't look any better a player now than when he was 17.
Ross Barkley's potential
I'm sure he'll have a big say in the summer for England, with a bit of luck. He's already a really good player but he can be a really top player. I've seen quite a bit of him now and what I've seen I like. He's doing really well. I know Phil Neville worked with him for a couple of years and he really liked him as well. I'm pleased for him, I'm pleased he's English and hopefully he can carry on progressing.
The title race
The run-in is always tough. Whatever teams you play against it's always difficult in those last few games to finish your season off with wins. Look at Man City's remaining games - Arsenal away? You'd fancy City. Liverpool away? Liverpool at home are a tough, tough team to play against. Everton away is another tough one. The rest you'd expect City will probably win. But looking at Chelsea's fixtures, Liverpool away is the only doubtful one. Jose Mourinho is a big factor for them - if it wasn't for him I don't think Chelsea would be as close as they are. City, with the squad they've got they should be clear and should win this league but, looking at the fixtures, they've still got some tough places to go.