Football Podcast
Liverpool's push for the title, Tottenham's troubles and the PL relegation battle are all discussed.
Last Updated: 31/03/14 5:16pm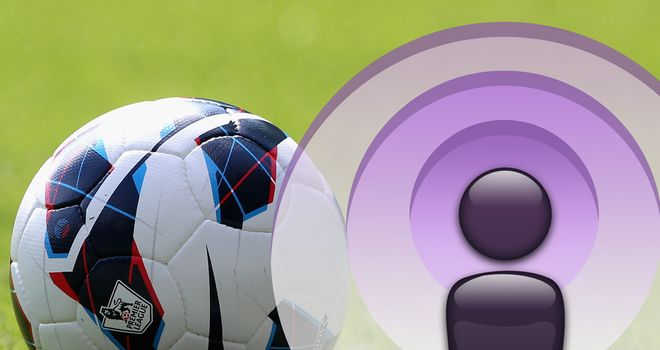 Sky Sports News Radio's Ben Ransom is joined in the studio by TEAMtalk's James Dixon and Sky Sports' Pete O'Rourke to discuss the weekend's Premier League action, including Liverpool's title charge following their fine win over Tottenham, the uncertainty surrounding Tottenham and the winners and losers in the relegation dogfight.
You can listen to the Podcast via Soundcloud below, or access it via iTunes.
Reds rising
The trio praise Liverpool after their impressive 4-0 win over Tottenham, with Ben and Pete sensing a change around the club as the Reds moved into pole position for that elusive first top-flight title since 1990. The club's continued ascent is also discussed by the three, as Brendan Rodgers and his men continue to take the spotlight with their attacking performances.
Six of the best?
With six games to go Liverpool fan Pete looks ahead to the Reds' crucial game against Manchester City as potentially the "game of the season" and the key fixture in the race to become Champions. Ben and James rule out Chelsea's chances for league silverware, highlighting Jose Mourinho's eagerness to rule out the Blues earlier on in the season as a policy that backfired.
Tottenham's troubles
James questions the Tottenham players' desire against Liverpool in the 4-0 defeat, while Ben queries Tim Sherwood's decision to take to the stands during the game. The trio go on to discuss the rumours surrounding Louis van Gaal taking the Spurs helm with Pete supporting the potential appointment of the current Netherlands head coach.
Relegation dogfight
All three have their pick on who is for the drop in the Premier League with the trio agreeing that Fulham will be the first to go. Following Cardiff's last-minute recovery, snatching a draw at West Brom, James believes the Bluebirds have given themselves a real chance of staying up as well as dealing a hammer blow to the Baggies' ambitions of remaining in the top flight.
Aerial protest
The protest at Old Trafford also comes under scrutiny by Ben and Pete who both disapprove with the banner flown over the ground and Pete argues that David Moyes deserves until January to have the chance to make his mark on the side. James and Pete assess Manchester United's chances against Bayern Munich with James writing off the Red Devils, but Pete says the pressure is off and could work in their favour.