Football Expert & Columnist
Graeme Souness: Focused Bayern Munich should knock out Man United
Graeme Souness says Man Utd are due a big display - but Bayern will have too much over two legs.
Last Updated: 01/04/14 9:38am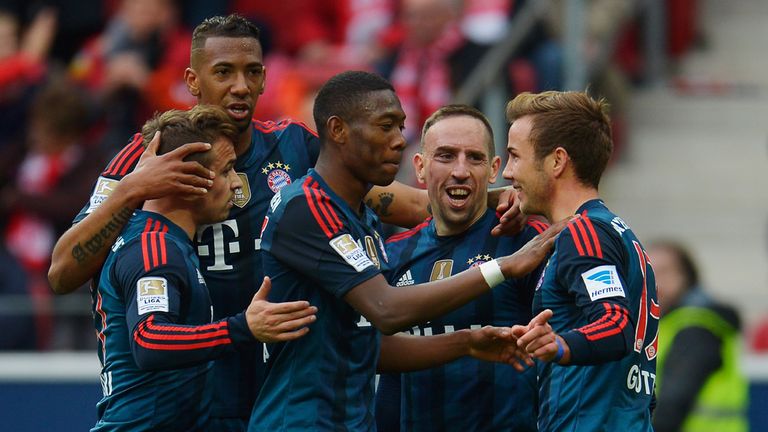 On the face of things you are not going to give Manchester United much of a chance against Bayern Munich. This is an out-of-form team playing a team that's in form.
But football is not always that simple and you can't guarantee anything in this game. It might not be as easy for Bayern as some people might have you believe.
Manchester United have a pedigree in this competition and I firmly believe that they have some big players who have got a big game in them somewhere along the line. They are capable of doing the business in a one-off game.
The thing is, they are going to have to produce two big games if they are going to get through this tie. I can see them having a good night at Old Trafford but can I see them having two good nights? No I can't.
I wasn't particularly convinced by the display against Olympiakos. They may have won the second leg 3-0 but David de Gea had to make a double save just before half-time to keep them in the tie.
That game was against a team that are a five-out-of-10 when it comes to Champions League standards and on Tuesday night they play a team that's nine-out-of-10 (and sometimes 10-out-of-10), so it's a very different test.
I can only see Bayern Munich going through because they're a team that's on fire at this time. They are coming to Old Trafford with no fear and they will fancy themselves to progress.
They only managed to draw with Hoffenheim at the weekend - but that was their first game after winning the league when I suspect they'll have been out partying all week. They will be bang at it in Manchester.
I say that because when they started the season, winning the Bundesliga was a given. You could have inscribed their name on that trophy before the season started and they have that parked up now.
However, you couldn't have inscribed their name on the Champions League again. This is the one where there was a large doubt over whether they could win it - and all their focus is on this competition now.
They have a great chance because I think they have improved this year. They are more attacking under Pep Guardiola, having swapped two sitting midfield players for just one. They press the ball higher up the pitch and that means if they pinch the ball off you they are only yards from having a shot at goal or slipping a pass in to a dangerous position.
What Man United have got to hope for is that they find form that they've not had all season in these two games - and they have to hope that Bayern Munich, in reverse, find form that they've not had all season in these two games. That's all that Man United can hope for.
The players owe their fans a big game and they owe their manager a big game. Will this be it? I doubt it but there is a big game in there. Somewhere.
I think Man United can get a result at Old Trafford. I don't think they can win but I can see them getting a scoring draw out of it. But can they then go to the Allianz Arena and beat them? No, I don't think so.
The form needs to be completely turned on its head. Of course, in a one-off game you can be lucky, even against the best team in the world; you can get decisions going your way and one of their players might get sent off.
But over two games, the law of averages should even things out.