Bayern Munich dominated the ball but David Moyes got the tactics right for Manchester United in 1-1 draw
Manchester United earned a creditable 1-1 draw against European champions Bayern Munich at Old Trafford on Tuesday night. Although the visitors dominated the ball for long periods, the home side had their chances and Adam Bate thinks David Moyes can be proud of his team's efforts...
By Adam Bate
Last Updated: 02/04/14 12:02am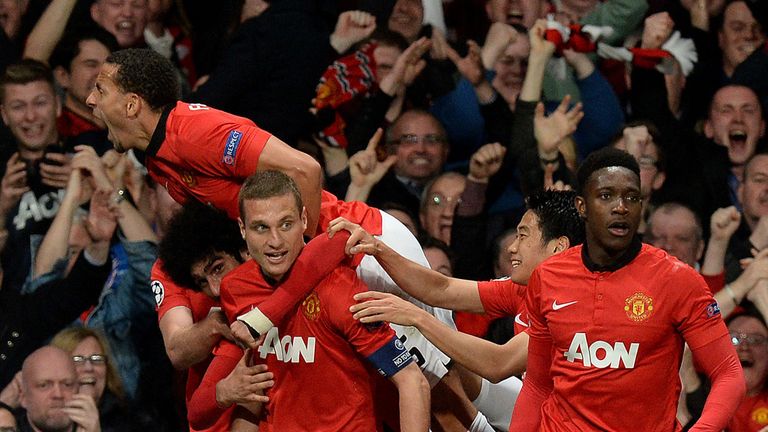 When the final whistle blew, there was a shake of the head from David Moyes and a look of disappointment. No surprises there, you might think.
But the source of the Manchester United manager's frustration was that his side had come away from their Champions League quarter-final first leg with just a 1-1 draw against tournament favourites Bayern Munich. It was some effort.
Indeed, despite his demeanour, the night should be regarded as something of a triumph for Moyes. In this season that might optimistically be referred to as one of transition, he picked a team to do the job in the here and now - and meet the specific demands of the occasion.
Reminder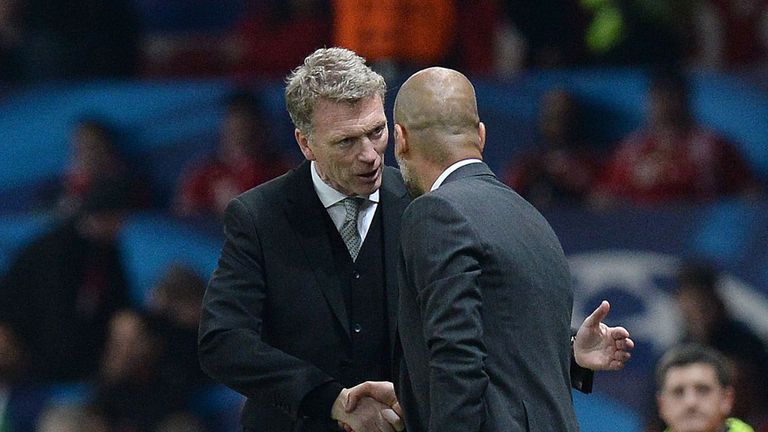 Nemanja Vidic is exiting for Italy in the summer but gave a reminder of the void he will leave. Rio Ferdinand and Ryan Giggs are also surely in their final campaign, but were both called upon as Moyes selected a line-up of which the majority had started the 2011 Champions League final.
Even if that wasn't enough to spark belief outside of Old Trafford, Pep Guardiola had been respectful in the build-up. "I see very good players," he said. "I don't know why United haven't played well in the league, but over one game or two games, they can beat us."
And the English champions produced an admirable performance to justify that view. United were an intermittent attacking threat and consistently solid defensively… They certainly had plenty of defending to do.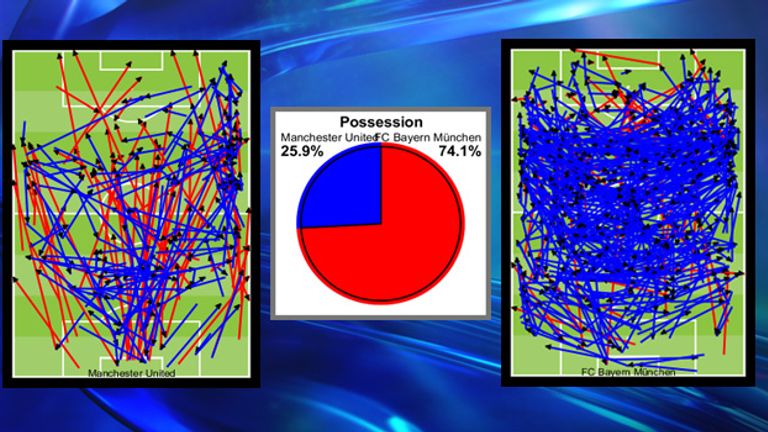 In terms of possession, Bayern were utterly dominant. With 74 per cent of possession and 767 passes to the home side's 249, the passing gulf was alarming. Like the possession stat, United's passing accuracy of just 66.7 per cent was the lowest since Opta records began.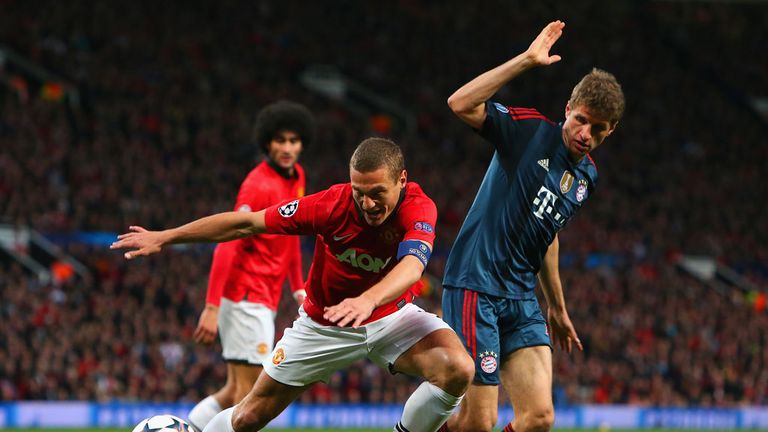 So accustomed have we become to this carousel of passing from Pep Guardiola's teams in recent years, that it is easy to become desensitised to the numbers. And yet, the visual effect is stunning. Expensively assembled opponents are reduced to bystanders – or even worse, looking like the victims of some cruel prank.
Threat
But United defended stoutly and retained just enough of a threat on the counter-attack to convince - themselves as much as anyone else - that the plan was worth persevering with, the shape must be maintained and the runners should continue to be tracked.
Indeed, after seeing a Danny Welbeck goal disallowed for a high foot, it was United who created the stand-out chance of the first half – with the same player making a mess of a one-on-one situation with Manuel Neuer. Put through by Rooney, Welbeck tried to be too cute by far in lofting the ball over the advancing keeper when a crisp side-foot would surely have done the job.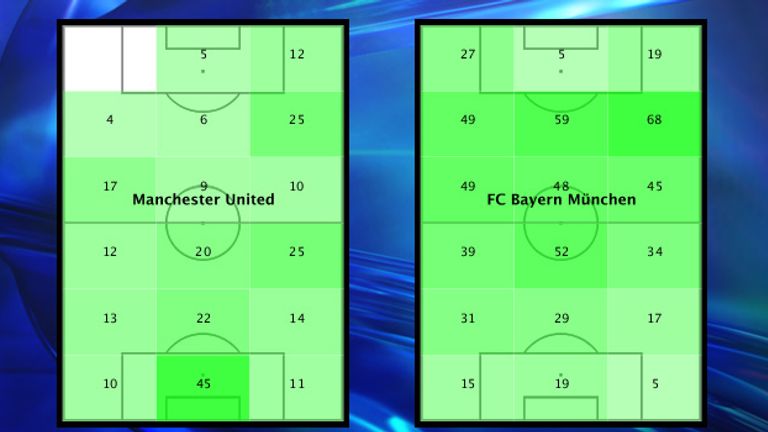 Much like the slow realisation among Norman Mailer and the press corps in Zaire when Muhammad Ali 'rope-a-doped' his way past George Foreman in '74, it was a moment to lift the scales from the eyes. For all Bayern's pounding dominance, here was something of a beautiful illusion. In the first half, the visitors had just five touches of the ball in the central area of United's box – exactly the same number as their opponents. And Moyes' men had fashioned the one clear chance.
Indeed, United looked in their element. "He's not a front foot manager like Sir Alex Ferguson was," Sky Sports pundit Jamie Carragher has recently claimed. Of course, he was right then and he's right now. But this was a not a night to be on the front foot. For once, against such formidable opponents, Moyes' famous focus on the other team seemed entirely appropriate – and he had a plan.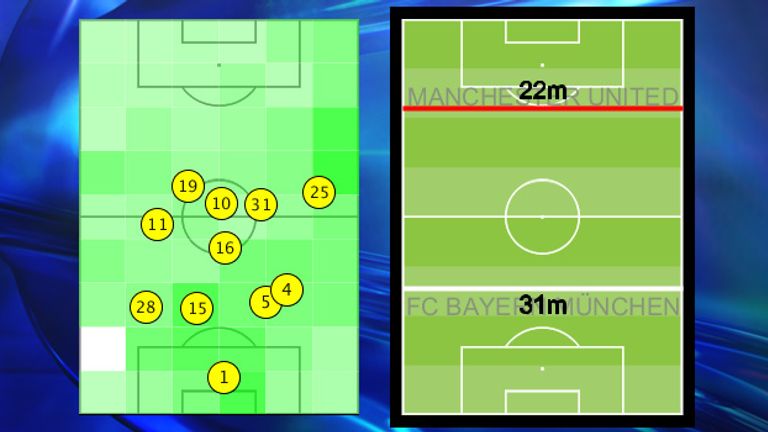 The idea was to defend deep and spring from this compact shape where possible. If Bayern were to be allowed overloads it would come in the wide areas. No space would be afforded behind their vastly experienced but ageing centre-back duo.
Weakness
In recent times, it has been a weakness. "A centre-back coming to the end of his playing days, I was in the same situation, they immediately drop back," said Carragher after studying United's high-profile domestic defeats. "That's a problem – how far back Rio Ferdinand takes this United defence."
After being coaxed out and punished against Olympiakos, Manchester City and, even without Ferdinand against Liverpool, it was a seldom an issue against Bayern. There was no danger of pushing up here. "The Liverpool game was different," explained Vidic afterwards. "They let us have the ball, then counter-attacked and we struggled."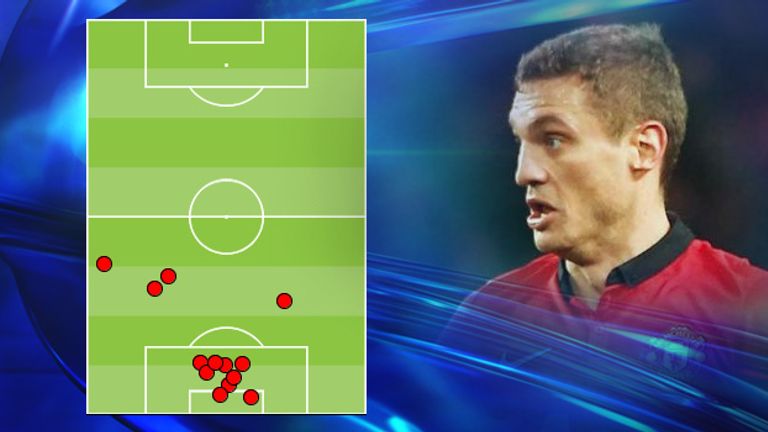 Without the ball, Vidic was a towering figure on Tuesday evening. With it, he headed United in front in the second half. Time and time again he cleared the ball from underneath David De Gea's nose, showing what a snarling presence he can still be when given a task to warm to. One first-half clearance from a David Alaba cross to deny Thomas Muller was beyond all expectations and the twisting header to beat Neuer at the other end was superb.      
Man Utd v Bayern Munich
Player
Team
Clearances
Nemanja Vidic
Man Utd
13
Jerome Boateng
Bayern Munich
10
Javi Martinez
Bayern Munich
7
Vidic deserved to be on the winning side, but one defensive lapse left United with a draw. Moyes had juggled the left side all night, with Welbeck and Giggs sharing duties early on before Welbeck took up a regular attacking role after the break with Shinji Kagawa playing from the left rather than simply on it.
Bold
It was a bold policy given the inexperience of Alex Buttner at left-back and perhaps even more so once Phil Jones was asked to play there out of position when the Dutchman was subbed off. But Moyes sensed an opportunity for Welbeck to do more damage.
The United boss seemed keen for the England forward to press Javi Martinez and even brought on Javier Hernandez to exploit the space in behind late on. Unfortunately, the second goal did not come and the freedom afforded Rafinha saw United punished when the Brazilian was able to get forward after a long build-up and cross for the equaliser – Bastian Schweinsteiger firing home untracked from Mario Mandzukic's knockdown.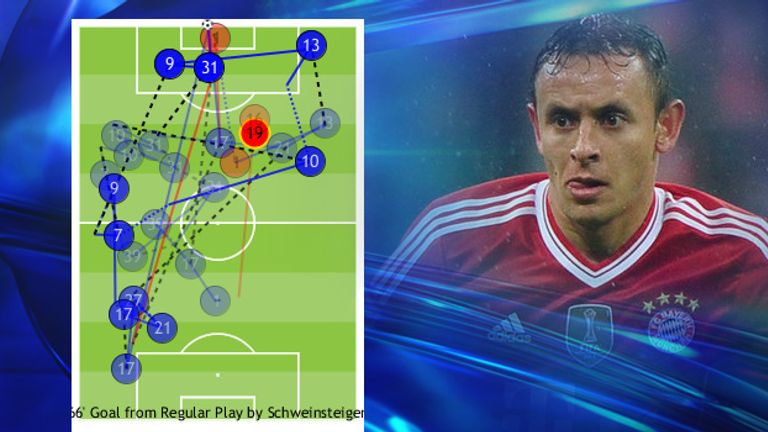 There was still time for the boost of a late Schweinsteiger red card. As a result, a game which might well have been seen as a disaster waiting to happen, left Moyes disappointed he hadn't got the win. And this against a side that have lost just three times since October 2012 – a Super Cup, a dead rubber group game and a second leg that still resulted in an aggregate victory.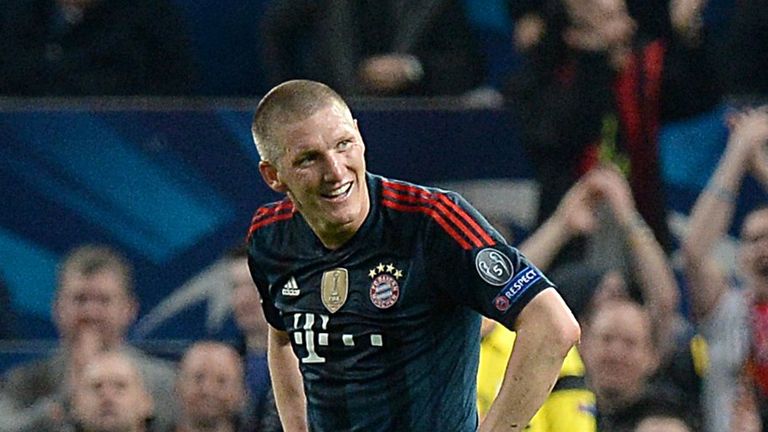 That probably tells you something about what a personal triumph this was for the United manager. It was a creditable performance that restored some long overdue pride at Old Trafford. While some might dwell on those passing stats, this was a night for pragmatism and Moyes surely got it spot on in that regard.
If he can come up with a similarly effective plan in the Allianz Arena, with Martinez and Schweinsteiger suspended, United fans might even dare to dream of an extraordinary win over the European and world champions. And who'd have thought that in this most fraught of seasons?