Magical Mata
Should David Moyes model Manchester United on Liverpool? That's the question posed by Matt Stanger, who wonders how he can make all of his attacking pieces fit into the jigsaw.
Last Updated: 05/04/14 7:44pm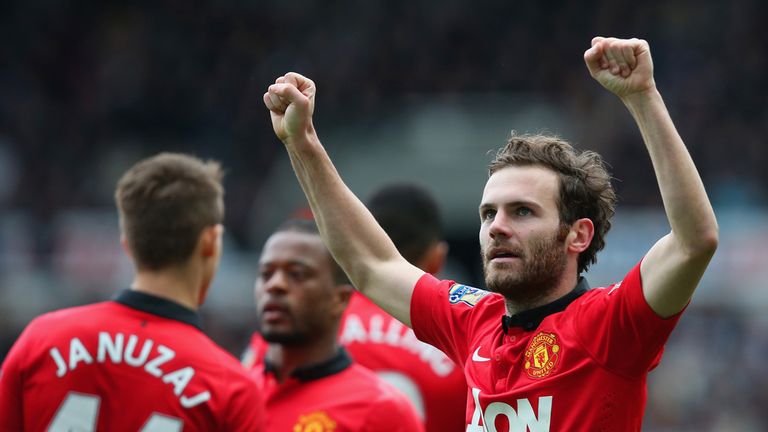 Two good results in the space of five days earned with two very different starting line-ups. Perhaps those doubts over the quality of Manchester United's squad have been over-played in a disappointing season, with David Moyes' eight changes to the side that battled to a 1-1 draw against Bayern Munich resulting in an impressive 4-0 victory at Newcastle.
This should have been a low-key affair - with one team already on the beach and the other in Munich ahead of Wednesday's Champions League quarter-final second leg. But nothing can ever be termed 'low key' when Juan Mata is involved and the Spaniard tied Newcastle in knots, excelling in his favoured role as United's No 10.
It was the third time in four matches Mata has started in the centre behind a single striker and, while his performances against West Ham and Aston Villa offered promise, the playmaker's match-winning display at Newcastle provided an emphatic argument that he should remain in the position. Everything positive about United's performance ran through Mata, and Saturday was a rare occasion when there were plenty of positives.
With Shinji Kagawa also returning to the first XI, there was an encouraging balance to United's attacking midfield that Moyes must wish he could recreate against Bayern. There have been rumours that Kagawa could leave in the summer after struggling for opportunities this season, but in recent weeks he has been able to demonstrate his talent through an intuitive understanding with Mata.
The pair's link-up play was a key feature in wins over West Ham and Villa, but they flourished even more against Newcastle, with Mata grabbing two goals and a delightful back-heeled assist for Adnan Januzaj, and Kagawa setting up Javier Hernandez for his second strike in two matches. "It's a pleasure to play with Shinji. We connect very well," said Mata in his post-match interview, while Moyes also had praise for the duo. "Mata was terrific and so were Shinji Kagawa and Darren Fletcher," said the manager. "We had some great performances today."
Indeed, United's stand-ins made a compelling case to be awarded more first-team involvement in the final five matches of the Premier League campaign. Moyes has recently been able to experiment with his line-up to great effect against inferior opponents but, with Robin van Persie and Wayne Rooney both set to return from injury in the near future, it is likely that Mata will be pushed back to a wide role as Kagawa drops to the bench.
There is clearly a difficult decision for the manager to make. Should he stick with Mata as his No 10 and play either Rooney or Van Persie as a single centre-forward, or will he risk getting less out of his £37m January signing by moving him to the right wing again? Liverpool's system this season perhaps offers a third way, although Moyes will want to be discreet about 'aspiring' to be like another of United's rivals.
In frequently adopting a 4-3-1-2 formation, Brendan Rodgers has been able to partner Luis Suarez with Daniel Sturridge in attack, but also field Philippe Coutinho behind his strikers in an attacking line-up that has yielded 88 goals in 32 matches. Rodgers' approach has been crucial in a remarkable run of form that has suddenly transformed Liverpool into title contenders, and helped the Reds ease to a 3-0 win at Old Trafford three weeks ago.
One of the requirements of this system is that Suarez and Sturridge both offer counter-attacking options down the flanks - as United found out to their detriment in their embarrassing defeat in March. Whether Rooney and Van Persie could fulfil similar roles is unclear, but it is certainly food for thought for Moyes as he ponders how to squeeze his best three attackers - three of the best attackers in the league - into his first XI.
The last five games of the season afford the manager a chance to work on his preferred playing model. For much of the season, United have tried the same approach - get it wide, get it in the box - with this system descending into parody in the 2-2 draw against Fulham. However, recent performances have shown Moyes can be flexible in his tactics, and United have maintained the best away record in the top flight while tinkering with personnel and formations.
There are signs of encouragement. United have dropped a long way behind their rivals in a season of struggle - as heavy defeats to Liverpool and Manchester City have emphasised - but they have exhibited much more attacking incision in recent weeks to the credit of their beleaguered manager. If Moyes can maintain this steady improvement in performances over the next six weeks, perhaps he will earn the chance to continue his work into next season.
This article first appeared on Football365