Football Expert & Columnist
Manchester United's men have point to prove at Everton
Midweek defeat to Palace huge blow to Toffees' top four hopes
Last Updated: 20/04/14 11:14am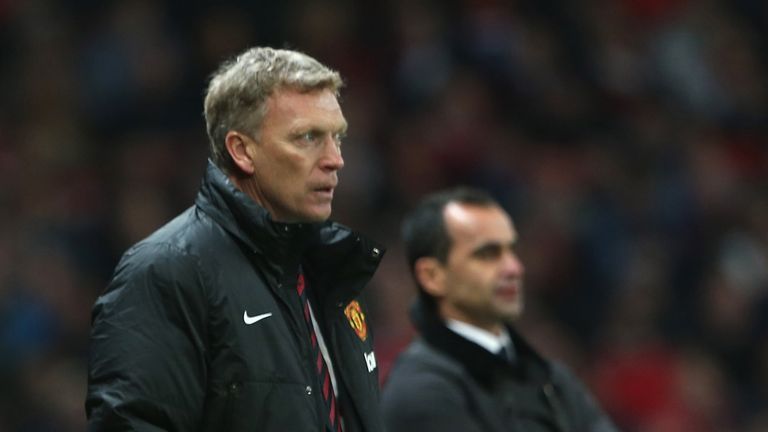 I wouldn't have been alone in expecting City and Everton to win home games with Sunderland and Crystal Palace respectively, but the 2-2 draw at the Etihad and the visitors' 3-2 win at Goodison Park sums up what has been an, at times, unpredictable season.
It just goes to show, although head-to-heads are important, despite all the attention on the big fixtures such as Liverpool v Man City and Everton v Arsenal, shock results against struggling sides can ruin your season.
One of the main reasons Liverpool are top of the Premier League is because they have navigated past the lesser teams really well.
Their Merseyside neighbours, Everton, though, aren't quite at the level yet where they can just go and win games all the time.
They've had some brilliant results of late but the Premier League is like a war of attrition. Boss Roberto Martinez probably hasn't been able to freshen it up as much as he'd like and their resources are being tested now.
If they don't finish in the top four you still have to say it's been a brilliant season for Everton - but when you get so far and so close it hurts you if you don't make that final step.
Evertonians feel this is their year and with the football they've played they probably deserve to make the top four - but Arsenal aren't going to give it up without a fight, and this week the Londoners have taken the upper hand again.
Return
Everton's players will need their fans to get behind them on Sunday to lift them to go again after the disappointment of Wednesday night - but with David Moyes returning to his former club there is sure to be a great atmosphere.
I don't know what sort of reception the Manchester United boss will get - he got a few boos from Everton fans in the reverse fixture at Old Trafford - but I hope it's a good one.
Moyes did a really good job at Everton. He took the club to another level and brought in some really good players.
However, when you're having a bad time the last thing you want is for people to look at your old club and say they're doing better than when you were there. That's a kick in the teeth - and people are saying Everton are now playing better football under Martinez.
There's a professional jealousy and pride in all players and managers and you don't want to see your replacement doing better than you, so Moyes will be motivated to get a win at Goodison, especially after losing 1-0 to Everton at Old Trafford.
The problem he has is keeping his United side going, with little left for them to play for this season. After this trip they don't have any big fixtures and they've no involvement in one of the most exciting seasons ever, which, for a club that has dominated the Premier League in the past, seems strange.
But a lot of those players are playing for their places now.
Prove
If David Moyes is to stay next year, a lot of these players need to play themselves into his thoughts for next season. United are going to be in the market for some big players in the summer and there will be a lot of the current crop on trial at the moment.
They're playing for a brilliant football club - but how interested are they in staying there and proving to David Moyes they want to be part of the future?
I think we'll see a few of them go out to make a point on Sunday - and we saw against Newcastle the other week that, despite a disappointing season, United can still be a very dangerous team.
I'm going for a 2-1 win for United, which is 9/1 with Sky Bet. If Everton had won in midweek then I'd have gone for them but I feel now they're starting to tire a little bit and one or two may feel sorry for themselves.
Everton are facing some tough fixtures and they needed to maintain their momentum - but that was a killer result for them against Crystal Palace.