Wayne Rooney: Alan Smith says England must start him against Italy
Sky Sports expert expects him in central role behind Daniel Sturridge
Last Updated: 06/06/14 11:31am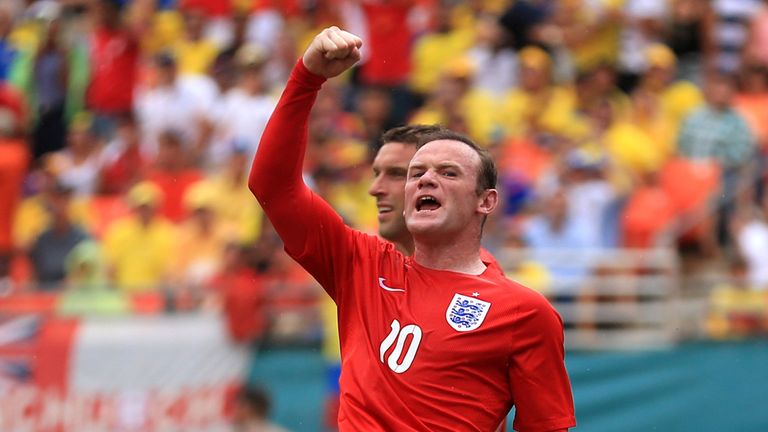 Alan Smith says Wayne Rooney will start for England in the World Cup - but not on the left wing.
The Manchester United forward played on the left flank in England's warm-up match with Ecuador on Wednesday night and with Daniel Sturridge likely to play as the main striker in Brazil, questions have been asked over his place in the side.
Rooney missed the last three games of the Premier League season and former England striker Smith believes Roy Hodgson simply played him on the wing to give him a work-out rather than trying him out for that role at the World Cup.
"I don't think it was ever a question of making it work," he told Sky Sports News.
"I think he stuck him there because sometimes you get through more work on the left funnelling backwards and forwards. It was all about fitness for Wayne Rooney.
"Yes, he has played there before for England and Manchester United plenty of times. It's not his favourite position and I don't think it's a position he'll play against Italy on June 14.
"It was more game time for him. I don't think it was a roaring success, him out there. He came in to get his goal, but for me it was a question of getting those lungs working and getting his fitness up to something like 100%."
Pecking order
Rooney scored England's first goal in the 2-2 draw with Ecuador and Smith believes he will be moved into a central role behind Sturridge for the World Cup opener against Italy.
Everton's Ross Barkley played in that position on Wednesday night and while Smith was impressed with his display he feels the experience and goal threat of Rooney will keep him ahead in the pecking order.
"I wouldn't start Barkley," he added.
"He's a great option at the moment and if you needed to start him for whatever reason, I don't think you should have too many fears because he does seem to be a player that carries the England shirt quite lightly. He doesn't seem to get overawed by the expectancy and pressure of the job.
"That was a great plus point last night, but I do think that Wayne Rooney will play in that number 10 position, that central position behind Daniel Sturridge. When you look at Wayne's goals-to-games ratio – almost one every other game – he is a player that you can't leave out with his experience.
"Ross Barkley, Adam Lallana, Raheem Sterling are all lads that can play in that central position. You know what it's like in tournament football, you do get injuries and you do need suitable replacements.
"We are well covered in that area."