Setting the Standard
In the first of a two-part feature, Mark Buckingham talks to Standard Liege's technical director Jean-Francois de Sart about the way Belgian footballers are developed
Last Updated: 26/09/12 4:01pm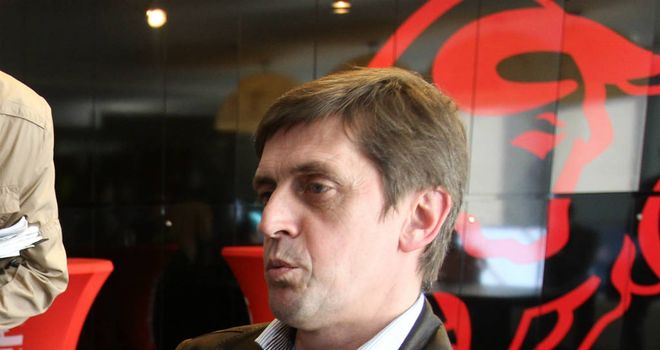 'Education, education, education' was a political mantra of the 1990s and it was backed up by huge financial investment in an effort to drive up standards.
Football has been similarly awash with money during the same period and the perception of many is that the investment in both spheres has not always produced the desired results.
With the majority of English players still lagging behind their European counterparts on a technical level, it is clear that simply throwing money at a problem is not a guarantee that footballers graduating through the Academy system are all A* pupils.
The building blocks are slowly being put in place to give budding young footballers a sure start in the game, though, and learning a lesson from Belgium could be a course worth taking.
Belgian players are certainly a la mode for Premier League teams and at the top of the class in the art of developing a more rounded footballer are Standard Liege.
Standard's academy is the product of a change in philosophy several years ago and the result of the €18million (£14.3m) investment is the envy of many clubs across Europe.
The likes of Marouane Fellaini and Axel Witsel have come through the academy structure and played important roles when Standard ended a 25-year wait for the title when the club were crowned Belgian champions in 2008. The team that season, which also included the highly-rated Steven Defour, boasted an average of just 22.
Fellaini left Standard that same summer to join Everton and the midfielder's path to the Premier League has been followed by many of his Belgium team-mates over the past four years.
Vincent Kompany joined Manchester City during that same transfer window, while the likes of Thomas Vermaelen and Moussa Dembele added to the influx of Belgian talent which has been continued by the more recent arrivals of the likes of Eden Hazard, Christian Benteke, Jan Vertonghen and Kevin Mirallas.
But what has made the Belgian footballer the seemingly go-to signing for a Premier League manager? Standard's technical director Jean-Francois de Sart believes that a combination of hard work and talent make Belgians attractive propositions for English clubs, and it is a process that he explains starts at a young age, with a firm emphasis on ensuring prospective footballers also take their academic education seriously.
Good combination
"At Standard Liege, it's the work that we do and the education of a player," De Sart told Sky Sports. "We have a system where they stay at school to get a good certificate and they can train seven times a week and stay at school, so there is a possibility to go to university.
"The combination between school and football is good. We have made a lot of effort to progress this way and it's work that we start at 14, 15 years of age.
"It's the same at other clubs. It's very important to finish school. If there is a problem at school, they are suspended for one or two training sessions. It helps them to learn for school and puts pressure on them to succeed at school.
"Our objective is to make footballers at the top level. All the players who are educated at Liege in the youth are ready for a big job. They have some of the skills to start with, but they work a lot and learn a lot."
Ezekiel Fryers joined Standard in the summer after his contract at Manchester United expired and De Sart admits the academy is an attractive selling point.
Fantastic
He added: "We built a totally new academy five years ago, the best in Belgium. A lot of clubs then changed and decided to build a new academy.
"All the foreign players find the academy fantastic. Fryers, who came from Manchester United, says it's fantastic here and a lot of players from England would be surprised to see what exists in Belgium.
"The structure is there to have a top football team, they learn the job and are ready to be professional footballers.
"We are obliged to invest in young people to survive. We became champions with three or four players who became big stars, like Witsel and Defour. They were the best at 18 and with these players you can reach the top."
Standard's academy model is the blueprint for other clubs in Belgium to copy and De Sart is hoping that they can continue to produce top-quality players for generations to come.
However, De Sart is mindful of the pitfalls which can trip up promising teenagers and reiterated the value and importance of working hard to fulfil ambitions.
Mentality
"The way to invest in youth, you can learn from Belgium, but I don't have the truth," he continued.
"We've been busy looking to the Netherlands and France in the development of young players. In Standard, the big truth is we are doing very well.
"We want it. I think you can always produce but not each year because it depends on the quality of player.
"If you look at the youth, we are always close to the European Championships in the age groups. At the Under 17s, there were eight players from Liege.
"It's possible and there are still a lot of good players who have the quality to reach the top but then there is the work, the mentality, the parents, the agents, which is a big problem.
"If a player stays with a good mentality and philosophy to work he can succeed but if he tries to fight against this, it makes it difficult.
"The most important thing for a player is to reach a level. When you are a good footballer, the money will come. It shouldn't be a situation where the money comes before the sporting level."