Football Commentator & Columnist
Streaky strikers
Hot-shot club men, and the quickest Premier League red cards... Martin Tyler is back with more stats!
Last Updated: 15/10/12 10:02am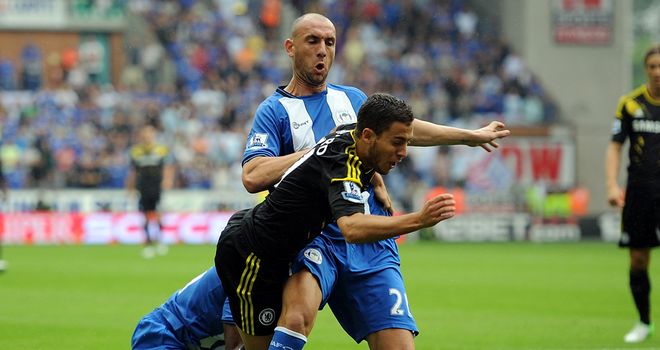 Martin Tyler's stats and facts column is here!
Every week he will be here on skysports.com to answer your questions and to offer you statistical gems from what he's seen as he tours the world commentating for Sky Sports.
Sky Sports' voice of football and his back-up team of experts want your queries on all things statistical and historical from the beautiful game.
So if you have spotted something from a game or have been stumped by a pub quiz question, simply email skysportsclub@bskyb.com and he will do his best to help.
Tyler's teaser
But as usual we'll kick off with a question for YOU. Click play to see this week's Tyler's Teaser.
Martin's starting stat
I was at Newcastle to see Manchester United score the opening goal of a game for only the second time in the Premier League this season (and only the fourth time in 10 games in all competitions).
That goal was Jonny Evans' second for Manchester United (and I commentated on the other one as well, which came at Wolves on March 18). Meanwhile, Patrice Evra scored his fourth Manchester United goal on the occasion of his 300th appearance for the club.
Tom Cleverley scored his second Manchester United goal and both have come against Newcastle in an 11-day period. It was his first Premier League goal for the club, but he has scored three for Wigan before that.
The result extended Manchester United's impressive results against Newcastle in the Premier League. Their record now reads: P37 W21 D12 L4. It was Newcastle's second home defeat of 2012; the other coming against Man City in the penultimate round of games last season.
Steve Harper finally made the 200th league appearance of his career, but only his 110th Premier League appearance. He did, however, play against Man United in the 1999 FA Cup Final.
STREAKY STRIKERS
Steven Fletcher has scored Sunderland's last five Premier League goals, Demba Ba has scored Newcastle's last five and Peter Crouch has scored Stoke's last four. But what is the longest streak for a club's goals being scored by one player in Premier League history? Stephen, London
MARTIN SAYS: If Fletcher or Ba score the next goal for their club then they will join a small list of players to have scored six consecutive Premier League goals for one team without another player getting on the scoresheet. Only five players have ever done that in the Premier League before; Alan Shearer, Mark Viduka, James Beattie, Roque Santa Cruz and Michael Owen.
The record is held by Shearer who scored nine straight league goals for Blackburn in 1993 without another player getting on the scoresheet. After Stuart Ripley scored in the 51st minute against Swindon on October 2, Shearer netted an injury-time goal in that game and then scored more goals against Leeds (3), Tottenham (1), Southampton (2), Coventry (2) before Graeme Le Saux broke the streak by scoring against Chelsea on December 5.
Remarkably, Shearer began the second longest streak in Premier League history less than a month later. He scored eight straight goals starting against Everton (2) on December 29, before scoring against Aston Villa (1), Sheffield United (2), Leeds (2) and Wimbledon (1) before Jason Wilcox ended the streak by scoring Blackburn's second against Wimbledon.
The longest unbroken scoring streaks for a Premier League player:
NINE GOALS
Alan Shearer, Blackburn Rovers (1993/94)
EIGHT GOALS
Alan Shearer, Blackburn Rovers (1993/94)
Mark Viduka, Leeds (2000/01)
SEVEN GOALS
James Beattie, Southampton (2002/03)
SIX GOALS
Roque Santa Cruz, Blackburn (2007/08)
Michael Owen, Liverpool (1997/98)
Alan Shearer, Newcastle (1999/00)
James Beattie Southampton (2003/04)
FIRST IN THE BOOK
Hey Martin. I have been noticing something in pretty much every Arsenal game for the last couple of seasons - they seem to pretty much always get the first yellow card, no matter the amount of fouls from each team. Therefore, I would like to know how Arsenal fare compared to other teams in the league, in terms of getting the first yellow in each match. Sincerely, Mark
MARTIN SAYS: We've asked the boffins at Opta to tell us how many times Arsenal received the first yellow card in their 38 Premier League games last season. Arsene Wenger's men were booked first 18 times last season - just under half of their games - and the same number as Chelsea, Manchester City and Norwich. It seems your concerns are unfounded, especially when you compare their record with Sunderland, who received the first yellow card 26 times last season, more than anybody else.
First yellow card of the game: 2011/12:
Sunderland (26)
Stoke City (24)
Wolves (22)
Bolton (21)
Wigan (21)
Blackburn (20)
Everton (20)
Newcastle (19)
Arsenal (18)
Chelsea (18)
Manchester City (18)
Norwich City (18)
Tottenham (16)
Aston Villa (14)
Fulham (14)
Liverpool (14)
QPR (14)
Manchester United (13)
Swansea City (12)
West Brom (12)
Arsenal have only received the first yellow card in two of their seven games so far this season, which is a remarkable contrast with Aston Villa, who have been booked first in every Premier League game so far.
First yellow card of the game: 2012/13:
Aston Villa (7)
Stoke City (5)
Manchester City (4)
Manchester United (4)
Swansea City (4)
Liverpool (3)
Southampton (3)
Sunderland (3)
West Brom (3)
West Ham (3)
Wigan (3)
Arsenal (2)
Chelsea (2)
Everton (2)
Fulham (2)
Newcastle (2)
Norwich (2)
QPR (2)
Reading (2)
Tottenham (2)
QUICK AND THE RED
Hi Martin, I'm sitting here watching QPR v West Ham and Samba Diakite has just been sent off 20 mins after being subbed on for a second booking. I was just wondering what's the quickest time after being introduced into a Premier League game a player has been sent off. Thanks. From Daniel Lawrance, Spurs fan from Oxford.
MARTIN SAYS: Samba Diakite is a long, long way from receiving the quickest red card in Premier League history (although I recall he was sent off after just 33 minutes of his debut against Fulham, too). Opta have given us details of nine players who've been sent off within two minutes of stepping onto the field in a Premier League game (either as a substitute or at the start of the game) and three of those were on the field for less than a minute before being given their marching orders. Those players are:
Christian Negouai - The first man to be sent off in under a minute in the Premier League was French midfielder Christian Negouai, who saw red in the 83rd minute of Manchester City's game with Everton on Boxing Day 2004. He was sent off in the 83rd minute for a foul on Marcus Bent, less than 60 seconds after coming onto the field as a substitute. That was only his second appearance of the season and he never played for Manchester City again.
Andreas Johansson - The Wigan player was sent off in the 76th minute of their 4-2 defeat at Arsenal on May 7, 2006 less than a minute after coming on as a substitute. His trip on Freddie Ljungberg was also momentous because it allowed Thierry Henry to step up from the penalty spot and score the final league goal at Highbury.
Dave Kitson - The Reading striker was sent off at Old Trafford on the opening day of the 2007/08 season. He came on as a 72nd-minute substitute and was sent off in the 73rd minute for a dangerous tackle on Patrice Evra. However, the Royals clung on to draw the game 0-0.
Here is the full list of nine players to have been sent off within less than two minutes of stepping onto the field. Two of them (Tim Flowers and Ben Thatcher) were off within two minutes of the match starting. The other seven were substitutes
| | | | | | |
| --- | --- | --- | --- | --- | --- |
| Date | Player | Team | Opposition | Mins played | Substitute? |
| 01/02/1995 | Tim Flowers | Blackburn | Leeds | 2 | NO |
| 23/08/1995 | Mark Atkins | Blackburn | Sheffield Wednesday | 2 | YES |
| 23/08/1995 | Marco Boogers | West Ham | Man Utd | 2 | YES |
| 28/12/1997 | Ben Thatcher | Wimbledon | West Ham | 2 | NO |
| 26/12/2004 | Christian Negouai | Man City | Everton | 1 | YES |
| 07/05/2006 | Andreas Johansson | Wigan | Arsenal | 1 | YES |
| 20/01/2007 | Keith Gillespie | Sheffield United | Reading | 2 | YES |
| 12/08/2007 | Dave Kitson | Reading | Man Utd | 1 | YES |
| 09/02/2010 | David Meyler | Sunderland | Portsmouth | 2 | YES |
FALLING FOUL
Hi Martin. Great column as always. In the Chelsea game on Saturday the commentator mentioned that Eden Hazard was the most fouled player in the French league for the past two seasons. Which Premier League players have been most fouled in the past few seasons? Thanks, Ed from SA
MARTIN SAYS: We asked Opta for the names of the players who have been fouled the most in each of the last five seasons and, unsurprisingly, the names of wingers crop up quite often. Last season, Newcastle winger Jonás Gutiérrez was fouled 85 times, just ahead of Victor Moses (78) and Luis Suarez (74). This season, Hazard leads the way having already won 21 free-kicks for Chelsea.
Most fouls win in each of the last five seasons:
2007/08: David Bentley (90)
2008/09: Kevin Davies (105)
2009/10: Steven Pienaar (97)
2010/11: Ashley Young (95)
2011/2012: Jonás Gutiérrez (85)
2012/13 (so far): Eden Hazard (21)
The most fouled player in the last five seasons is Bolton striker Kevin Davies, who has won 394 free-kicks in that period; eight more than Manchester United winger Ashley Young.
The 10 players with the most fouls won from August 2007 to present:
1. Kevin Davies: 394
2. Ashley Young: 386
3. Steven Pienaar: 354
4. Clint Dempsey: 310
5. Stilian Petrov: 280
6. Mikel Arteta: 279
7. Jonás Gutiérrez: 276
8. Gabriel Agbonlahor: 253
9. Kevin Doyle: 247
10. Charles N'Zogbia: 239
DON'T MEDAL WITH US
It occurred to me that Nicolas Anelka is the only player to have Premier League medals with two different clubs and to have played for a third club that has also won the title. The only other player that I can think of to have played for three of the five Premier League title winners is Mark Hughes who only had one title. I was interested in whether anyone had played for more than three of the clubs, and whether they won a title? Also the only players I can think of who have played for more than one of the five clubs (in the Premier League era) without a single medal is David Rocastle (who won a title with Arsenal), George Weah and Gary Flitcroft. Has anyone else managed this unfortunate feat? Thanks, Adam
MARTIN SAYS: I can confirm that there are only two players to have played for three of the five Premier League title winners during the Premier League era. As you suggest, those two players are Nicolas Anelka and Mark Hughes. No player has played for more than three of the five in the Premier League era.
We have found a number of players to add to your list of players to have played for two title winners in the Premier League without winning a title. Our list is as follows (but let us know if you think of any others):
David Rocastle, Garry Flitcroft, George Weah, Danny Granville, Paul Dickov, Craig Bellamy, Keith Gillespie, Steve Livingstone, Sylvinho, Terry Phelan, Robbie Fowler, Shay Given, Laurent Charvet, Egil Ostenstad, Roque Santa Cruz, Benjani, Robin van Persie, Yossi Benayoun, David Bentley, Tal Ben Haim, Emmanuel Adebayor, Scott Sinclair, Lass Diarra, Danny Simpson, Franco Di Santo, Mame Biram Diouf, Phil Jones
Here is our list of players to have played for two title winners and won a medal with both of them:
Henning Berg, Carlos Tevez, Kolo Toure, Gael Clichy (plus Nicolas Anelka, who has played for three and won medals with two)
And here's a list of those to have played for two title winners and won a medal with one of them:
David Seaman, Shaun Wright-Phillips, Damien Duff, Patrick Vieira, Emmanuel Petit, Mark Bosnich, Andy Cole, Ian Pearce, Andrei Kanchelskis, Peter Schmeichel, Owen Hargreaves, William Gallas, Paul Parker, Samir Nasri, Daniel Sturridge (plus Mark Hughes, who has played for three and won a medal with one)