Chelsea's victories over Manchester United shows they can win the Premier League, says Alan Smith
Chelsea's comeback against United shows they can challenge for the title, says Alan Smith.
Last Updated: 01/11/12 12:57pm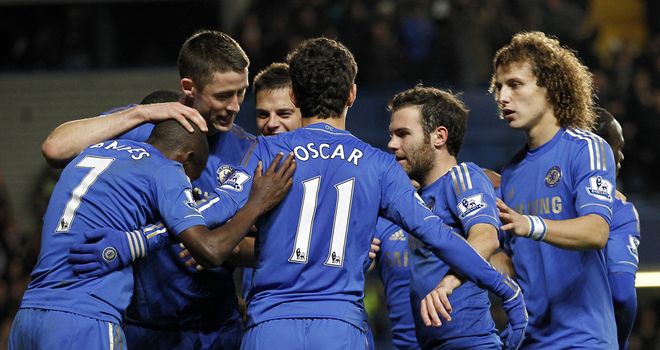 The Blues got revenge for last weekend's Premier League defeat to United with a dramatic 5-4 extra time fourth round win over Sir Alex Ferguson's side on Wednesday night.
And that result - despite coming against a much-changed United line-up - indicates Chelsea have the resolve and talent in their squad to push United and City all the way in the title race this season, Smith told Sky Sports News HD.
"Looking at the Chelsea team sheet before the match it was a statement of intent from Roberto di Matteo, he wanted to win this match," said former Arsenal striker Smith.
"Against a young Manchester United rearguard they finally had enough to break them down. They threw all the big guns on: Oscar and Eden Hazard came on to join Juan Mata and when those three are in tandem any defence struggles to contain them, never mind a couple of rookie centre halves.
"Once again Chelsea had to come from behind and they've shown their character over recent weeks, where they've come back in several testing situations. I think back to the game at Spurs a couple of weeks back when they were trailing. They had to answer them and they did in fantastic style.
"Although they've got boys in Oscar and Hazard who are new to the style of the Premier League and playing with new team mates, they haven't taken long to settle in at all and they've shown they are players willing to accept the ball when the going gets tough.
"They've certainly got a bit about them character-wise."
Fitness
However, Smith cautioned that Chelsea's title challenge will rest on their ability to keep key players fit throughout the campaign, with back-up options in short supply.
"Chelsea have had a fantastic start to the season," he said. "But the key is keeping them all fit.
"For all the money they've spent Chelsea haven't got the biggest squad in the world so if they have injuries in key areas that could affect them.
"They had to play Gary Cahill and David Luiz at the back on Wednesday because they didn't really have anybody else with John Terry suspended.
"But if they can keep their key men fit then I think we'll see Chelsea pushing the two Manchester clubs all the way."