In with the new?
Jamie Redknapp and Glenn Hoddle discuss Liverpool's shape and philosophy after they drew with Chelsea.
Last Updated: 12/11/12 8:40am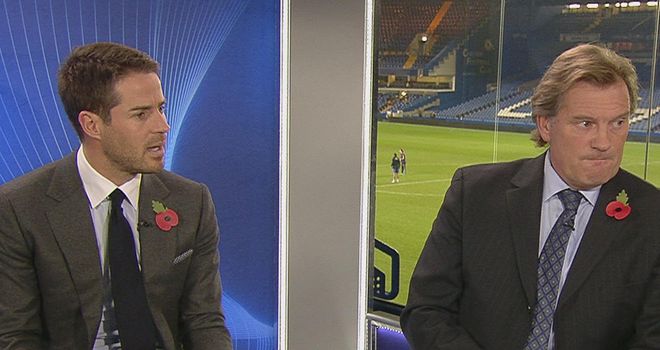 Jamie Redknapp and Glenn Hoddle felt Chelsea missed an opportunity to kill off Liverpool at Stamford Bridge.
Luis Suarez's equaliser gave Liverpool a point after John Terry had headed Chelsea into an early lead before he was stretchered off with a knee injury.
The draw means that Chelsea failed to close the gap on Premier League leaders Manchester United as they dropped down to third while Liverpool go six games unbeaten in the Premier League but remain in 13th spot
"I think it was a fair result", said Hoddle.
"I sense that Chelsea had the opportunity to put Liverpool to the sword today, they really did.
"They had a fantastic spell 20-25 minutes into the second half and they should have killed Liverpool off. They had the opportunities, the crowd was up and they needed a second goal. It was two points dropped for Chelsea.
"But you have got to say that as soon as Liverpool scored and they went back to 4-3-3 it suited Gerrard coming back deeper, Joe Allen - who I thought was poor in the first half - started to tick. You have got to say that Liverpool looked like the team who were going to win it in the end."
While Hoddle believes that Brendan Rodgers side looked uncomfortable with the system he first played against Chelsea, he does believe it is worth sticking with it against certain opponents.
"I would not abandon playing that system against 4-3-3 though," added Hoddle.
"It causes the wide men problems, do they go back with the wing-backs or do they push on with the centre halves? It does give you possession - the possession Liverpool had in the first half, well if they can take that up to the next level and start creating with that possession then I think they can cause teams that play that system problems. They need to have more purpose and more end product."
Liverpool's philosophy
Jamie Redknapp agreed that the change in formation worked and also believes that this new philosophy of Liverpool playing from the back is nothing new.
He said: "I think at 60 minutes he made that change he took off Sahin and brought on Suso. Gerrard moved back into a position that suited his game where he can make things happen and gave Joe Allen a little more space. Suarez started to get involved and Sterling played in a better position. When they went back to that system everyone looked comfortable.
"However it does not matter what formation you play, if you start giving the ball away which is what Sahin and Allen were doing. You have got to work the ball and have some penetration. You have got to play forward as much as you can, you have got to look to penetrate.
"It makes me laugh when I keep on hearing about this philosophy of Liverpool, but that is the way they have always played. During the 80's I studied how Liverpool played and I watched Alan Hansen come out with the ball from the back and play it to Graeme Souness - all of a sudden I start hearing about Liverpool's philosophy - I was there for 11 years and all we did was pass the ball - nearest man you pass it and you move. This is not anything new that they are doing is it."
Glenn Hoddle believes that there is a slight difference though, saying: "I think it is slightly different in the shape of the team. Liverpool have never pushed their full-backs as high up the pitch as Brendan wants to do - it is sort of the 'Spanish' way of playing that everyone wants to play. So it is slightly shaped differently but Jamie is absolutely right, Liverpool Football Club have always passed the ball and they have done it brilliantly."
No matter what formation they do play, Redknapp is concerned that they are reliant on one man: Luis Suarez.
Suarez has got eight goals of Liverpool's 14 this season as well as two assists - without that Liverpool would have just two points and be bottom of the Premier League.
Redknapp said: "Where would they be without him? Liverpool have been lucky because imagine if he had not been firing, what options would they have? You look at Manchester United and what Manchester City can do but Suarez is the only recognised forward that they have. If Suarez gets injured then I would be really concerned, they are lying 13th at the moment and they have a lot of hard work to do to improve."
Old School
Redknapp also had praise for Jamie Carragher as the veteran defender celebrated his first Premier League start this season with a classy flick off a corner that set up Suarez for his goal.
He added: "I don't think he would have expected to start today and it was only because of Martin Skrtel's illness that he got a game. I think in his mind he was questioning if he could still do it at this level, but any doubts he had all he has to do his watch his performance today - he is still quality.
"He gets himself in the right position and he did a great job on Torres today. He is just a great competitor, a real warrior - he still wears black boots. He is old school! He has got the heart of a lion and he wants to do well and the career he has had, he is a credit to that football club. It was great to see him play today."