A Blue day?
It's all change again at Stamford Bridge with Roberto Di Matteo shown the door and Rafael Benitez riding in to replace him. Rich Kitto asks if Chelsea were right to sack the Italian and appoint the former Liverpool boss to rescue their season.
Last Updated: 22/11/12 9:17am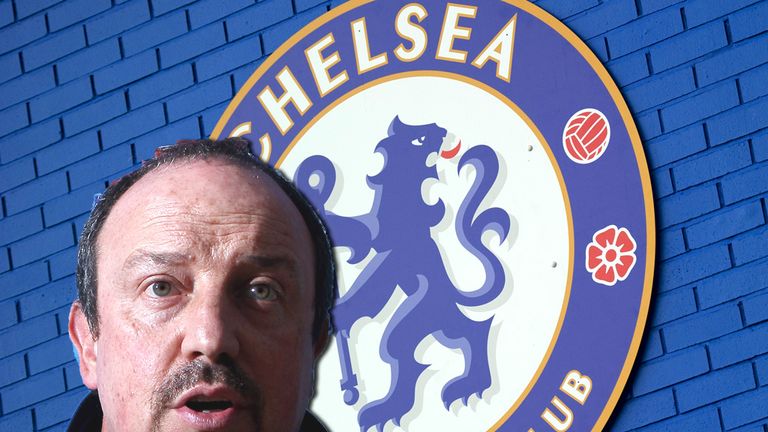 "We want longevity, we want trophies, we want success like anybody but this is making us look a bit like a laughing stock"
That's the view of Chelsea Supporter Group Chair Trizia Fiorellino who, like many Blues fans, was left baffled and frustrated by the decision to axe the popular Roberto Di Matteo.
A date with the Old Lady in Turin ended the relationship between a young manager and his beloved football club. But was the dismissal of Di Matteo an unreasonable action or a ruthless necessity for Chelsea's billionaire owner Roman Abramovich? And where now for a man with astronomical expectations - is Rafa the right gaffer for the job?
For all the talk in the papers and on the terraces, I don't think many expected to walk into work on Wednesday morning to the breaking news that Di Matteo had been sacked as Chelsea manager. Such astonishment at the actions of Mr Abramovich and the club board show just how unexpected it was: after all, Chelsea's quiet Russian owner is certainly no stranger to making headlines and causing rupture with his sackings in the past.
Having seen off eight managers in the past nine years, perhaps Di Matteo should be grateful to Abramovich that he got so long. After all, his (still extremely short) spell lasted 262 days - six days longer than Andre Villas-Boas got, 19 more than Avram Grant, and 29 extra than Luis Felipe Scolari.
So really, the removal of a young aspirational manager who guided his team to the FA Cup, the first Champions League in their history, and left them third in the Premier League should come as no surprise.
Whilst the careers of the three aforementioned managers at the Bridge were shortlived, at least some could see sense and understanding in letting them go. But the manner in which the club have dealt with the man pleasantly known as 'Robbie' by his, now former, playing staff is hard for many fans to take.
"It's astonishing really. It just goes to show how precarious we are as Premier League managers. We cant take anything for granted." Whilst these words spoken by Alan Pardew might carry a hint of irony as he sits on his eight-year contract at Newcastle, the sentiment is correct - the Premier League is a results business. Two wins in the last eight games which has seen Chelsea drop out of the top two in the Premier League and on the edge of being knocked out of the Champions League, has ultimately cost yet another promising manager his job at the club. Go figure.
None could question the impact that Abramovich has had on the Blues, but his short-term vision is built on loose ground, leading to some fans calling for the Roman Empire to be demolished. The situation at Chelsea is very much chicken and egg, and whilst some supporters are now saying that Roman is becoming an increasing detrimental element at the club, they would possibly still be languishing mid-table had he never arrived on these shores. And whilst many feel that this is the improper way to run a football, Mr Abramovich can point to a trophy cabinet that is now complete, so who are we to question it?
But success doesn't always have to come at all costs, just ask Sir Alex Ferguson or Arsene Wenger. Manager stability is absolutely crucial if Chelsea's owner cares about their future. It was always touted that Di Matteo would be a stop-gap for a long-term solution, i.e Pep Guardiola, but it is extremely surprising - almost nonsensical - to give him such a backing in the August transfer market if he was only tasked with keeping a seat warm.
The signings of Eden Hazard, Oscar, Marko Marin, Victor Moses and Cesar Azpilicueta came at a very high price, and at the very least suggested that Abramovich was on board with what Di Matteo wanted to do. Up until the Spurs game (in which Chelsea won 4-2), it seemed as though the masterplan was going according to plan. If only he were as patient with his managers as he is with his £50million flop Fernando Torres.
'The Barcelona Blues' as they were termed, initially took the league by storm, winning impressively against both Arsenal and Spurs, with their new attacking midfield trio looking sublime, and being four points behind Manchester City (who travel to the Bridge on Sunday) and third in their Champions League is certainly no reason to make drastic changes - in fact there are 56 instances in the CL whereby a team has had seven or fewer points after five games and still qualified, so really it was all still under control. But the knife was wielded, and the disorderly position the team are now in could unravel the rest of the season, so the next man in charge had better be the right man.
The, albeit interim, appointment of former Liverpool manager Benitez will certainly upset the apple cart. David Johnstone, spokesman for Chelsea fanzine cfcuk had this to say on him: "Benitez is not a Chelsea manager. Some people are born to play for or manage certain clubs and for us, Benitez is not what we want."
But football is a results business, and whether you like the señor or not, he has an impressive track record in this country with the ability to bring success in the short term. Just look what he did in the first season at Liverpool, winning the Champions League using a starting line-up that only featured one of his own bought players, and lest we forget, a certain Djimi Traore. He won't guarantee beautiful football but Benitez is an absolute tactician and will certainly make Chelsea a formidable team from front to back. And if he can re-energise and reinvigorate Torres then they certainly stand a very good chance this season.
Pep Guardiola still remains el numero uno for supporters now desperate to be fed a good story after what has been an extremely turbulent season so far, but why would he leave behind his lovely relaxed life in New York for a poisoned chalice in West London? With potential opportunities in Milan, Munich and Manchester next season, there are certainly easier lifestyles to be lead elsewhere, so it is most certainly about the here and now for the Chelsea faithful.
I was at Stamford Bridge recently taking in a match and was extremely impressed by a poignant banner from the stands that read 'Football without fans is nothing'. It's somewhat ironic that it was actually held high by the travelling Liverpool fans as their former manager takes the reins at Stamford Bridge.
But I hope the home crowd took notice. Rafa certainly needs all the help he can get, so let bygones be and please back him Chelsea fans, because you can bet your bottom dollar, the board won't think twice about ending his tenure.