Ray Wilkins says Rafa Benitez needs quick wins after being booed by Chelsea fans
Ray Wilkins says Rafa Benitez has a big job on his hands if he is to win over the Chelsea boo boys.
Last Updated: 25/11/12 6:50pm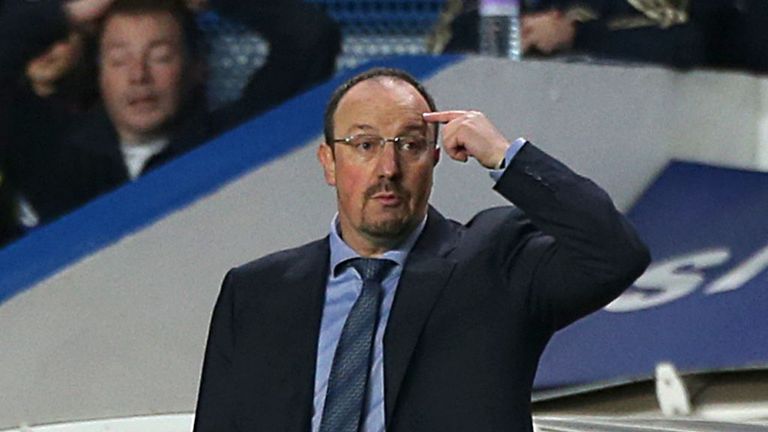 The new manager was jeered by a number of Stamford Bridge supporters ahead of the Super Sunday clash with Manchester City after replacing the popular Roberto Di Matteo this week.
Benitez, who made disparaging remarks about the atmosphere at Chelsea during his time in charge at Liverpool, claimed afterwards that he did not hear the critics when his name was announced ahead of the game.
But Sky Sports expert Wilkins says the incident will have hurt the Spaniard and he needs to pick up results quickly if he is to improve the situation.
"He wouldn't have enjoyed that at all," he said.
"He would have heard that. You are focused on what's about to happen but when there's a lot of people booing you it's not very pleasant.
"I feel for him a touch because he's been employed; he wasn't asking for the job, they've employed Rafa.
"Now they need to give him the opportunity and the only way he will turn that around is by winning games of football."
Impact
Benitez's first game ended in a goalless draw and Wilkins said the new manager had clearly had an impact on some of the Chelsea defenders, in particular David Luiz.
But while they recorded their first clean sheet in 10 games, he does not think the home fans will be happy with their lack of invention in front of goal.
"I thought it was a difficult game for him," he said.
"They haven't kept too many clean sheets and that's important, but on the other hand it's the first time they haven't scored at home this year.
"We talk about balance and one shot on target from Chelsea at home is unacceptable really with the quality they've got.
"But we saw today David Luiz, who I've been critical of on numerous occasions, didn't leave the defensive area too much and was in the back four more often than not.
"I think Rafa's obviously decided he was going to have a little chat with David and said ' initially you are a centre-half, give us what you give defensively and if the opportunity arises when we're 6-0 up then by all means go forward'".
Wilkins suspects Benitez asked Juan Mata to play as a more traditional winger against City, to give the team a bit more structure.
But while that helped the shape of the team, he felt it restricted the impact that the Spanish playmaker could have going forward.
"He changed it slightly with Mata playing on the right-hand side," Wilkins added.
"I've seen him play on numerous occasions and he's been outstanding this year. When he comes in off the line he's dynamic; he can make things happen and create chances.
"If he's playing too far wide, it's okay if you lose possession of the ball because you've got players in the right areas, but this is about Chelsea Football Club, who play with a little bit of flamboyance.
"For me, he played far too right. They inter-changed a little bit, but he was far too right."