Chelsea must offer Frank Lampard a new deal, says Dwight Yorke after the Blues' 8-0 win over Aston Villa
Dwight Yorke says Chelsea must offer Frank Lampard a new deal after the Blues' 8-0 win over Aston Villa.
Last Updated: 23/12/12 8:49pm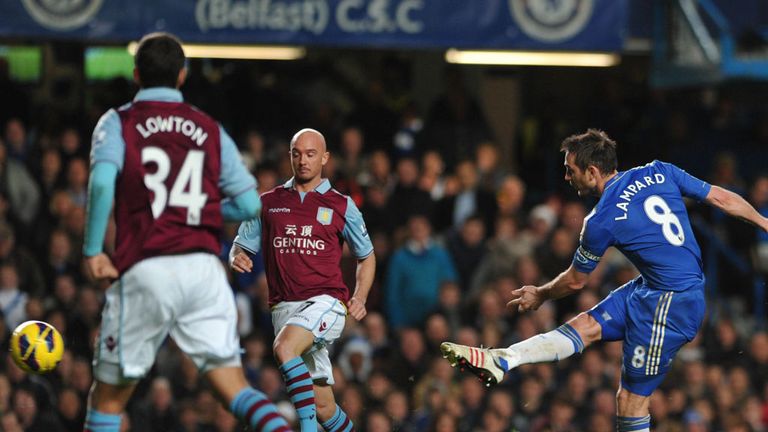 Lampard marked his 500th Premier League start with a sweetly-struck, second-half shot - the fourth goal conceded by Villa on the day and one that made the 34-year-old Chelsea's all-time highest-scorer in the top division, eclipsing Bobby Tambling.
However as things stand Lampard will be a free agent at the end of the season and Wilkins says it's high time that Chelsea handed the former England captain an extension.
"It was never easy for Frank, coming to Chelsea from West Ham - one of Chelsea's rivals in London - but he's had an absolutely magnificent career here and if the hierarchy are watching, then they should be signing him up right now because he's still got a good two or three years left at the top level as far as I'm concerned," said former Blues assistant coach Wilkins.
"The technique he showed on his goal was absolutely exquisite and how many goals has he scored now for Chelsea? An unbelievable amount - he churns them out year after year. They should be signing him as we speak."
Former Aston Villa and Manchester United striker Yorke concurred, adding: "You've just got to look at United and the likes of Ryan Giggs and Paul Scholes. They epitomise Manchester United and certainly Lampard epitomises Chelsea Football Club. He and John Terry are the leaders in the group - they have won everything with this football club.
"At 34 people tend to write you off a little too quick and I think that Lampard has got a lot still to offer - I don't see any reason why they shouldn't offer him an extension on his contract."
Confidence
Fernando Torres set the tone for a rampant Chelsea performance, scoring in the third minute with a powerful header from Cesar Azpilicueta's cross - a goal that Yorke described as "terrific".
"It was the start that Aston Villa didn't want," reflected Yorke. "Chelsea came out of the blocks and really played some fantastic football. At this level you just can't give players time on the ball to deliver it into the box.
"Torres points where he wants it and he attacks it; he's a long way out but it's a great header; he gets his head there and has the pace and the accuracy to score.
"This is a guy who is high on confidence now; a month ago he was running into areas where you are just never going to score. Now he's running into areas where he is likely to score goals and he's given himself that opportunity. He's got that passion for playing football again - it seems as though a weight is off his shoulders and that he is enjoying playing the game."
Discipline
Brazilian David Luiz - playing in central midfield rather than defence - scored the second with a dipping free-kick on 29 minutes and Wilkins said the goal capped a fine all-round display.
"We've found his position," he enthused. David Luiz should never play at centre-half again because today he showed a discipline, he showed his passing game and his attitude was first class.
"He has convinced me that he is a central midfield player. His energy was fantastic but more importantly his discipline was first class and we've not seen that at centre-half where he wants to do a bit too much. He's two-footed, he's quick and he's strong. There's no reason why he can't play in there.
"Luiz can express himself a little bit more because if he makes a mistake at the back, someone's got a chance on goal. If he makes a mistake in the middle of the pitch he's still got two very, very solid centre-halves in Branislav Ivanovic and Gary Cahill behind him - or when John Terry comes back, two of the three."
Wilkins explained that he felt Luiz's goal owed a lot to the influence of former Chelsea striker Didier Drogba.
He said: "Didier was always one of those guys who wanted to be on the training pitch for an hour after training. He'd get the wall up and then he'd put his heel in to the ground and make a hole so as he came up to hit the ball with the side of his foot, the first thing it would hit was the side of the divot so it would naturally start the rotation.
"I wasn't at Chelsea with David Luiz but obviously he's learnt it. As he hits the ball he gets the height but also a tremendous rotation on the ball. It's a bit like table tennis when you're hitting a flipper. The rotation helps keep the ball down because he's got top-spin on it."
Price
Aston Villa did not pick up a single booking in the match and Yorke felt that typified a lack of fight from his former club.
"You would have thought that 8-0 someone would have been losing their rag and going around kicking somebody, but that didn't happen and I think that 'Razor' [Wilkins] and I could have played in that game today," he said.
"Every time you saw the Chelsea players they had time and space; you just can't give them that time at this level because top teams will pick you off. Aston Villa did get picked off on a number of occasions and paid a price.
"Chelsea didn't seem like they came out of second gear - they were very much in control of what they did today."