Jamie Redknapp hails father Harry for bouncing back and guiding QPR to shock Chelsea win
Jamie Redknapp praised father Harry for some key tactical changes ahead of QPR's win at Chelsea.
Last Updated: 03/01/13 8:49am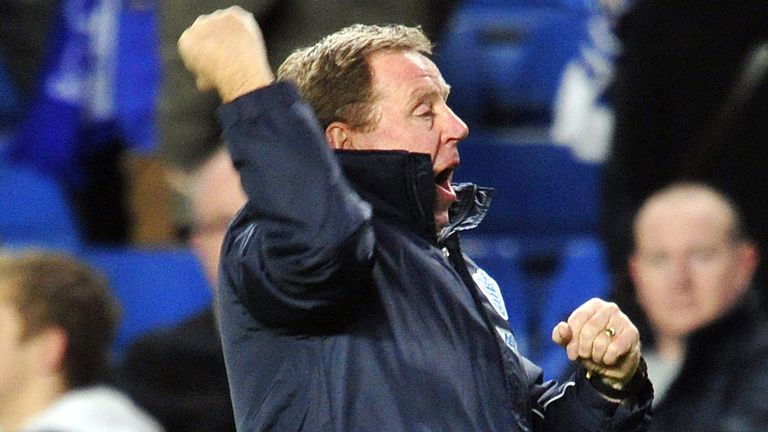 Shaun Wright-Phillips hit a famous winner in Wednesday night's West London derby to give his side their first away in in the league this season and a much-needed three points in their battle to beat relegation.
Jamie watched QPR get completely outplayed by Liverpool in their previous game and admits his dad struggled to come to terms with the poor performance, but he made four changes to the team - bringing in the likes of Shaun Derry and leaving out Djibril Cisse - as they bounced back in style at Stamford Bridge.
He told Ford Football Special: "After the Liverpool game I had a cup of tea in my dad's office and it was about as low as I've ever seen him. He was so low and you start to wonder if he's done the right thing.
"But he has this amazing ability, as all managers do, to pick himself up. I spoke to him today and he said he was really looking forward to the [Chelsea] game.
"He changed the tactics and played Taarabt up front on his own and brought in one or two key players. I mentioned on Sunday that someone like Shaun Derry has a little bit of nous and football knowledge; he understands where to go when you haven't got the ball.
"The goals that were scored by Liverpool, as good as they were, could have been avoided. Sometimes you need someone in midfield to take the pressure out of situations and he did that really well today alongside Mbia."
Jamie says the 1-0 win will give the players a much-needed confidence boost ahead of a difficult run of January fixtures which sees them face the likes of West Brom, Tottenham, West Ham and Manchester City.
And he says Wright-Phillips, in particular, will prosper after ending a run of 53 matches without scoring a goal.
"He's had a difficult time since he's gone to QPR," he added.
"He's looked low on confidence but that will do him the world of good. It's exactly what you need as a footballer.
"But it will do the whole place the world of good because it's been difficult when you've not won away for so long.
"You wonder where the next win is going to come from and you've been given a tonking by Liverpool at the weekend in every way, shape or form; they couldn't get near them.
"It's a really big win for them."
Horror tackle
Jamie also criticised Chelsea winger Marko Marin for a horror tackle on Stephane Mbia four minutes into the game, insisting referee Lee Mason - who has only sent off one player in his last 53 matches - should have shown a red card.
"The only surprise is he's not broken his leg," he said.
"Hopefully Lee Mason will look at that again. Sometimes referees need to get educated on what players know are bad tackles.
"It doesn't take rocket science to see that is a horrendous tackle. It's high, it's late and the referee has a great angle.
"We're getting caught up in diving - and of course we want to see diving eradicated from the game - but this is also important. Tackles like that finish careers.
"But I will say in his defence, I watched a lot of Marin at Werder Bremen and he isn't that sort of player. He doesn't normally make a tackle.
"It was a horrendous tackle by him, but he isn't really that sort of player."
Jamie on Wednesday's other games
Newcastle 1-2 Everton: Everton are a team of men. They defend for each other, they've got a good goalkeeper and this was a big result. They were unlucky against Chelsea on Sunday, but this is such a powerful side. What Newcastle need is some key players back; I'm talking about quality footballers like Cabaye and Ben Arfa. I've no doubt they're going to go and buy a centre-forward now that Demba Ba has gone and I still think Alan Pardew's struggling with his best formation and his best way of playing. At times they play with three up front, today he changed it with 10 minutes to go and played with four up front and it's difficult. If you play with two up front you get outnumbered in midfield and that's something Pardew is worried about. You also have to give Cisse a run of playing up front.
Liverpool 3-0 Sunderland: Luis Suarez is out of this world at the moment. The things he's doing with a football... you're almost running out of superlatives for him. For the first goal, the vision he shows and the strength he has to go past people makes him a proper street footballer. When you get him and Steven Gerrard playing on the same wavelength it's a joy to see. I don't want to tempt fate, but there are real signs that Liverpool can get it together, especially if Daniel Sturridge can come in and work for the team. He's another body, which is what you need. Luckily enough Suarez has stayed fit because if he hadn't then they would have had real problems.