Chelsea boss Rafa Benitez should not have rotated his starting line-up against QPR, says Ray Wilkins
Ray Wilkins says Chelsea boss Rafa Benitez should not have rotated his starting line-up against QPR.
Last Updated: 03/01/13 1:45pm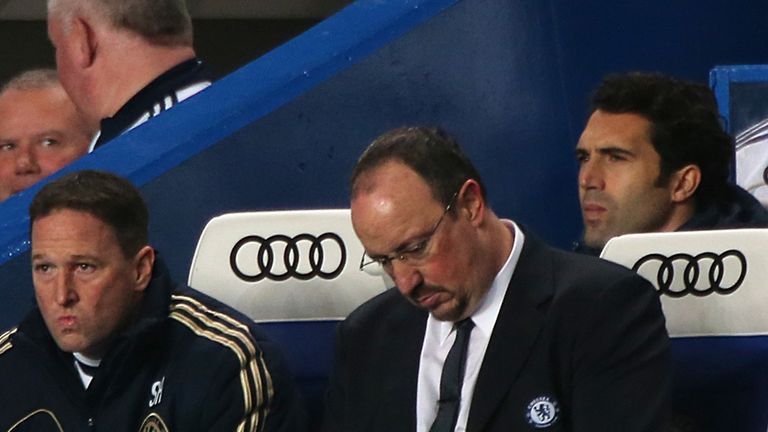 Blues boss Benitez opted to start with Eden Hazard, Ramires and Juan Mata on the bench and paid the price as Rangers grabbed all three points thanks to Shaun Wright-Phillips' 78th-minute winner.
Former Chelsea and QPR midfielder Wilkins told Sky Sports News that that Blues - who now trail Premier League leaders Manchester United by 14 points - cannot win the title and that Benitez got his team selection wrong.
"When you are playing the likes of the sides right down the bottom who are struggling against relegation, you have to take them to task and unfortunately Chelsea didn't do that last night," said Wilkins.
"I honestly felt that had the likes of Hazard and Mata started, then Chelsea would have started with a better tempo to the game. But they didn't play with a tempo at all and never tested Julio Cesar in goal whatsoever in the first half. The one real chance they had fell to Torres and Cesar made a wonderful save.
"So it was a difficult evening for Chelsea but I personally would have played the likes of Mata and Hazard and if the job's done after an hour, take them off.
"That [rotation] was the problem. When you are playing the lesser clubs and the sides that are struggling, there is a tendency that your selection will be slightly different than if you'd been playing one of the bigger boys."
Grief
Despite the defeat, though, Wilkins believes that Benitez is doing a "good job" at Chelsea, who went into the match against QPR on the back of four successive wins.
Former Liverpool boss Benitez has failed to win the support of a proportion of Blues fans since being appointed as Roberto di Matteo's successor in November on an interim basis and Wilkins believes it's high time that those supporters start to get behind their manager.
"They were a little bit disgruntled again last night, unfortunately, with the performance.
"I think Rafa has done a very good job - I have to say; it's not his decision to put himself in the position. They should give him a little bit of leeway; they are giving him a little bit of grief, but I think he's done a good job for Chelsea.
"He's moved the team around very well - they've picked up some good results and this was hopefully just a blip in what's been a good couple of months for him."
Talented
QPR boss Harry Redknapp believes the victory - the club's first away win of the season - will help him to attract new players in the January transfer window and Wilkins, who agrees, believes 2013 will bring a sharp upturn in the team's fortunes.
"It gives Harry a better footing, I have to say; they did play very well last night," he said. "They were very well-organised and they looked as if they were a side that could go on from this.
"He's got some very, very tough games in January - Tottenham come to them on Monday week and then, of course, they also play Manchester City in January - so it's a very, very difficult period. But it does give you a better opportunity of bringing in some players.
"QPR certainly played a lot better last night than they did at home against Liverpool. I think sometimes when you are down the bottom it can be slightly easier to play away from home.
"They were very well-organised last night, they worked extremely hard, so there's no reason why if they can get their home form going that they can't pick up a number of points because they certainly have a talented group."