Behind the scenes on Deadline Day
Transfer Deadline Day isn't just about Jim White you know... from the touchscreen to Twitter here's an insight into some of the other people that make it happen here at Sky Sports ...
Last Updated: 30/01/13 1:01pm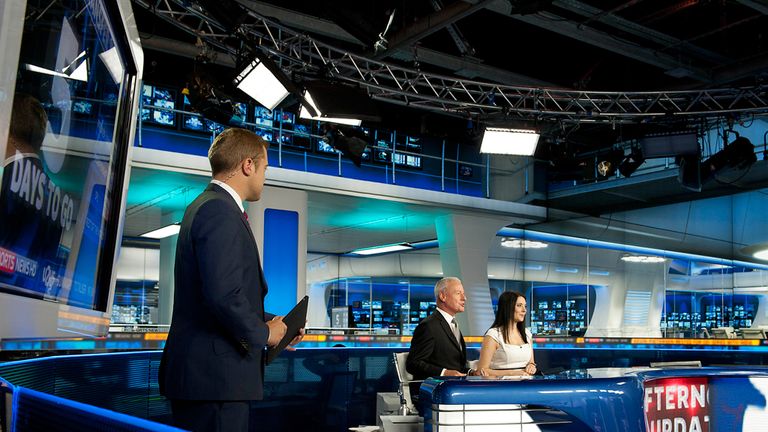 "I am the straight man to Jim White and I have been told that I'm there to rein him in a little bit! He loves Deadline Day - as we all do - and he's on his phone all the time during ad breaks because he's got so many contacts. It's so much fun working with him. This year I'll be on air with Jim from 8pm and hopefully you'll see the yellow ticker going mad with breaking news from across the country and Europe as that clock ticks down. It's always a different day because the news room is buzzing and there's an extra bit of spice because nobody knows what's going to happen. Everyone is working like mad behind the scenes trying to get the stories and the pictures on air and the reporters are constantly on their phones.
"In a way it's difficult to prepare because you don't know what deals are going to happen; last time everyone expected Clint Dempsey to go to Liverpool and suddenly he was at Tottenham! The set is really open and you hear a lot of things and you have to filter out what's true and what isn't. It's a cliché, but scripts do go out of the window. And yes, I think I'll be wearing a yellow dress again this time."
Bryan Swanson - SkyPad Reporter
"My role is to present the latest transfer news on our 65" SkyPad screen live in the studio. It is fully interactive and I control everything. It can be used to show how many players a club has signed this month, how it compares to previous windows and the "Totaliser" - the total amount of money spent by Premier League clubs in a window. On Thursday, I will come into the office around midday and chase stories and assist Dharmesh Sheth, the afternoon SkyPad presenter, and then go on Sky Sports News from 5pm until the end of the night. After an 11pm deadline, I usually leave the office around 2am after the dust has settled. Viewers should always expect the unexpected. Premier League clubs have already spent more than the last winter window and plenty of managers have told us they will leave it late. It always surprises me that some clubs leave it, literally, to the last minute. It always makes for gripping viewing.
"Deadline Day January is the final day of a 31-day transfer marathon. We've all been hard at work, since the window opened on January 1, bringing viewers the latest transfer news. Sometimes a story can take minutes to break or it can take weeks of calls to check our sources and back up their information. Nothing beats the adrenaline rush of breaking a transfer story. There's a huge amount of effort, behind the scenes, to make sure everything is presented as accurately as possible. It's quite normal to walk into the studio with only half of my transfer news ready to go. Behind the scenes, our SkyPad producer Zoe Uminski is frantically working on updating the status of a transfer - enquiry, formal bid, bid accepted, personal terms, medical etc. In theory, I rehearse every update. In reality, particularly as the deadline approaches, I get very little warning about the next story. That buzz makes it so enjoyable.
"My most memorable Deadline Day on location was standing in the freezing snow for two days covering Andrei Arshavin's on-off move to Arsenal in January 2009. After a tip-off around 1am, I was given the location of Arshavin's hotel and, in sub-zero temperatures and hazardous driving conditions, we filmed exclusive shots before camping outside the Emirates Stadium long into the night. When Arshavin eventually signed, the next day because of various complications, he did an interview and gave the memorable line, "I am a Gooner".
David Craig - Location reporter
"I'm the Sky Sports News North East reporter, so I'm responsible for the North East region - everywhere from Darlington to the Scottish borders, but our big clubs up there are obviously Newcastle, Sunderland and Middlesbrough. Like the rest of the reporters I'll be up at about 4am on Deadline Day and will head off to meet our crew at the training ground where we expect the biggest stories to take place (usually that's Newcastle or Sunderland for me). We'll spend the day hammering the phones and using our contacts to get news to our viewers quickly and accurately. We'll also be hunting for shots of people arriving for last-minute talks and medicals.
"A few of us specialise in transfers and the transfer window is our showpiece, it's like Christmas twice a year, but the work and preparation goes into it all year round. You have to stay in touch with players, agents, chief executives and chairmen all the time - you can't just start on January 1 because a lot of deals are already in place by then. I've had some great memories of Deadline Day, most notably when we did our own version of 'Bid Up TV' with Newcastle United, who kept knocking back Liverpool's offers for Andy Carroll through Sky Sports News. It started on £22million and when it reached £35million we got a call saying they would reluctantly accept (I wasn't on 10 per cent, I must add...) The other thing about the January Deadline Day is that we're usually surrounded by snow and ice - you're almost guaranteed to be hit by a snowball by a supporter - but that's all part of the fun."
Ben Bregman - Cameraman
"I'm not exactly sure where I'll be on Deadline Day yet, but I can guarantee it'll be a double shift and normally involves setting my alarm for about 4am. I tend to find myself working with Gary Cotterill, who is like a dog with a bone when a story's breaking. The last really long day I did with him was at West Ham when there were loads of stories flying about on who was 'in' and who was 'out'. Scott Parker was linked with a move. We'd been standing outside the training ground in the freezing cold with nothing going on... then through the trees, Gary spotted him. Getting a shot was pretty difficult; I had to climb up on a grassy knoll, pull my body up with one arm by holding on to a branch and then balance the camera on my head! We got a good shot and it ran all day.
"The rest of the day involved waiting for players to leave the ground in their cars. We'd run out into the road, knock on their windows and try to interview them to find out anything we could. This went on all day and we got some pretty good leads. Just as we were finishing for the day, I got a phone call... "Ben, could you just nip to central London and get a shot of Big Ben striking midnight! Joy!! It's pretty hard work, but I know the people in the office put in weeks of work to get it looking as slick as it does! Everyone works hard, pulls together and the result is always fantastic."
Mikey Burrows - Sky Sports News Radio Presenter
"I like to think I'm radio's answer to Jim White but that's probably doing the great man a dis-service. Deadline Day on the radio is just as exciting and passionate though, with regular updates from the Sky Sports News reporters and interviews (often through a car window) with the movers and shakers. Danny Mills, Paul Jewell and Micky Gray will provide expert analysis in the studio as we follow every twist and turn and provide the most up-to-date and comprehensive coverage of the last-minute deals. Natalie Sawyer will provide the glamour alongside Jim on the box and my colleague Dave Reed likes to think he performs a similar one on radio - dream on partner! Since the start of the month Dave has been hosting our daily Transfer Interactive hour from 11am and then the day's deals have been rounded up in the Transfer Centre with me at 5pm.
"Deadline Day is when we join forces. Back in August Dave and I were on air for seven hours; apparently this time we're doing at least eight and it could be longer, as neither of us likes to leave the studio until everything's done and dusted. Thankfully Ben Ransom will be sharing presentation duties allowing the occasional swig to soothe the vocal cords. Hopefully this year we'll have loads of big deals to tell you about, but at the very least we're hoping the guys in the office don't eat all the pizza before we finish like they did in August!"
How to listen: www.skysports.com/radio and via the Sky Sports apps (click radio) and the Sky Sports iPad app (click the audio icon)
Peter O'Rourke - Sky Sports website
"I'm the Football News Editor for skysports.com so I will be dealing with all transfer news at home and abroad. It is always one of the busiest and longest days in our office with lots of tea and energy drinks needed to keep you going right up to the 11pm deadline and beyond as there are always a few late deals that sneak through. Most of the day will be spent on the phone chasing up leads and rumours that I get from my wide range of contacts in the football world and try to get to the bottom of the deals that are taking place.
"We aim to bring the news and all the movers and shakers to our readers as quickly as possible to make us the first port of call on the web for all the best transfer news. We will also work closely with our colleagues at Sky Sports News to try and unearth any possible moves or dealings that have gone under the radar. Unlike the reporters out and about outside club training grounds in the freezing cold we will be in a warm office glued to Sky Sports News and on the phones using our various contacts to deliver the best possible service to football fans."
Nick Seymour - News Editor
"I'm in charge of our day-to-day coverage, deciding where to send reporters and what we get them to do. On the day before Deadline Day I will decide which training grounds to send the reporters and cameras to and then on the day itself I'll be up at 5.30am, at my desk at 7am and I'll be there until the main bulk of the day is sorted out. We'll spend the day chasing transfer stories and moving reporters around , so if we find out a player is at a hospital having a medical it's my job to get a camera there. We'll also be trying to find the managers and the chairmen and getting as much information as we can.
"The whole transfer window adds a new dimension to all the other stuff that goes on for the rest of the year and the days around the Deadline Day itself are the most intensive days of news gathering in the whole year. The best ones are when the big transfers go through and we're there and we get the pictures. Sometimes the cameramen and reporters phone me up and say 'why am I here? There's nobody else here' and I usually think that's good because it hopefully means we're one step ahead. The stories are good, but the reason people watch us is for the pictures as well and the Holy Grail for us is to give the viewers that bit extra. I remember a few years ago we got exclusive shots of Dimitar Berbatov at Old Trafford and that was just fantastic."
Gemma Davies - Live producer
"As you can imagine, the role of a live producer on Deadline Day is pretty busy. A lot of our coverage revolves around reporters that are live at training grounds and stadiums across the country as players and managers come and go to complete deals. As live producers we co-ordinate each of the reporters that we have out with live satellite trucks on the day - this is usually around eight at one time but can be even more. We let them know at what time they're needed and what we'd like updates on in their live hits. We're also often the person the reporter calls to let us know when they have a new line on a potential deal from their club.
"The reporter lives are as recognisable a part of Deadline Days as Jim White. This year we can expect Harry Redknapp to stop in his car to speak to Gary Cotterill (just at a different club this time), the kids at Stoke to sing about their new signings for us and there will inevitably be a reporter who pops up at five past 11 to tell us about a deal that just about made it on time. When you're at home watching spare a second to think about the poor reporters who stand in the cold, wind and rain from before 6am until after 11pm. But if they're lucky a kind pizza delivery boy may pop up at Loftus Road to make sure they're fed."
Aisha Hughton - Planning
"I've been a football planner for five years and my job is to liaise with press offers, agents, managers and football players to build relationships, set up the interviews that you see on Sky Sports News and hopefully break big stories. I've built up a lot of contacts and sometimes you build up such a good relationship that players or agents will steer you in the right direction. When Jermain Defoe moved to Portsmouth he actually called me up to tell me. Nobody else knew about it, but we managed to get a camera crew there to see him arrive. There's nothing more thrilling than getting that phone call and breaking that story before anyone else; it gives you goosebumps to make a contribution to such an amazing channel.
"We've been working on our plans for a long, long time and we're working hard to shake things up for the viewers. We have more live capability than ever before so will be bringing you live shots and reports from more locations plus we're going to use some different guests this year, such as Simon Jordan. We want people with knowledge who will give us a different insight on the deals, so we're hoping to get someone in from the FA, we'll get an agent in, we'll try and get a chief executive or a chairman in the studio. We're also looking at Europe a lot more this year to make sure we're on top of what's happening in Spain, France, Italy and Germany. But my favourite bit of the day is always seeing Jim White walking in to work with a camera following his every step! It makes you feel like you're in a Rocky film or something!"
Zoe Uminski - Touchscreen producer
"I am the Touchscreen producer, so I work closely with transfer reporters Bryan and Dharmesh to get the big stories illustrated in the best way possible on the SkyPad. It's become a regular fixture of the window over the last few years and is a great way for the reporters to tell the news in a bright, interesting way. Deadline Day is high stress and fast moving, but I love it - it's when the newsroom works at its best! I will be positioned between my PC and the touchscreen working at triple-speed to make sure all the latest news is on the screen ready for the next hit! The viewer will see Bryan or Dharmesh at the SkyPad at least once an hour with player updates changing all the time.
"There's always a buzz in the newsroom, which is great fun, and a particularly memorable window was the record-breaking January of 2010 when £225m was spent by Premier League clubs - and the Andy Carroll/ Fernando Torres deals went through SO last minute. The amount of money which was being discussed as exchanging hands as well as stories of Torres sightings in helicopters over Chelsea made the whole thing sound entirely fabricated... which of course it wasn't. It's this kind of unbelievable-sounding, desperate deal which absolutely makes for a great Deadline Day!"
Andy Thompson - Digital Media / Sky Sports News Twitter
"The Sky Sports News Digital Media Co-ordinator helps to smooth the flow of information between Sky Sports News and the website / mobile site / iPad app / radio station / text service. From where I sit in the Sky Sports News studio, close to the news desk and next to the production team, there is often a real sense of excitement whenever a big story is about to break - and when we get the word to go with the story, it's my job to co-ordinate breaking the news across the other platforms. The radio station and website are based up in Leeds whilst the team who look after the text and mobile operations are three floors up in Sky Studios - so there are lots of emails flying about!
"We are also responsible for the running of the SSN Twitter feed so, working closely with the SSN producers, it's my job to send out 'breaking news' tweets at the same time the news is being announced live on air. It's not just a one-way street - the team of journalists that work on the various sites will often pick up on strong leads from their contacts around the country and then e-mail or phone me so I can inform the SSN newsdesk. So, multiply all that by several thousand and you'll get some idea of how my Transfer Deadline Day should be shaping up... One thing's for certain - it won't be quiet!"
Graeme Bailey - online transfer centre
"I am a senior reporter on the Sky Sports website and am tasked with working on transfers throughout the year - and obviously the Transfer Deadline Days are the showpiece events. This January has been slightly different as I have been working away from our offices in Leeds and have been with the TV reporters in London. Last year we managed to break the Clint Dempsey story to Spurs a few hours before anyone else which is pleasing for everyone. The Andy Carroll Deadline Day was good too - we knew about that ahead of schedule but, as with a lot of our stories, they need checking and double checking - but that was a really exciting day. One thing that we hope comes across is that we love breaking the stories and being on the ball.
"The biggest feature of the website on Deadline Day and throughout the window is the Transfer Centre - this is your one-stop shop for any transfer news, worldwide and we pride ourselves on providing the best service anywhere on web - if you click on the Clockwatch, you can see all the latest transfer news and reports, Tweets from our reporters, from clubs and players, video updates, pictures of the latest signings - anything you could ever want on Deadline Day. Plus it is one place, so if you're on your phone, at work or at home - it is easy, and that is key - we don't want you to work to find the news - that is our job!"
Phil Dawkes - Sky Sports iPad app
"Transfer Deadline Day on the Sky Sports iPad desk is one of the busiest days of the year - in fact the only other day that comes close is the other Transfer Deadline Day in August! From the moment we start work at 6.30am, it's non-stop as deals are completed (or fall through) and we try to keep abreast of the latest developments. The 'Transfer Centre' - a module that sits prominently on the main headlines screen of the app - is one of our main priorities. It needs to be checked constantly to make sure we have all the top stories as they break.
"Our team are also responsible for compiling picture galleries and producing graphics such as 'player factfiles' - normally we have a bit of preparation time to get these ready but on Deadline Day you never quite know what the next story's going to be so things have to be done at a moment's notice. We keep a close eye on Sky Sports News throughout and are in constant contact with the Digital Media Co-ordinator. He's our man on the ground within SSN and will give us a 'heads-up' if hears about any potential moves that are about to happen - every second counts! It's unlikely we'll find time to eat - or even stand up - but it's an exhilarating day that flies by until the evening shift arrives to take over. Then it's a home to a well-deserved slump on the sofa - and guess what I end up watching? Jim White on Sky Sports News..."
Mel Bartlett - Director
"Being a director is a bit like being the conductor of an orchestra. The director pulls together the editorial and technical side of things, so we have to liaise with the presenters, the live sources, the vision mixers, the sound guys, the graphics guys, the cameras, the lighting... we co-ordinate all of those areas to make sure we're all doing the right thing at the right time. The best thing about Deadline Day is that it's a lot busier than a normal day because the rundown is always subject to change. The plan at the beginning of the hour isn't necessarily what happens by the end of the hour! Every individual job is important, but it's all about teamwork. If one person drops their ball, it cascades down to everybody.
"A lot of preparation goes into this. For example this year, we're going to have a camera on the roof of the Sky Studios for sunrise and we're going to need a camera to get the chimes of Big Ben. We'll have a lot more guests in the studio throughout the day, so everybody needs to be aware of that. We've even got a second studio, so we can do live updates throughout the evening on eight other Sky channels (including the other Sky Sports channels, Sky One and Sky Movies). It's a massive operation, but the best thing about it is the buzz when you walk in the newsroom. There's two days in the year when everybody wants to work - and it's the two Deadline Days. That's what it's all about... and of course there's the memorable Deadline Day cake!
Jason Landau - Design
"I'm the Design Director at Sky Sports News and our team has designed the Transfer Window brand, which this year is yellow and black to represent breaking news. You'll see the same Deadline Day graphics right across Sky Sports News - on side panels, on the desk in front of the presenters, on the website, on the iPad and also on the other Sky Sports channels. You'll even see it on the countdown clocks. We also designed the SkyPad working with Andy Barrett and Broadcast Computing to deliver Bryan, Dharmesh and the other reporters a powerful Deadline Day tool. These days Bryan can use the SkyPad quicker than I can use my phone!
"Deadline Day and the transfer window is one of our biggest projects of the year. My colleague John Carden actually started developing the ideas for this year's brand back in August. On the day the graphics operators will be busy ensuring all the player imagery is up to date and if a story unravels throughout the day we will help explain it in a graphical representation. For me, it is like being a kid on Christmas morning. My colleague Judith and I split the day so that I support the early team and she supports the late. This works perfectly as I can get home and watch the remaining hours unravel on Sky Sports News. Sometimes I'll ring my brother to say "have you seen Everton are in talks with..." and he says "I knew that two hours ago!" It just shows that we are so busy here that the best place to keep up to date is by watching Sky Sports News!
"And here's one of my favourite moments of Deadline Day in years gone by... the time our colleague Faith Alexander turned our graphics into a cake!"
Tune in to all the drama of Deadline Day on Sky Sports News HD, Sky Sports News Radio, skysports.com, the Sky Sports iPad and mobile apps and the Sky Sports News Twitter account on Thursday January 31 from 6am.