Gianfranco Zola talks Merse and Fenners through his #One2Eleven
Gianfranco Zola talks Merse and Fenners through his One2Eleven on Fantasy Football Club.
Last Updated: 21/03/13 11:10am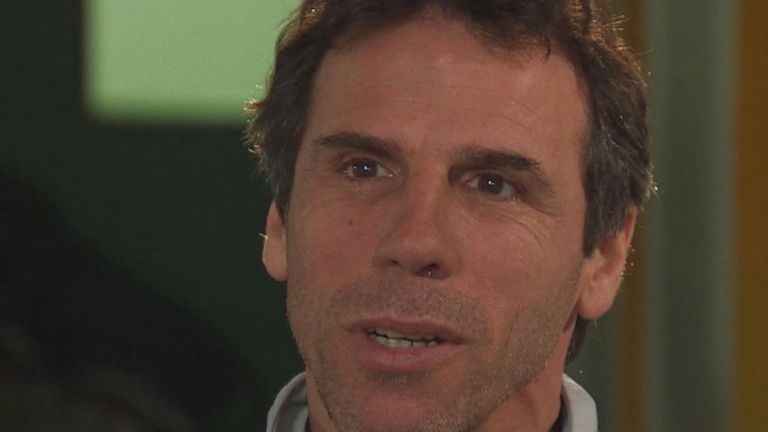 The Watford boss talked us through his selection, explaining: "I hope you like my team - I think it is a little bit more offensive than defensive, but hopefully you'll excuse me for that.
"If the back four work a little bit harder, then with the rest of the players we can create enough problems for the opposition."
But did Fantasy Football Club guest Gus Poyet make the cut? Check out Gianfranco's team below, playing in a 4-3-3 formation.
GOALKEEPER - Gianluigi Buffon: I played with him in Parma. You could never score against him. He was incredible - you could see he was a different class of goalkeeper. We could stay there at the end of the training session to take shots and it would always be very difficult to beat him.
RIGHT-BACK - Lilian Thuram: I also played with Lilian in Parma. I had some other picks, like Albert Ferrer, who was very good with me at Chelsea but defensively he wasn't as strong as Lilian.
LEFT-BACK - Paolo Maldini: He's not a bad pick! Although I've had good players in that position - such as Alberto Di Chiara at Parma, who was very good going forward. At Chelsea we had players like Graeme Le Saux, who did very well for us, and Celestine Babayaro. But Maldini is probably one of the best - if not the best - left defender of the century so I go for him. I played with him in the national team, not at club level. It was always a pleasure to play with him.
CENTRE-HALF - Franco Baresi: I played with him for the national team, as well, and he was from a different planet. He was difficult to beat in a one-on-one situation, plus he was good with the ball. He was a great leader on the pitch.
CENTRE-HALF - Fabio Cannavaro: He's one of the few defenders that own the Golden Ball. Man-to-man he was basically unbeatable. He was very good.
HOLDING MIDFIELDER - Dennis Wise: He had good competition from players like Didier Deschamps, Demetrio Albertini and Alemao, who played with me in Naples. But I believe that Dennis beats the competiton because he was clever and a good leader.
RIGHT MIDFIELD - Gustavo Poyet: He was such an intelligent player and he had the fantastic ability of scoring important goals at important moments in important matches.
LEFT MIDFIELD - Roberto Di Matteo: Another Chelsea legend. He knew how to play the midfield role in every aspect. He could organise the team defensively and also finish.
RIGHT STRIKER - Careca: An unbelievable striker - I played with him in Naples. Strong, quick and technically fantastic.
LEFT STRIKER - Roberto Baggio: He's another fantastic player. Maybe he's out of position a little bit but I will allow him to come inside a little bit! He's got fantastic ability and is an intelligent player - good in all the aspects of the game. He gets in ahead of Faustino Asprilla, who I played with at Parma. He's another fantastic player who deserved to be in the team but I can only play 11.
CENTRE FORWARD - Diego Maradona: He's my first choice on the teamsheet. It goes without saying that we are talking about football. He was inspirational for me and he was inspirational for many others that played with him. In Naples we used to play against other teams - Milan, for example, who had players like Van Basten, Ruud Gullit and Rijkaard. Although they were good, you could see the difference between them and Diego. He was on a different level.