One of the best
Tom McDermott says Frank Lampard ranks among the great midfielders after making Chelsea history.
By Tom McDermott @FootballMcD
Last Updated: 11/05/13 7:24pm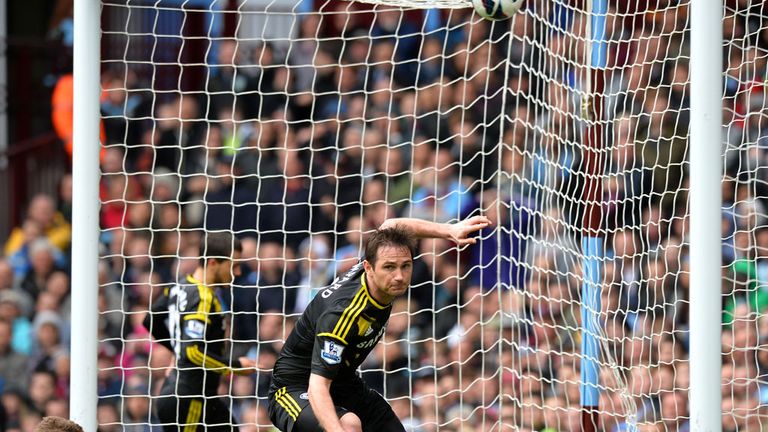 None of the superlatives that have been used today or in the coming days will be able to describe just how good a footballer Frank Lampard is.
On Saturday he confirmed his place among the Chelsea greats by scoring both goals in their 2-1 win away at Aston Villa and breaking Bobby Tambling's record to become the club's all-time leading scorer.
It's a remarkable achievement from Lampard, who has perfected the art of scoring from midfield and at times made it look easy.
What's equally impressive is the variety of goals Lampard has scored on his way to the milestone, proving that he's far from just a one-trick pony.
Granted, he has been the club's main penalty taker but he has also scored from a multitude of other positions. The England international has mastered free-kicks as well as scoring from open play inside and outside of the box.
In the air he is capable of finishing like most of the leagues' top centre forwards and he gets onto the end of his side's moves like he did for Chelsea's second against Aston Villa - ghosting in almost unnoticed.
What makes it even more of an achievement is that Lampard manages to compose himself in such positions after lung-bursting runs from midfield whilst also being expected to assist his side in other areas of the pitch.
Internationally respected
But, regardless of what has been asked of him as a midfielder, it has never affected his goalscoring duties and Lampard has regularly featured at the top end of the charts since joining Chelsea from West Ham United for £11million in 2001. Between 2005 and 2010 for example he scored 20 Premier League goals a season.
So where does Lampard stand in the list of all-time great midfielders? Actually, if you consider just his goals he's probably somewhere near the top.
If you take current Italian and AC Milan midfielder Andrea Pirlo, and Spain and Barcelona midfielder Andres Iniesta, both have failed to score more than nine league goals in a season.
Even the great Zinedine Zidane could only manage 128 goals in 681 games, still some way short of Lampard's record.
Because of his achievements, Lampard is one of the most internationally respected English footballers and it's not just his 203 goals (and counting) for his club which have grabbed the headlines and stand him out above the rest. His trophy cabinet doesn't look too bad either.
Lampard's goals have been key in Chelsea securing three Premier League titles, four FA Cups, two League Cups and a Champions League while he has been at the club. And, he could yet add the Europa League title to that list this week.
Ruthless
Throughout his time at Chelsea, though, Lampard hasn't reached such heights without overcoming some problems. The many internal issues and managerial changes within the club haven't appeared to halt him and he is constantly accused by some of struggling to control his weight.
Even at international level he has been accused of not replicating his Chelsea form and failing to establish an on-field partnership with Liverpool captain Steven Gerrard.
With his 35th birthday approaching in June though, Lampard isn't all about being ruthless in the opposition final third. He sums up everything which is great about an English midfielder, combining an outstanding work rate with the ability to drift into the box and score goals. Teams know he's coming but it's hard to do anything about it.
All this and Chelsea, the club he has served so well, are still debating whether or not to give him a new contract for next season.
Maybe the legions of fans that sing 'sign him up' are worth listening to and the iconic Chelsea number eight might just get chance to add to his own record next season.