A year in the life
Ahead of the Europa League final, Chelsea's Ryan Bertrand talks exclusively to Sky Sports about a 'crazy' period in his footballing life, and a possible reunion with Jose Mourinho
By Peter Fraser - Follow me on Twitter @SkySportsPeteF
Last Updated: 16/05/13 9:59pm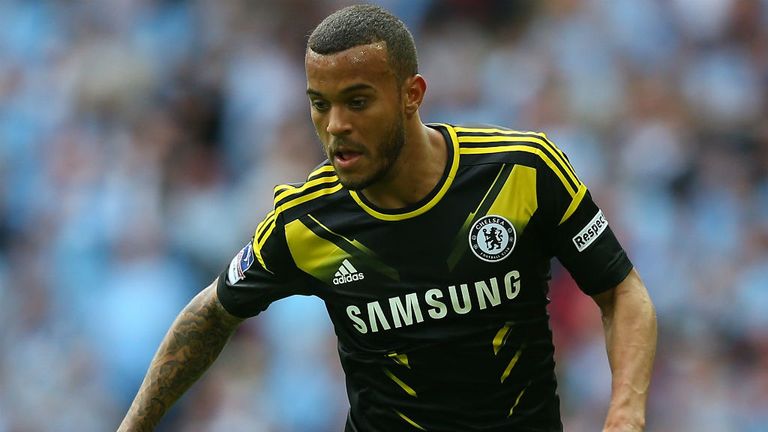 A lot can happen in 12 months. Just ask Ryan Bertrand. Since May 2012, the Chelsea defender has been a member of an FA Cup-winning squad, started a victorious UEFA Champions League final, taken part in an Olympic Games, made his England debut, and signed a new long-term club contract.
The incredibly eventful year could yet be given a fitting conclusion if Benfica are on Wednesday night defeated in the Europa League final in Amsterdam. However, while Bertrand, who has missed recent games with a knee injury but has travelled to Holland, has savoured the memorable period, he also knows there is still a long way to go in his career.
"When I look back on the year, some crazy things have happened that I probably would not have thought of before," Bertrand told Sky Sports in an exclusive interview en route to Harrods in London's Knightsbridge for an adidas appearance with the European Cup. "But everything has happened. I am now looking forward to progressing as a player and hopefully taking part in more."
Bertrand did not get to play on 5th May last year when Chelsea defeated Liverpool in the FA Cup final at Wembley. But, since that time, the young full-back has appeared to have quietly come of age.
The now 23-year-old is fulfilling the potential which eight years ago saw Chelsea fight to sign him from the Academy of Gillingham. Paul Scally, the Gillingham chairman, was furious at what he perceived as a raw deal in a £125,000 before add-ons compensation fee set by a Football League tribunal.
Bertrand's rise to prominence means he has now made more than 50 appearances for Chelsea and, this season, he has played his highest total of games for the club in a single campaign since joining.
| | |
| --- | --- |
| Premier League 2012/13 | Ryan Bertrand |
| Appearances | 19 |
| Minutes On Pitch | 1280 |
| Tackles and Blocks |   |
| Total Tackles Made | 23 |
| Last Man Saving Tackles | 0 |
| Tackles Won % | 61% |
| Shots Blocked | 1 |
| Interceptions | 10 |
| Clearances |   |
| Total Clearances Made | 24 |
| Clearances per 90 mins | 1.69 |
| Headed Clearances | 19 |
This has all come after starting three out of four of Great Britain's matches at last summer's Olympics before, that August, also making his England senior debut against Italy prior to another appearance against Ukraine. Add to this the new five-year Chelsea contract he signed in the September and it has been quite a year.
The standout event among all of his experiences, though, was obviously Bertrand's shock start in last season's Champions League final, when Bayern Munich were famously defeated on penalties at their own Allianz Arena. Then-Chelsea boss Roberto Di Matteo deployed the left-sider in midfield to give full-back Ashley Cole cover against Bayern's Arjen Robben. In the process, Bertrand became the first player to make his Champions League debut as a finalist and, in his 73 minutes on the pitch, he earned widespread acclaim. Consequently, he could this week now face Benfica in the Europa League final with prior experience of the grandest of stages.
"I have not changed that much," reflected Bertrand on the impact of his Champions League final appearance. "[But] I have taken part in some big events. The Champions League final was obviously a massive event. But after that there have also been some big games which I have played in. I probably feel more experienced with things.
"Having played in the Champions League final, it can help when you come up against any big experience in the future, whether that is playing against big teams or playing in big games when there is a lot riding on it. You can think back and know you have coped with games which are even bigger."
Apart from reaching the Europa League final, Bertrand admits it has been an "inconsistent" season for Chelsea. The club are no strangers to choppy campaigns but 2012/13 has been particularly turbulent. Di Matteo was in August in charge for the Super Cup hammering at the hands of Atletico Madrid before, last November, being sacked and succeeded by interim boss Rafa Benitez. A defeat by Corinthians followed in the final of the Club World Cup while Chelsea also became the first holders to be knocked out of the Champions League at the opening group stage. Semi-finals were reached in both the FA Cup and Capital One Cup without success. When the season finishes, Chelsea will have played an incredible 69 matches in all competitions - including the Community Shield.
But, with a top-four finish in the Premier League as good as secured after the Frank Lampard record-breaking-inspired victory over Aston Villa, winning the Europa League final could provide a silver lining. It will, though, not be straightforward in Holland when taking on a Jorge Jesus' talented Benfica side, including the likes of star striker Oscar Cardozo, influential midfielder Nicolas Gaitan and experienced defender and captain Luisao, who Chelsea narrowly defeated 3-1 on aggregate in last season's Champions League quarter-finals. Benfica will also be aiming to bounce back after an agonising, late defeat by Porto which saw Jesus' team dramatically overtaken by their rivals at the top of the Portuguese league with one game remaining."It is another chance for me, personally, and the club to be involved in another European final," said Bertrand. "It would be a fantastic achievement if we can go there and win. It should be a fantastic game for the neutral fans as well as fans of the clubs. Hopefully we can put on a good display and, from our point of view, a winning display.
"We had a couple of close games against Benfica last season in the Champions League. They like to get the ball down and play good, attractive football. It is up to us to be really aware of the style of play. Hopefully we can just concentrate on ourselves and get the right result.
"To get any sort of silverware in your career is a fantastic achievement and this is another big European competition. We are going to go out there and do our best. It will be an excellent achievement if we can back up last season's Champions League win."
Win or lose, the Europa League final will almost certainly be Benitez's penultimate competitive game in charge of Chelsea. His reign will end in the final Premier League game when Everton travel to Stamford Bridge for what will also be Manchester United-bound David Moyes' last match in charge of the visitors.
Bertrand has enjoyed working under Benitez and picking up "a few pointers" from the Spaniard's relentless pursuit of tactical perfection. But the former Liverpool boss has been unpopular with the majority of Chelsea fans in his short tenure, which, given the circumstances, has been quite successful.
There is little doubt about who the Stamford Bridge faithful want to see back at the club amid widespread reports of Jose Mourinho leaving Real Madrid. Bertrand would also welcome the return of the self-proclaimed 'Special One'.
It would be easy to imagine Bertrand might have been overawed by Mourinho when, as a young teenager in Chelsea's youth ranks in 2005, he first met the Portuguese before progressing to the senior setup in 2006. But that is not the case.
"It would be fantastic to see him," said Bertrand of Mourinho. "He was the manager when I first came to the club when I was 15. To get the chance to work with him again at this stage of my career, for him to come in - if he does - and learn from him, would be fantastic for everyone.
"I met him a few times when I first came to the club. He was a fantastic manager and a fantastic person as well. The way he controls his squad, it just goes to show he is one of the best managers in the world. He was approachable. That was where he probably excelled in his man-management. He was fantastic at dealing with individuals on a one-to-one basis as well as collectively."
Whether it is working under Mourinho or another new Chelsea manager, it remains to be seen what the future holds for Bertrand after this incredible 12 months. There is no doubting his determination, though. More playing time is the target.
To achieve this, Bertrand will need to prove his defensive reliability. There have also been rumours of Chelsea moving for Southampton teenager Luke Shaw, while Patrick van Aanholt could be offered an opportunity when he returns from a loan at Vitesse Arnhem, which does not bode especially well for Bertrand in the future.
But Bertrand's long-time idol, Ashley Cole, is the immediate obstacle at what he believes is his best position - left-back. At Bertrand's current age, Cole was a member of the Arsenal 'Invincibles', who went unbeaten in the 2003/04 season on the way to the Premier League title. It would therefore be understandable if Bertrand's limited opportunities as time continues to pass have led to a prickly relationship with Cole.
However, Bertrand explained: "I have learned a hell of a lot from him over the years. It has been a really good learning curve for me. There is always going to be that competition for places, which brings the best out of the players. But, thankfully, we do not have to pick the team so there is never any bad energy between us. We are really good friends."
Bertrand will therefore remain happy to help Chelsea in their aim to return to competing for the top honours of the Premier League and Champions League. The hope is for a new era, with Chelsea looking increasingly towards youth, including Bertrand and the likes of David Luiz, Oscar and Eden Hazard as eventual replacements for the ageing Cole, John Terry and Lampard.
Overtaking Premier League champions United will next season be the domestic priority. Chelsea among others could look to exploit a rare period of change at Old Trafford, where Moyes will be succeeding the retiring Sir Alex Ferguson after more than a quarter-of-a-century of brilliance.
"United as a whole are obviously still a fantastic club," said Bertrand. "But it cannot go unnoticed the sense achievement Ferguson has instilled in Manchester United. He has helped create them and I am sure he will leave a massive hole behind. I think, subconsciously, since his retirement, a few teams will have got a slight lift. It goes to show, at such a big club, what Ferguson has done has been unbelievable. I am sure no-one else will ever come close."
Ryan Bertrand wears the adidas adizero F50, the fastest boot in football. Visit www.adidas.com or join the conversation on Twitter @adidasuk