Gary Neville says Man City look 'dangerous' in 2013/14 title race
Gary Neville looks at the lack of big transfer deals, plus the title hopes of Man City and Chelsea.
Last Updated: 17/07/13 8:44am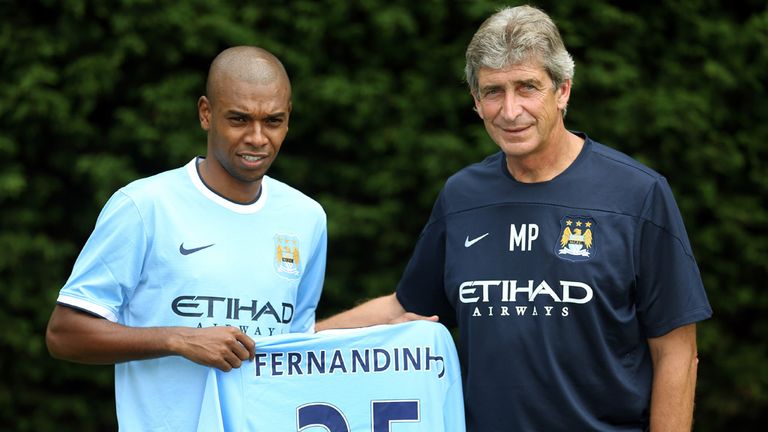 The new Premier League season can't be far away!
That means Sky Sports expert Gary Neville will soon be back on your screens and even though he's been enjoying some much-deserved time off, he's still been keeping a close eye on all of the hot topics of the summer.
Opinionated as ever, he has been giving his views on how things are shaping up ahead of the new season and why he thinks Chelsea, Man City and Arsenal will provide a greater threat to champions Manchester United this term.
He also tells of his surprise that so few major transfer deals have been completed at this stage of the summer...
We're going into a season for the first time in a long time not quite sure what's going to happen. We're not quite sure how the clubs are going to react to new managers, new squads and potentially new signings.
There are changes at the three top clubs. One thing I would say is everybody will be looking at Manchester United because Manchester City and Chelsea have regularly changed their managers in the last four to seven years, it's not something that's new - so more people are interested in Manchester United because of the fact Sir Alex, The Boss, had been there for 27 years.
We're all excited as to what will happen. The early fixture list is fantastic in terms of the fixtures that have been thrown up. There's the North London derby; there's United against Chelsea in the second week, which is absolutely sensational; and that's going to be a brilliant match whatever happens.
There will be a lot of build-up and pressure on the players even though it's the second game of the season and there will be a lot of focus on the managers. Then Manchester United v Liverpool is the week after that; big, big fixtures early on in the season and that's something that's exciting.
As for Manchester City, there's not as many people talking about them at this point. I think that's dangerous.
They underperformed last year when you think about where they were at the end of the previous season. You'd think that if people like David Silva and Sergio Aguero hit top form and they sign a couple of players they will be really strong.
At this moment in time, everybody is looking at Mourinho and everybody is looking at Moyes and City are probably sitting there thinking they are okay because they're out of the limelight.
All quiet on the transfer front
I thought at the end of the season that all the big clubs would go and do their business early.
Man City have signed a couple and Chelsea have done a little bit, but there's not been as much activity at this point as I would have thought.
If you think about what Bayern did at the end of last season, getting Mario Gotze signed pretty much before the end of the season, I thought this year the big clubs would have gone early and set their stall out.
I include Arsenal in that. I thought they would have gone early because the noises coming out of the club were that they were going to try and spend bigger than they have done.
But we're still waiting for that domino effect. We're still waiting for that one big player to move and the rest to fall into place.
At the moment Monaco and PSG have come to the fore and are blowing people out of the water and it's probably setting some of our English clubs back a little bit in terms of their aspirations.
But it's a surprise to me that we've not seen big activity from the big clubs yet. Obviously Fernandinho signing for Manchester City is a big move, but I would have expected more of that earlier in the summer.