Tore Andre Flo reveals managerial ambitions on The Fantasy Football Club
Tore Andre Flo tells The Fantasy Football Club about retirement and supporting Birmingham City...
Last Updated: 27/09/13 3:32pm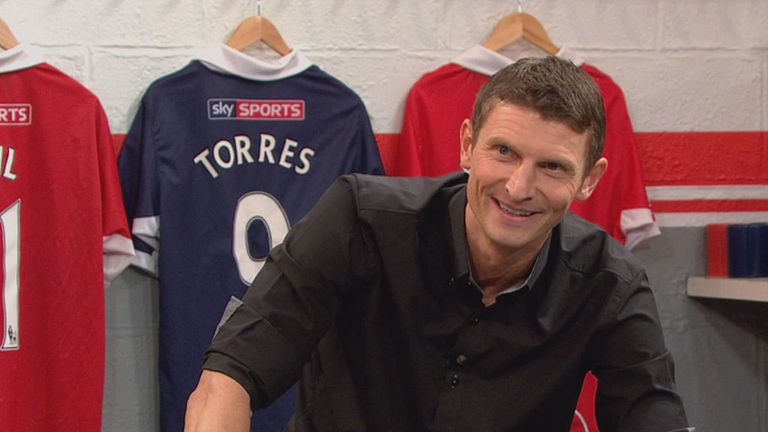 The Norwegian racked up 76 caps for his country during a stellar career which saw him clinch no less than five trophies with the capital club - including the UEFA Cup Winners' Cup in 1998.
The 40-year-old has now officially hung up his boots and spoke to Fenners and Merse about what he's up to now.
"I'm back at Chelsea coaching in the academy. When I retired I needed to find something to do. The club want a mixture of young coaches coming through, previous players that have been professionals and know the game and then older coaches that have been in the game - they've tried to get a real mixture of that in the academy.
"I have bumped in to Jose Mourinho just briefly. I wish to see more of him in the future. I go over and have a look at what he's doing and try to learn off of him as well.
"Eventually I would love to be manager for a club like Chelsea, I know that's a long way off though. But to be working with the first team of a club like Chelsea would be great.
"Management does appeal to me, but it scares me in many ways - it's a big job to be manager these days. If I was a manager I would pick Chelsea's Eddie Newton to be my number two. He was the number two with Roberto Di Matteo when I played at Milton Keynes and when they were at the Chelsea they did a good job - It will be embarrassing when I see him at the training ground tomorrow after saying this!"
My time at Chelsea
Flo signed for Chelsea from Norwegian side Brann in 1997, to play alongside the likes of Gianluca Vialli, Mark Hughes, Frank Leboeuf and Gianfranco Zola; but the striker, who was picked up for £300,000 nearly didn't join the London club, which was then managed by Ruud Guillit.
"Before I signed for Chelsea, there were offers from Southampton and Everton and I was close to joining both. When I was a teenager I had two posters on my wall - one was Ruud Gullit and one was Diego Maradona. So when Ruud Gullit wanted me to play under him that was the trigger.
"I was really scared leaving Norway. I come from a tiny little place in the Fjords, there are mountains everywhere and 3,000 people in a little village - then I ended up in London, so it was scary.
"The first two weeks I was at Chelsea it was like playing a big final every morning. Coming in to see all these big names, all these big players that were on television every week. I have to admit I was really nervous at the beginning.
"There were times when I doubted if I was good enough, especially in the first two weeks, they were really hard actually.
"For my initiation I had to sing which made me even more nervous. I got through it quite well though, as I sang a Norwegian song so they couldn't understand me! Frode Grodas was there at the same time and sang his song too, then he jumped on the table and it collapsed and he landed on his back. He made a bit more about it than I did!
Birmingham City
Most young foreigners support one of the big teams in the English Premier League, but Tore was different...
"I support Birmingham City. I come from a big family and we were out driving with six children in the car - I had to go in the estate's boot. So my brother went to the shop and said 'I'll buy you a shirt'. He wanted a Leeds shirt, because he was a Leeds supporter. But there was only one shirt left so he bought it for me and from then onwards I was a Birmingham City fan."