Welcome back
As Schalke prepare to visit London to take on Chelsea, we take a look back at the sleeping German super power's first competitive trip to England back in the 1950s...
By Peter Fraser - Follow me on Twitter @SkySportsPeteF
Last Updated: 05/11/13 9:18am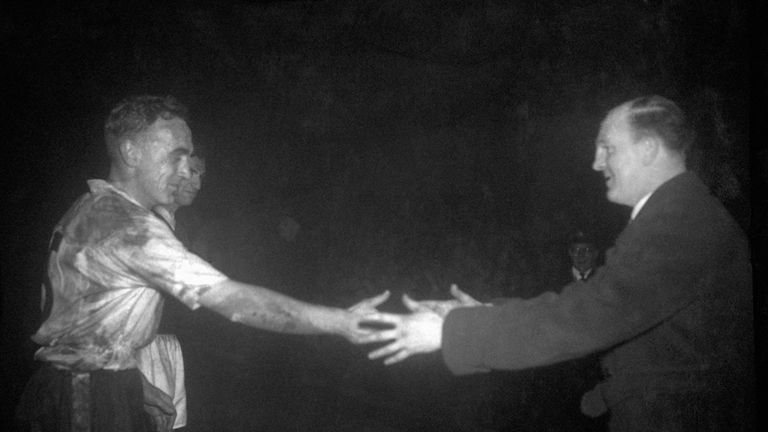 Bayern Munich and Borussia Dortmund may have contested last season's UEFA Champions League final to further underline their current status as two of Europe's hottest clubs but, more than 50 years ago, it was Schalke who were one of the original giants of German football.
A look at the Gelsenkirchen-based club's present ability to attract home attendances of more than 60,000, which is among the top six crowd figures around the continent, points to a club with a prestigious history. They have won the German title on seven occasions and the German Cup five times. It is the reason expectations are high.
Such anticipation among Schalke fans explains why the club's current crisis of injuries to key players combined with inconsistent form, which leaves them sixth in the Bundesliga and already 12 points behind table-topping Bayern, has led to questions about the future of manager Jens Keller. Chelsea are favourites to win at Stamford Bridge on Wednesday in what is likely to be a game which will decide the winners of this season's Champions League Group E, especially after winning 3-0 in Germany on Matchday Three.
But, in the 1958/59 season, it was previously a different story. Fifty-five years ago, then German champions Schalke, in what was only the fourth season of the European Cup, made their first competitive trip to England. It saw them take on Wolverhampton Wanderers. The Midlands club may now be languishing in League One but in the 1950s, they were the champions of England.
Wolves would defend the title in that 1958/59 season having won it the previous campaign and they had also earlier been champions in 1953/54. Managed by the iconic Stan Cullis and captained by the legendary Billy Wright, they were a dominant force in English football. In Europe, as well, their friendly victories over the likes of the glamorous Real Madrid and Hamburg earlier in the decade had contributed to the creation of the European Cup.
And, so, when Schalke, managed by Austrian boss Eduard Fruhwirth, made their first competitive trip to England, it was a special occasion. It was the first leg of their last-16 tie, which was the first round after the preliminaries in the early format of the European Cup, and Molineux was the venue on 12th November, 1958.
Steve Gordos, the former sports editor of Midlands-based newspaper Express and Star, was at the game as a 13-year-old spectator and he told Sky Sports: "This was Wolves' glory years. There was a crowd of about 45,000 at the ground. It was Wolves' big chance. They had famous, big friendlies in the 1950s that paved the way for the European Cup, because Wolves claimed they were the best team in Europe. L'Equipe magazine in France said rather than bragging about it, it should be proved on the pitch. That is how the European Cup was launched.
"It was consequently Wolves' first venture into the European Cup. Their hopes were high, because the previous season they had played against Real Madrid and they beat them 3-2 at Molineux and then drew 2-2 at the Bernabeu - beating them 5-4 on aggregate. Real were European champions and so Wolves thought they were going to make an impression."
Unfortunately for Wolves, facing Schalke proved to be a "reality check". Despite dominating the early stages at Molineux, Cullis' team were frustrated by the heroics of 20-year-old Schalke goalkeeper Karl-Robert Loweg. Then, in the 25th minute, the visitors took the lead through Gunther Siebert.
However, another Wolves legend helped put the English side in front in the second half. Midfielder Peter Broadbent scored in the 52nd and 65th minute to give Wolves a 2-1 lead. It was another great moment for Broadbent, who made more than 450 appearances in 14 years with Wolves. Broadbent died at the age of 80 at the beginning of October having suffered from Alzheimer's but Gordos remembers the star player and had a personal connection.
"I did the eulogy at Peter's funeral," explained Gordos. "I said, in my opinion, he had the ball control of Lionel Messi, could pass the ball like David Beckham, and could score goals from midfield like Frank Lampard. Most Wolves fans of that generation would say he was the most naturally gifted Wolves player they saw.
"He was a very quiet and modest man off the field but on the field, he was a genius. One of his great admirers was George Best. George used to watch Wolves' matches on TV at home in Northern Ireland. Peter's wife said they once met George on holiday in Majorca and George was like a young kid who was meeting his hero."
But Broadbent's goals were not enough to claim a first-leg win over Schalke and the away team were able to return from their maiden trip to England with a draw following Willi Koslowski's 88th-minute equaliser. It was a tough pill to swallow for Wolves but demonstrated Schalke's class.
Six days later, Fruhwirth's team then proved too strong for Wolves in the second leg in Germany, winning 2-1 on the night and progressing 4-3 on aggregate. Schalke, though, did not go much further and lost to Atletico Madrid in the quarter-finals.
Schalke have returned to England on four occasions in European competition since that game against Wolves, facing Manchester City, Manchester United - in the 2010/11 Champions League semi-finals - and Arsenal - twice, including last season's 2-0 win at Emirates Stadium.
But it is that meeting with Cullis' English champions, Wolves, more than half a century ago which has the most romantic background. Keller and his under-pressure squad will hope to reignite that spirit when they return to England this week.