Managing expectation
After Chelsea's 3-1 win over Southampton at Stamford Bridge on Sunday, manager Jose Mourinho continued his policy of downplaying the team's title ambitions. Adam Bate questions the talk of Chelsea's inexperience and sees a squad - and a manager - capable of winning the Premier League...
By Adam Bate at Stamford Bridge
Last Updated: 02/12/13 10:26am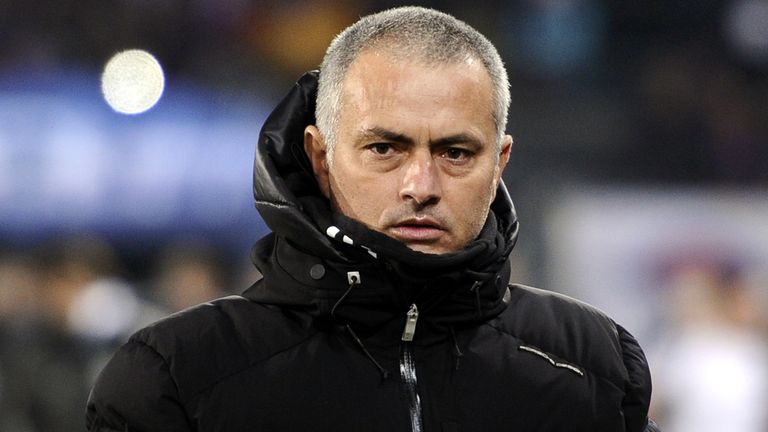 When it comes to self-belief, Jose Mourinho can give Muhammad Ali a run for his money. So you wouldn't be entirely shocked if the Chelsea boss took to naming the minute his team would score their goals in much the same manner that the boxing legend used to declare the round of the knockout. But even after Sunday's 3-1 win over in-form Southampton, Mourinho remains strangely cautious regarding the prospects of his team this season.
Asked if this Chelsea side could win the Premier League title, he told the assembled media at Stamford Bridge: "I think my team is a team with a profile that means I cannot say that. I can't establish targets. I can't say, 'now I want to win five consecutive matches' or 'now I want to be top of the league'. No, I just want to work with them. I just want to feed the young players because it is a new team that has been working with me for a few months."
It's a mantra that Mourinho has repeated often since his return to manage Chelsea in the summer. Right from day one, he has been keen to downplay ambitions and took care to stress the long-term nature of the project. Growth and development are the watchwords now. "These boys need to learn and cope with the responsibility of being up there," he added when discussing the pressures of the title race.
It all feels a little disingenuous. After all, this is a vastly experienced squad. The error for Southampton's opener - coming after just 13 seconds courtesy of Jay Rodriguez - was from 30-year-old midfielder Michael Essien. With Petr Cech, John Terry and Frank Lampard also featuring, Chelsea were the only team in the top half of the Premier League to field four players aged 30 and above at the weekend.
Unsurprisingly enough, given their Champions League triumph in May of last year, there are also more winners of Europe's premier club competition at Chelsea than any other team in the country. Seven of the Premier League title winning side from 2009-10 remain too. Moreover, the only Chelsea player currently under 21 to feature in the top flight this season is Romelu Lukaku and he's on loan at Everton following the acquisition of veteran striker Samuel Eto'o at the back end of the summer.
Advantage
Of course, this is Mourinho's first season back at the club. But with Manchester United and Manchester City bedding in new managers too, the Portuguese coach's first stint at the Bridge surely puts him at an advantage. Brendan Rodgers and Andre Villas-Boas are only in their second seasons at Liverpool and Tottenham respectively, while Arsene Wenger's Arsenal haven't won any trophies in eight years let alone the Premier League title. As such, a lack of experience should not be a problem for this Chelsea squad.
They are playing with a maturity as well. "We played with balance, we played with calm. There was no panic," said Mourinho of Sunday's performance. "It is a sign of a team that is building step by step, understands my ideas and my mentality. Some of the players who do not share completely my philosophy are adapting and progressively feeling their responsibility. That was a sign of maturity - losing after 10 seconds but keeping calm."
Essien's poorly executed back-pass had given Southampton that perfect start and the Ghanaian, making his first league start of the season, looked rushed at times by the away side's pressing game. With two teenagers in the line-up, this really was a team with some youthful exuberance. "It's a continuous learning process," said Saints boss Mauricio Pochettino in his post-match press conference. "We are always learning. We are the youngest team in the Premier League so obviously we are going to be learning throughout the season.
"It's clear that after we scored the goal, the game changed. But even after that I thought we competed well. The period when they equalised was actually our best spell as we were composing attacking football and playing well. But we conceded two goals from set-pieces and that's a mistake that shouldn't happen in football. They were soft goals."
Centre-back pairing Gary Cahill and John Terry came to the rescue. For the equaliser, Cahill stooped to divert the ball into the net after Demba Ba, a half-time replacement for Essien, had seen his effort rebound off the post. And then Terry put Chelsea ahead with a header that looped beyond substitute goalkeeper Paulo Gazzaniga. They may have been 'soft goals' but Mourinho argued afterwards that the attacking pressure that brought them about were the product of his tactical tinkering. Experience in the dugout is every bit as vital as experience on the pitch.
Changes
"Even when I had to take off Oscar, it looked like a defensive change as I brought on Frank Lampard, but it was a change that prepared us for the second half," explained Mourinho. "Then I had to take Essien off and play with two strikers. Essien was on a yellow card in the middle of the pitch against a team with a fast counter attack. So we changed to 4-4-2 and gave Southampton a different game. A game that they didn't expect. It was difficult for them to cope with that situation.
"We were losing and not producing enough. My feeling was not to wait. I wanted to give Southampton a new problem. A problem they weren't waiting for. They like to play out from the back and build from there. The fact that we played two strikers meant (Jose) Fonte and (Dejan) Lovren couldn't do that. They started building long and that allowed my team to play in the opposition half. We started creating chances."
Ba added the third in the closing stages and the points were sealed. Chelsea now sit two points clear of title favourites Manchester City and four behind league leaders Arsenal. So it's a little surprising that Mourinho should equivocate about the team's ambitions, preferring to focus on the more modest aim of a top-four finish rather than the title itself.
"When you have six title contenders and four Champions League spots, I think the first objective is to be consolidated in this four," he said. "It's important for the prestige of the football club, it is important for the economic situation of the club. So the first objective is to be there. But in this league if you lose two matches then you go down to seventh or eighth so it's hard.
"We are there, that's the important thing. If you are 10 or 15 points behind you are building but you are not there fighting for the title. If you are three, four or five points behind then you are building - evolution - but you are in there fighting." Building. Evolution. Mourinho seems determined to shape the narrative and keep a lid on expectations. But don't be fooled. A third Premier League triumph is on his radar.