Ominous Chelsea
Arsenal showed they could win ugly, Manchester City edged to victory and Everton bounced back with a win. But Chelsea were the big winners at the weekend as they came from behind to beat Liverpool. Matt Stanger thinks Jose Mourinho's men are showing ominous form in the big games...
By Matt Stanger and Adam Bate
Last Updated: 30/12/13 1:44pm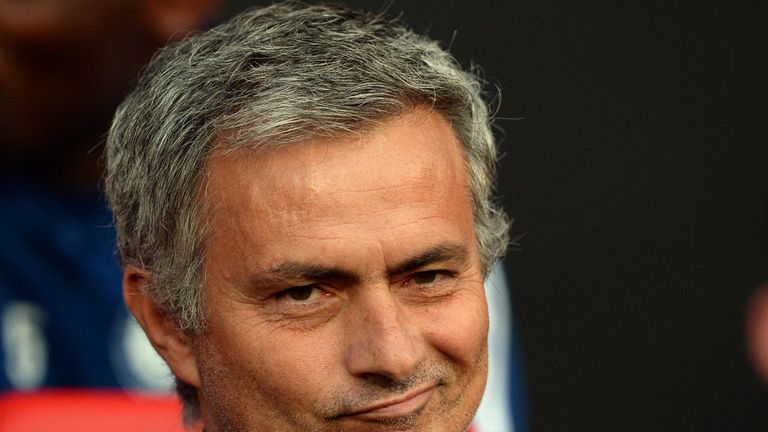 Chelsea on the march
There is something ominous about Chelsea sitting only two points behind Arsenal at the half-way stage despite failing to reach their previous standards in Mourinho's second coming. That the Blues' three defeats this season have come against teams outside the title race raises doubts about their credentials, but there is an argument that they have shown the greatest ability to adapt thus far.
In grinding out dull draws against Manchester United and Arsenal - as well as the hard-earned point at Tottenham - Chelsea have shown that their former resolve hasn't completely disintegrated following some nervy defensive displays. They came close to a third victory in succession at the Emirates through a counter-attacking system that also saw off Schalke in impressive fashion in the Champions League, but Mourinho changed his approach for the meeting with Liverpool when the Blues were required to press more readily.
The victories over Liverpool and Manchester City (which came somewhat fortuitously) have proved that Mourinho can meet attacking demands despite being hindered by a strike force that have mustered only six goals in a combined total of 33 appearances. And of course, there is a chance that Chelsea could splurge in January, with Falcao, Diego Costa and, oddly, Gonzalo Higuain all linked in recent weeks.
The Blues also possess an advantage in Mourinho's crafty approach to the big matches, with the manager playing his hand perfectly following the win over Liverpool. By suggesting that Brendan Rodgers is perhaps a little naive ("When I was Brendan's age...") and arguing that Luis Suarez should have been booked for diving, Mourinho's comments were clearly designed to grate, as were his claims that Arsenal are boring and love to cry following the draw at the Emirates. Getting underneath the skin of his opponents is something he has managed throughout his career and it's the competitive side of Mourinho we love to see.
Click here for a detailed analysis of the key issues from Sunday's game at Stamford Bridge
Gunners win ugly
"I think when you look at Arsenal they play fantastic football but you need to win games playing badly," said Patrick Vieira at the start of December. "I don't think Arsenal are capable of that at the moment."
Against Newcastle that notion was dispelled. It was always going to be difficult to beat a team brimming with confidence after seven wins in nine matches, but Arsenal toiled to a victory that puts them in top spot at the turn of the year after a remarkable 2013.
To win without Aaron Ramsey and Mesut Ozil was also hugely encouraging, as was the return of Laurent Koscielny alongside Per Mertsesacker at the heart of defence. With Thomas Vermaelen marginalised for the past 12 months, Arsenal have shown far greater resolve at the back; Koscielny and Mertesacker forming the sort of understanding that can arouse title hopes.
It was not all positive on Sunday, however, with the Gunners still displaying signs of the fatigue that has worried Arsene Wenger in recent weeks. "I believe we had a difficult period just now but honestly that was mainly down to the schedule we had," said Wenger before the trip to Newcastle. "I think that the schedule was absolutely horrendous but we can show that in the future."
Title winners tend not to complain about the fixture list at this stage of the season, and nor do they rely on strikers of Olivier Giroud's calibre, with Nicklas Bendtner as back-up. Giroud may have scored on only the second occasion in 13 matches (three goals in total during that period) to secure the points against Newcastle, but he looked exhausted throughout and missed an easy chance to seal the win after Mathieu Debuchy had cleared off the line.
Both Arsenal and Chelsea need to find new strikers in January but if you had to bet that only one will meet that requirement, it would be the Blues. Wenger's faith in his squad is to be commended - and he has been rewarded handsomely this season, by Ramsey in particular - but we have seen in the past that it can also be to the detriment of Arsenal's trophy hopes.
Click here for a detailed look at the positive signs for Arsenal as they beat Newcastle on Sunday afternoon
Slumbering City
Here's some maths for you, Mr Pellegrini. Six changes = a 1-0 victory over a team with an 86% smaller expenditure in the summer. Okay, you've got me, that wasn't maths at all. It was just a silly equation I wrote to make a tenuous point and giggle at Pellegrini messing up his sums earlier in the season.
"Ohhhhhh, they're all so tired," said Pellegrini about his team on Saturday. Or at least that's how he sounded after he complained of fatigue in one of the strongest squads in world football. "We didn't have our team fresh and it is very difficult when just one team want to play and the other just wants to defend so that was the game we saw today."
Forgive me for asking, but what exactly were Palace supposed to do against a team that have scored more goals at home in the Premier League than 18 clubs have managed in total? And besides, the Eagles managed as many shots on target as City despite averaging just 24% possession.
Perhaps Pellegrini should worry about complacency within his own ranks rather than the tactics employed by City's opponents.
Click here for a detailed look at Man City's complacency against Crystal Palace
Everton bounce back
Bouncebackability. A term coined by Iain Dowie and crucial in Everton returning to the top four at Liverpool's expense.
Roberto Martinez backed his players to recover following the disappointing 1-0 defeat to Sunderland on Boxing Day, and his faith was fully repaid against Southampton. "In football you don't want to lose games but we can take a lot from the way we faced adversity," said Martinez after losing to Sunderland. "If you are going to lose a game the only thing you can do is learn from the situation and make sure we are stronger for the next game."
That Everton restored their lead within three minutes of Saints' equaliser on Sunday reinforces the spirit that Martinez alluded to as Romelu Lukaku shrugged of his recent goal drought to score for the first time in six appearances.
The experiment with Bryan Oviedo ahead of Leighton Baines on the left didn't exactly go to plan, but that is something Martinez may work on after insisting that Baines won't be allowed to leave in January.
But worries for West Ham...
The sort of result that sees a team relegated, after the Hammers fought back to lead 3-2 against West Brom but conceded an equaliser immediately.
Sam Allardici's reliance on Kevin Nolan continued as he scored one and set up two on Saturday and the Hammers will hope this marks a turning point in the captain's season following his poor performances over the last four months.
Team of the week