Taking no chances: A look ahead to Etihad showdown
Preparation is key, according to Sky Sports' Vinny O'Connor who reveals Manchester City have left nothing to chance ahead of the Monday Night Football showdown with Chelsea at the Etihad.
Last Updated: 03/02/14 7:26pm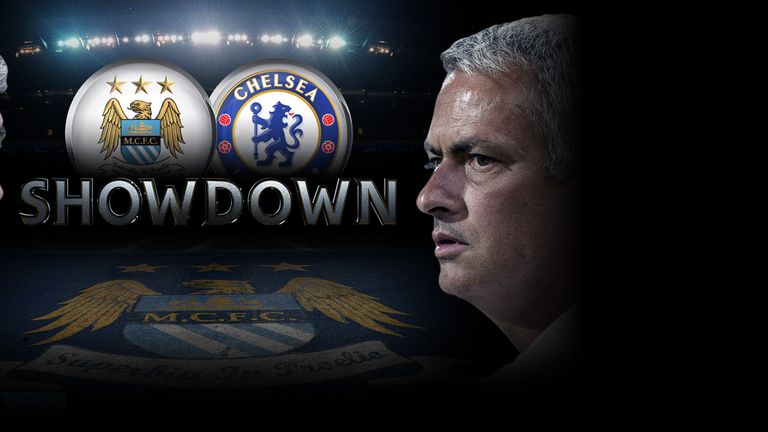 From the blue leather car seats for each member of the squad in the home team changing room, embroidered with the club badge, to the fact that every shirt hanging behind them was turned round to shield names from prying eyes - standard practice that ensures nothing is left to chance, be it early team news or car park security.
After all City don't give anything away here having taken maximum points from their 11 Premier League home games this season, scoring 42 goals. Tonight they could also equal the club record of nine successive league wins set in 1912.
Not that Manuel Pellegrini believes that counts for anything against a side that faces falling six points off the pace if they fail to stop Manchester City returning to the top of the table.
"For our team it is very important not to think about the past. To do it again we must repeat exactly the way we are playing here," was how Pellegrini described the mindset ahead of what's being billed as a potential title decider.
"I don't know if winning is a strong message," he continued. "It is important because we play at home against a team that fights for the title, but anything that happens in this game is not the end of the Premier League. After that you still have 42 points to play for."
As for Chelsea there was no chance of a sly peek in the away dressing room, the door was firmly locked, some predicting that could mirror their tactics as they man the barricades to try and stifle City's attacking threat.
"We are going to try to win," countered Jose Mourinho. "City score goals. Normally, when your approach is very defensive, if you concede a goal you are in trouble. Or you have to make changes during the game and you never know how the players will adapt to it."
Mourinho has enjoyed great rivalries throughout his time in English football with Manchester United and Liverpool. Such is the anticipation around the Etihad today you sense there's another about to leap from its infancy.
The Chelsea boss also believes it will be "impossible" for clubs to compete with City if Financial Fair Play is not enforced.
City's vast spending in an era of Financial Fair Play has come in for repeated veiled criticism from Mourinho, who is keen to see how the economic regulations are explained and enforced by European football's governing body UEFA.
"If they (football's authorities) want to make it impossible (to compete with City), it's impossible," Mourinho said.
"(Chelsea) are not competing outside what is important for us, the 'fair' Financial Fair Play.
"We are working, thinking and believing that Financial Fair Play is going to be in practice.
"So there are things that are impossible for us (to do)."
Mourinho speaks from experience after recruiting many players for large sums during his first spell as Chelsea boss at the start of Roman Abramovich's Russian revolution.
When Mourinho first worked in England he admits "it was a free world".
He added: "There was no Financial Fair Play. If your club was a rich one, your owner a rich one, there were no rules. It was an open situation."
It meant Chelsea were unpopular. City, however, are playing a brand of football so scintillating and scoring so freely that they are attracting admirers.
Mourinho said: "In my time we were accused of buying the title, no? Because our owner was Mr Abramovich, just arrived in the country. Maybe now people see City in a different way.
"Times change. Maybe 10 years ago a huge investment in the club was something that people hated and in this moment it's something people accept in a different way.
"Probably, if UEFA goes with Financial Fair Play until the last consequence and they explain really to the people what Financial Fair Play means, maybe in that moment people will realise that some teams are different to other teams.
"But it's something I don't think about at this moment."
See if Manchester City can reclaim top spot in the Premier League when they entertain Chelsea at the Etihad live from 7.30pm tonight on Sky Sports 1. you can also watch with a Sky Sports Day Pass from NOW TV