Dwight Yorke
Football Expert
Jose Mourinho needs 'fast reaction' from his Chelsea players to stay in title tilt
But don't take anything away from a tremendous performance by Crystal Palace, says Dwight Yorke.
Last Updated: 31/03/14 8:44am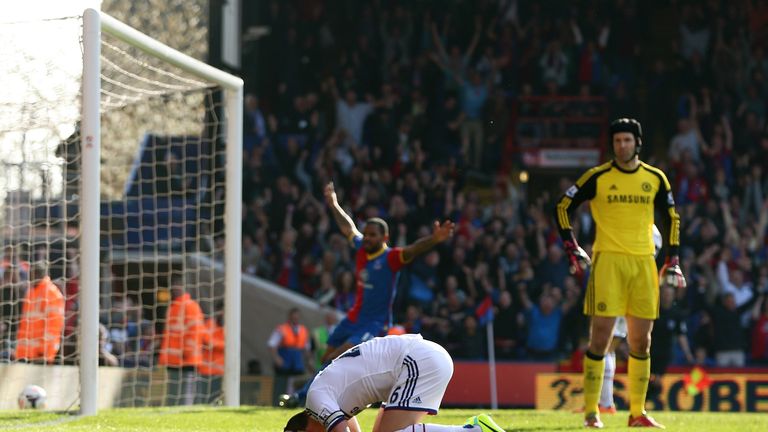 The Blues manager ruled his side out of the running for the Premier League after seeing them slip to a 1-0 defeat at Crystal Palace after a John Terry own goal.
The result makes it two away defeats on the bounce for Chelsea after a 1-0 loss at Villa Park a fortnight ago.
Sky Sports expert Dwight Yorke told Match Choice that Mourinho must see a rapid response from his players to keep their title dream alive but insists that Crystal Palace should be praised for their tremendous performance.
"Mourinho's probably worrying a bit - back-to-back away defeats - you don't see Chelsea doing that very often under Jose," said the former Manchester United striker.
"In the business end of the season it takes momentum to go on and win it, he needs a reaction and he needs it fast from his players.
"It was a big shock. I think that after the defeat against Aston Villa you expected a reaction from Jose Mourinho and the Chelsea players.
"Take nothing away from Palace though, because I thought they were absolutely tremendous from start to finish and despite the own goal, they deserve a lot of credit for their performance today and the result.
"Tony Pulis sets up his team with organisation and makes life very difficult for them to get beaten at Selhurst Park.
"He is known for his defensive qualities with teams that are hard to beat; but these players have shown a willingness to run behind the defenders and you could see the number of chances they created.
"They justified the result today and it probably could have been worse for Chelsea.
"it's back-to-back defeats away from home which must raise a few eyebrows."
Ball-boy drama
In the dying minutes of the game Mourinho approached a ball-boy who he suggests had been told to return the ball slowly.
Dwight Yorke believes Mourinho should be praised for the way he dealt with the situation, after the Portuguese manager said he was trying to avoid another incident like Eden Hazard's push on a ball-boy at Swansea last season.
"I think the manager has been applauded really," added Yorke.
"He read the script after the Hazard incident against Swansea but you look here, this was in the 87th minute and Palace were trying to kill some time and you see Puncheon tell the kid 'to take your time'.
"Jose reacted brilliantly because normally some other managers would have got heated but to keep himself cool, calm and collected and have a little word with the ball boy was remarkable."