Football Expert & Columnist
Critical Jose Mourinho must take some responsibility for Chelsea's recent run
Striker problem could have been solved last summer or January
Last Updated: 04/04/14 12:50pm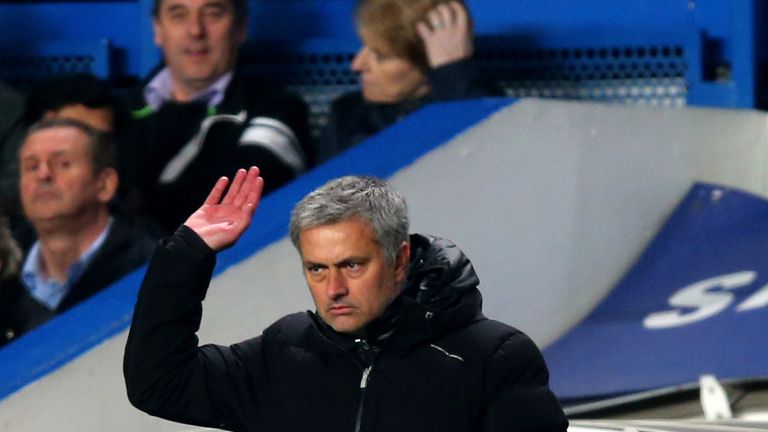 Jose Mourinho has spent a lot of time this season pointing the finger at his forwards, rather than taking responsibility for Chelsea's results.
That's increased in recent weeks with three defeats in their last four in all competitions, including back-to-back Premier League away losses at Aston Villa and Crystal Palace – results which, if the Blues don't win the title, we'll look at and pinpoint as where they lost their chance of being champions.
It's alright blaming forwards – and Samuel Eto'o, Fernando Torres and Demba Ba have managed just 15 goals combined in the league this season – but Mourinho knew about this situation back in the summer and he didn't even address it in January.
It's alright blaming forwards but Mourinho knew about this situation back in the summer and he didn't even address it in January.
Jamie Redknapp
Chelsea's structure of buying players needs to be looked at. How have they ended up in this situation? They've been buying every attacking midfielder available but not looked at an area they obviously feel they're really weak in.
Perhaps rather than spend £21m on Nemanja Matic, when David Luiz and Jon Obi Mikel can play defensive midfield, they could have put that towards signing a striker? Maybe Jose should look at himself, too, and think 'could I do more?'
Against Palace last week he fielded a defensively-minded team, with Matic and Luiz holding in midfield instead of playing Oscar and Willian. If you're Fernando Torres you need players behind you who are going to make goals for you and Luiz and Matic don't do that.
I'm not trying to stick up for Torres, I've always been critical of him and it's a mystery what's happened to him – but before Wednesday's game in Paris he'd scored six in his last five in the Champions League and was dropped for Andre Schurrle.
Torres isn't the answer but Rafa Benitez got more out of him last year, such as in the Europa League final, and I'm surprised none of the strikers have come out and said 'well, hang on, it's not just our fault'.
I always thought Mourinho was the best psychologist around and the best at getting the most out of the players but at the moment he's playing the blame game and not taking responsibility.
Impact
The team will have to regroup after their disappointing Champions League defeat to PSG by Saturday, because failing to beat an in-form Stoke side would leave their chances of winning the Premier League title looking extremely slim.
There have only been two seasons since Jose Mourinho first came to the club in 2004/05 when Chelsea haven't won a major honour and a lot depends on their next two fixtures at Stamford Bridge.
Chelsea's results will have a big impact on their Premier League title rivals too, with Liverpool possibly set to be big benefactors if the Blues slip-up against Stoke.
As I said, anything less than a win on Saturday Night Football would make it very difficult for Chelsea to win the league but if they then turn things around against PSG and go through, their clash with Liverpool at Anfield comes sandwiched between the Champions League semi-finals. You have to wonder what team Mourinho would put out in Liverpool if that happened.
First, Chelsea have to deal with a confident Stoke side. Stoke's away form up until their trip to Aston Villa was pretty woeful but that 4-1 win was extremely good and they played well.
Mark Hughes has done a good job and he's got Stoke playing good football. But let's not kid ourselves, they still have Peter Crouch up front as Plan B if they do need to be direct and they're capable of doing that.
I've got no problem with that. I like to see teams play football but not all teams can play like Barcelona. You have to have a mixture and be able to do different things at different times. Crouch is a great option, though and although he wasn't playing at the start of the season as much as we'd have thought, now he's heavily involved and having an impact.
I think Chelsea will bounce back in this one, though. They're very strong at home and I can see them coming through to win 3-1 and keep their title chances alive.