El Nino's return
Fernando Torres had the thankless task of leading what passed for the Chelsea attack in their goalless draw against Atletico Madrid on Tuesday night. Adam Bate was there to witness the homecoming hero's efforts and believes the Spaniard deserves credit...
Last Updated: 23/04/14 10:19am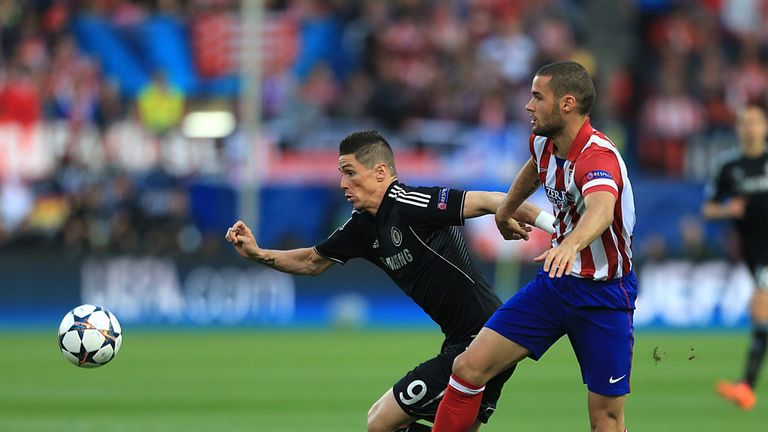 With players from both teams having left the field, boos and hisses poured down from the stands in the direction of the officials. The Vicente Calderon crowd were not happy. But suddenly the home fans noticed a figure lingering in the centre circle. In an instant, the jeers turned to warm and heartfelt applause for a former son. El Nino is still loved in these parts.
It's been quite the journey for Fernando Torres since leaving Atletico, his childhood club for whom he scored almost 100 goals before exiting for England in 2007. Glory with Spain at the following year's European Championship and consistently dynamic performances with Liverpool eventually saw him move on to Chelsea in a £50million deal. But this is his home and these are his people - the fans of the club he admits he still watches as much as he can.
There were banners in his honour waiting for him and loud cheers even as he emerged for the pre-match warm-up. "Before and after the game has been spectacular," Torres said afterwards. "I'm eternally grateful to the fans for their welcome. This was my home for many years and it felt exactly the same tonight."
Chelsea fans would be entitled to feel a little bemused. Nineteen Premier League goals from 107 appearances is not a record worth singing about and goes some way towards explaining why - record transfer fee or not - Jose Mourinho has been happy to let it be known he's battling on this season without the services of a world-class striker on the books.
Based on this performance, that seems a little harsh. Diego Costa's strike rate this season indicates than he is on a whole other level to Torres these days and the Brazilian-born forward's anticipated arrival at Stamford Bridge is widely expected to transform Chelsea. But up against the doggedly determined duo of John Terry and Gary Cahill, the star man struggled to show his best form. In fact, if only for one night, it was Torres who looked the more threatening.
It wasn't easy for the frontman. For while Costa had players around him and a steady supply of inviting crosses hurled in his direction, Torres rarely seemed to find a colleague within 30 yards. That he completed just eight passes and lost possession more times than anyone (24) but still had a good game says plenty for how isolated he was. Even Mourinho conceded that much. "Torres was on his own," said the Chelsea boss. "It was very tough."
And yet, he showed plenty of willing and more than a little quality. Not only did Torres use all his strength and endeavour in working back to hassle defenders, in the absence of passing options, he was also prepared to run at his opponents and in doing so treated his adoring audience to a few of the old shimmies and feints that used to light up the Calderon in his younger days.
In particular, there was a great piece of skill to fashion a shooting chance that was saved by Thibaut Courtois before Torres repeated the trick - this time inducing the foul by Miranda to win a free-kick on the edge of the Atletico box in the final minute of the game. It was typical of his direct approach. Indeed, he successfully completed six dribbles - more than the entire Atletico team with nobody else on the pitch managing more than two of them. He tried to make things happen.
Atletico v Chelsea - Successful Dribbles
Player
Team
Dribbles
Fernando Torres
Chelsea
6
David Luiz
Chelsea
2
Diego Costa
Atletico
2
Filipe Luis
Atletico
2
Willian
Chelsea
2
But it wasn't so much how Torres' efforts compared with the other players on the field. The really telling comparison was with his own performances prior to this. This is a player who'd not completed more than four dribbles in any Premier League or Champions League match this season or last. Something here was different. Partially the circumstances of his role, but also one suspects within the psyche of the man himself.
There has been lots of speculation regarding the reasons for the decline of a player once regarded as the best striker on the planet (check those Ballon d'Or votes from 2008 when he was third behind Cristiano Ronaldo and Lionel Messi) and with Torres now the wrong side of 30 it is ludicrous to think he can recapture that form. Put simply, the electric pace has gone.
Nor was this a performance to grab the headlines or have people re-evaluating his long-term future at Chelsea. But it was interesting to see Torres look that bit more dangerous. And it was hard to believe his game wasn't raised a notch or three by the surroundings. This was a display that did more than enough to save face in front of his own.
As a result, it was genuine admiration that was showered on Torres once the final whistle was blown. By Diego Simeone's own admission, these fans still love El Nino. The intriguing question is whether the Atletico coach who, curiously, was once captained by Torres here despite being 14 years his senior, shares the love enough to allow the striker another Calderon return. On this evidence, it wouldn't be quite the disaster for Atletico that some might think.
Watch the decisive Champions League semi-final second leg between Chelsea and Atletico Madrid live on Sky Sports 1HD from 7pm on 30th April