Brendan Rodgers claims anyone can do it but Jose Mourinho remains the master of the smash and grab
Liverpool delivered a dominant display against a defensive Chelsea at Anfield, but it was the visitors who emerged as 2-0 winners. Adam Bate looks at Jose Mourinho's latest triumph of points over possession...
Last Updated: 28/04/14 1:52pm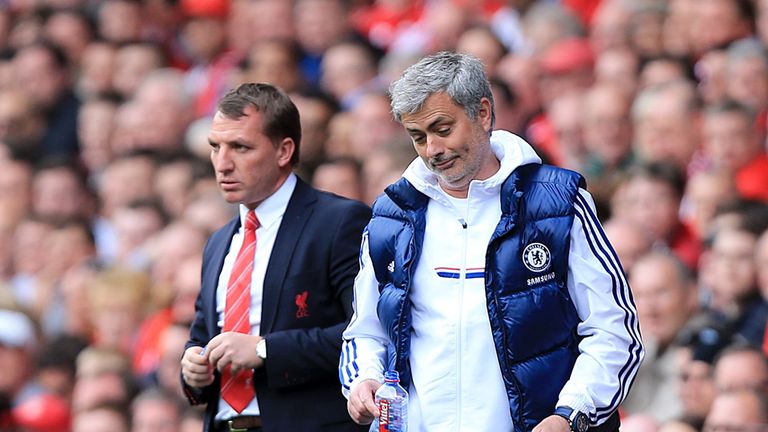 "Anyone can do it," said Brendan Rodgers in reference to Chelsea's tactics after seeing his side beaten 2-0 by Jose Mourinho's men at Anfield. It was a result that ended an 11-game winning run by Liverpool and means Manchester City are now favourites to clinch the Premier League title.
After dominating the entire first half without finding a breakthrough, Steven Gerrard's slip allowed Demba Ba to open the scoring completely against the run of play. The second half followed the same pattern – three quarters of an hour of Liverpool possession and a Chelsea goal to finish, with Willian's tap-in on the counter-attack ruthlessly punishing the Reds as they chased the game.
"We were clearly the better team," said Rodgers afterwards. "It was like a back six with three midfield players in front of that. That's 10, with the goalkeeper, for 90 minutes consistently behind the ball. It's not difficult to coach, to put 10 players on the 18-yard box." Just to further underline the point, he kindly offered the line: "There were two buses parked today, never mind one." It's fair to say he was not impressed.
Perhaps the Liverpool manager is entitled to cast aspersions on Chelsea's style given his own commitment to attacking football. Asked if he would ever set his Liverpool team up to play as Chelsea has done, Rodgers was emphatic. "What do you think? Jose will probably shove his CV in front of me, but it's not my way of working. I like to take the initiative."
Attractive
Likewise Manchester City boss Manuel Pellegrini can point to a goal tally that will surely climb beyond the 100 mark before the Premier League season is through. "It would be very disappointing if either of the two teams who scored the most goals don't win the league," he said earlier this month. "For football, for the fans, for everyone it would be disappointing. I think that the most attractive football, the more goals you can score, should be rewarded."
But the fact remains that titles are decided by points – it is individual matches that are decided by goals scored. And Chelsea have scored more goals than both Liverpool and Manchester City in each of the four matches against their rivals this season. In the biggest of games, it is Mourinho and his team who have proven the most effective performers. To return to Rodgers' claim, if it's so easy then why can't everyone do it?
The Blues are surely not the first team to spot that Liverpool are extraordinarily fast starters. Indeed, their tally of 58 first-half goals is more than 15 Premier League teams have managed in total this season. Incredibly, Liverpool have also scored more goals in the first five minutes than any team bar City have notched in the opening quarter of an hour. It's something of a habit.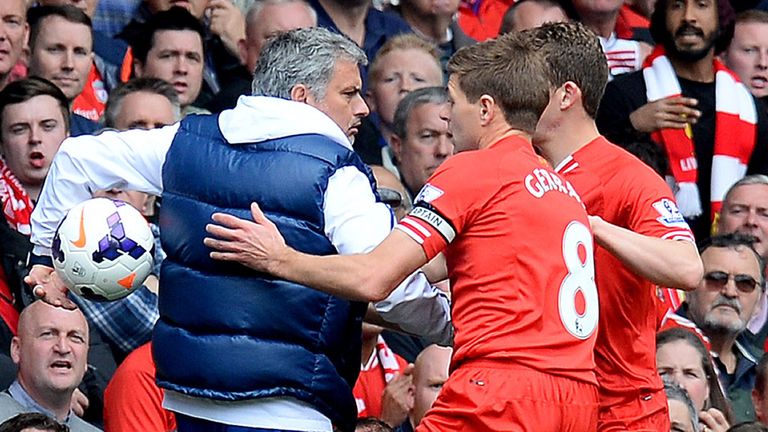 But no team has been as determined or as savvy as Chelsea in neutralising the threat. Asked in his pre-match press conference whether or not he intended for his side to attack Liverpool, Mourinho had responded with a joke. "If the kick-off is our ball, we have to go forwards," he replied. Beyond that, there were no promises.
"Some teams have been naïve coming here," said Gary Neville. "Mourinho certainly isn't." Not all of the tactics were particularly palatable. Mark Schwarzer appeared guilty of timewasting before the 90 second mark. There were further delays as players received treatment, Cesar Azpilicueta prepared to unleash his long throw-ins and Mourinho even took to grabbing the ball at one point. It provided the antidote to Liverpool's sting.
Compact
Young and old, Chelsea retained their compact shape and showed remarkable vigilance and concentration. Tomas Kalas showed admirable determination, while for the second time in a week Ashley Cole played his part in a clean sheet after not seeing a minute of action since January. In midfield, Frank Lampard and Nemanja Matic covered more than 12 kilometres each – more than anyone else on the pitch.
Lampard later admitted Chelsea were conscious of the need to be focused early on. "We knew how good Liverpool are in the first 15 to 20 minutes so we definitely didn't want to give them anything," he told Sky Sports. "We didn't want to give them any space behind with their attacking force as they're so good. We've been watching them all season so we set out to stop that."
It worked. While Liverpool had the ball, they were unable to convert this into shots on target let alone goals. Schwarzer had been on the pitch almost an hour before he was tested and when the home side did ask a few questions of the veteran goalkeeper it was invariably from long range. Twenty-one of Liverpool's 26 shots came from outside the area. Inside the box, Chelsea had just as many attempts.                       
Liverpool v Chelsea
Liverpool
Chelsea
Possession
73%
27%
Chances
19
9
Clear chances
0
2
It's a familiar Mourinho approach. After Inter's famous Champions League triumph over Barcelona in 2010, he said: "I never want to lose position on the pitch so I didn't want us to have the ball, we gave it away." It was more of the same at Anfield. Chelsea's passing accuracy of 67.6 per cent was their lowest in a game since December 2005 – during Mourinho's first spell in charge. The Blues had 31.8 per cent possession before the break… and both of the two shots on target.
"We were always comfortable," said Mourinho of the first-half pressure. "We were never in trouble." In contrast, Liverpool looked nervous. Much has been made of Liverpool's lack of a plan B but regardless of the truth of that theory, the reality is that until now they hadn't needed one. Without the early goal and with the pressure building, the mistake came from them.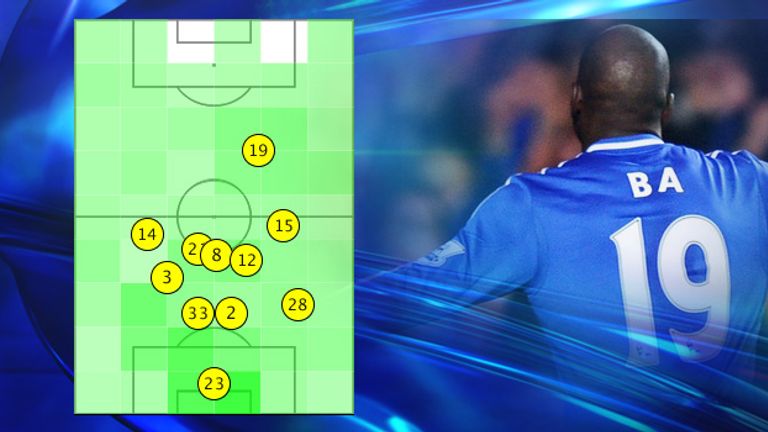 The bumbling presence of Ba does not always convince as a hold-up man but he capitalised effectively on Gerrard's error and had a key role in Chelsea's game plan. Despite Liverpool's dominance, Ba actually had more touches than the home team's striker Luis Suarez during the 84 minutes he was on the pitch. Fourteen of the 36 passes he received were from Mark Schwarzer.  Route one. Goals two. Points three.               
Chelsea pass combinations
From
To
Passes
Mark Schwarzer
Demba Ba
14
Demba Ba
Andre Schurrle
5
Frank Lampard
Nemanja Matic
5
This was the first time that Liverpool have failed to score in a Premier League game since September. And with ends like that, the means are surely justified. "It was about winning," said the Chelsea boss after the game. "We deserved to win, no doubt about it. It's as simple as this." Anyone can do it. But so often it seems to be Mourinho who actually does.