Lampard's goals
Take a look back at the top 10 goals from Frank Lampard's 13-year Chelsea career
Last Updated: 03/06/14 3:20pm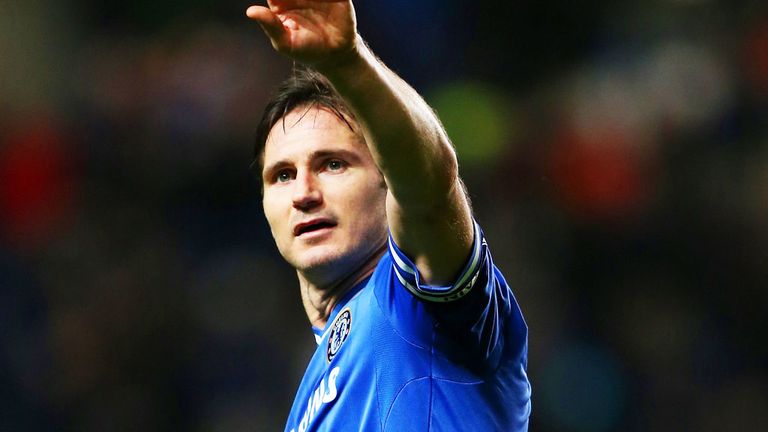 After a 13-year spell at Stamford Bridge, England midfielder Frank Lampard has announced he will be leaving Chelsea this summer. Lampard scored 211 goals in 678 appearances for the London club, becoming their all-time top goalscorer and establishing himself as a legend. In a wonderful career, the 35-year old won three Premier League titles, four FA Cups, three League Cups, one UEFA Champions League trophy and the Europa League during his time.
Lampard will be well remembered by Chelsea supporters for a range of stunning strikes from midfield, and here we count down his top-10 goals for Chelsea.
10. v Stoke (won 7-0), Premier League, Stamford Bridge, April 25, 2010
An astonishing win for Chelsea was topped off with a moment of brilliance from the midfielder. Lampard used instinct to redirect a Sam Hutchinson cross, elegantly slicing the ball in the opposite direction past an on-looking Asmir Begovic. Chelsea went on to win the Premier League and FA Cup under Carlo Ancelotti, scoring a Premier League record of 103 goals.
9. v Napoli (won 4-1), Champions League, Stamford Bridge, March 14, 2012
Lampard scored a crucial penalty at Stamford Bridge as Chelsea turned over a 3-1 first-leg defeat to claim a 5-4 last-16 aggregate win, 11 days after the sacking of Andre Villas-Boas. They went on to lift the trophy under Roberto Di Matteo.
8. v West Ham (drew 1-1), Premier League, Upton Park, December 20, 2009
Lampard showed the nerve which has made him one of England's finest players to rescue a vital point which took Chelsea four points clear at the top of the table at Christmas. Due to encroaching players, Lampard had to take a penalty three times, scoring each of them.
7. v Everton (won 2-1), FA Cup, Wembley, May 30, 2009
Lampard's 20th goal of a double-winning campaign came at Wembley, as Chelsea responded to conceding the fastest goal in FA Cup final history to Luis Saha in Guus Hiddink's last game as manager. Lampard picked the ball up from 20 yards out and smashed in a wonderful left-footed strike into the top corner.
6. v Hull (won 3-0), Premier League, KC Stadium, October 29, 2008
The Chelsea midfielder scored a delicate chip past Boaz Myhill, which prompted World Cup-winning Chelsea coach Luiz Felipe Scolari of Brazil to say: "It was one of the best goals I have seen in my life." Lampard displayed perfect technique to score his 99th career league goal.
5. v Liverpool (won 3-2), Champions League, second leg, Stamford Bridge, April 30, 2008
Grieving from the death of his mother a week earlier, Lampard netted an emotional penalty in the first half of extra-time before Didier Drogba's winner earned Chelsea a 4-3 aggregate victory and a place in the Champions League final. Manchester United won in Moscow on penalties.
4. v Everton (won 3-2), Premier League, Goodison Park, December 17, 2006
Renowned for his ability to strike from the edge of the area, Lampard's goal at Goodison Park was one of his finest. With limited options in front of him, the England midfielder unleashed an unstoppable shot which flew into the top corner.
3. v Barcelona (drew 2-2), Champions League, Nou Camp, October 31, 2006
Lampard drew Chelsea level at the Nou Camp with a delightful piece of skill. Driven wide of the goal after misplacing a pass from Claude Makelele, Lampard somehow curled a chip from the touchline over Victor Valdes and inside the back post to score from an impossible angle.
2. v Bayern Munich (won 4-2), Champions League, Stamford Bridge, April 6, 2005
A Lampard goal against Barcelona helped Chelsea advance to the quarter finals of the Champions League, and two more goals defeated Bayern Munich in a 4-2 win at Stamford Bridge. Controlling a cross from Makelele, Lampard chested the ball before smashing a powerful half-volley past Oliver Kahn to score a wonderful second goal, sending Chelsea to the semi-finals.
1. v Bolton (won 2-0), Premier League, Reebok Stadium, April 30, 2005
Lampard scored twice at the Reebok Stadium to seal Chelsea's first league title triumph in 50 years. His second goal was a sublime Chelsea counter-attack as he raced on to Makelele's through-ball, charged into the area and rounded Jussi Jaaskelainen before tucking in to spark scenes of jubilation.