'This myth about ticketless fans, it's just rubbish.' Hillsborough survivor recalls disaster
Chris Whittle suffered post-traumatic stress disorder after surviving Hillsborough. As he recalls the tragic events from 23 years ago he lays the blame on South Yorkshire Police...
Last Updated: 12/09/12 9:10am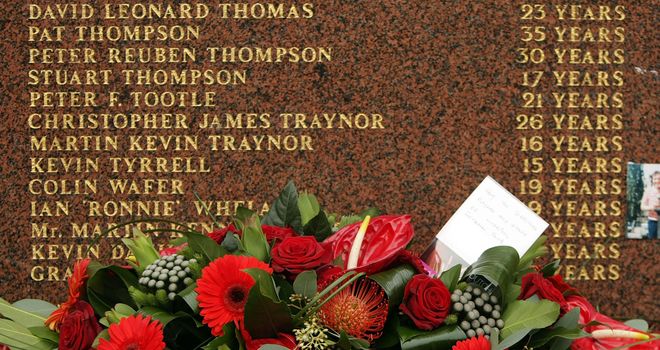 Chris Whittle is one of thousands who went to the game that day and watched a tragedy unfold.
Mr Whittle, 51, a Liverpool supporter from Burnley, suffered post-traumatic stress disorder as a result of what he saw and experienced on that day.
He said: "There were so many people on Leppings Lane you couldn't move really.
"Eventually I found myself at the front, near gate C, where fans were packed up against each other, it was quite painful.
"That's when the police opened the gate and people flooded in.
"Everyone was showing their tickets - this myth about ticketless fans, it's just rubbish."
Mr Whittle blames South Yorkshire Police's management of the crowd for causing the disaster.
"Once the gate was opened the obvious place to go was down the tunnel into the central pens," he said. "In the previous year the tunnel was closed off when pens three and four, the central pens, were full but that year it wasn't closed.
"So everybody went down the tunnel, into those pens and it became overcrowded.
"I heard a lot of shouting, people saying someone is going to get killed, someone is going to get hurt.
"People couldn't move."
Mr Whittle recently published a book, With Hope In Your Heart, about his experiences at Hillsborough.
He added: "The tunnel was dark, very dark. It was a steep grading as it went down and a lot of people lost their footing, I almost fell and there were some people crushed underneath.
"I was pushed from the back into pen four and was rammed into a barrier. My chest was expanding and I got shooting pain in my back.
"I managed to get a small gap of space to push back but then a bigger surge came again and I went to the floor.
"I got pulled up and that was when I screamed. I screamed because it hurt that much.
"We were there for quite a while as people were being pulled into the stand above, eventually people were getting on to the pitch and I slowly tried to make my way down to the pitch but my legs were like jelly and I was shaking.
"I was completely out of it by then, I knew something bad had happened but I didn't realise at that time how many had died.
"When we were coming back in the car, on the radio the death toll kept going up and up - 30, 40, 50, 60, 70."
Mr Whittle, who suffered cracked ribs and permanent chest damage in the disaster, says he returned home a different person and endured years of nightmares, panic attacks, flashbacks, paranoia and low self-esteem.
He added: "It was constantly on the TV that night and the next day but even though I was there, I still had to watch the news reports so I could take it all in.
"That night I didn't sleep a wink because I thought I was going to die.
"I wasn't the only one. In fact, I was one of the lucky ones because I came home and 96 didn't."