Sky Sports views
See what the experts have been saying on John Terry and the fall-out from Sunday at Anfield...
Last Updated: 24/09/12 5:11pm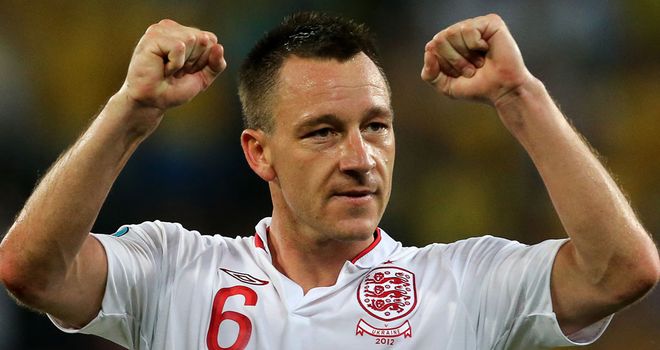 Jason McAteer on why Jonjo Shelvey shouldn't have been sent off against Manchester United
"It was an extremely disappointing day. It was full of emotion, full of passion - and the game was as well. Unfortunately I think the referee got two major decisions wrong and I think it cost Liverpool the three points.
"Shelvey took a touch and the ball ran away from him. He's not lunged, for me. His left foot was standing on the floor and he led with his right foot. I thought it was a good, fair hard challenge and I don't think there was malicious content with it. As for Manchester United's big, strong centre-half Jonny Evans, I'd like to have seen him stand up and maybe get up straight away from the challenge. Staying down left Mark Halsey with a big decision to make - and seeing it again and again afterwards on TV, for me it wasn't a sending off. I think Mark Halsey got it terribly wrong yesterday. The other decision I'm talking about is the penalty decision that Mark Halsey gave [to Manchester United] later on in the game.
Ray Wilkins on his surprise that John Terry has quite international football
"I didn't think John was going to take this type of action. He was and always has been such a staunch supporter of England and always wanted to play for England as well. He must have taken a lot of thought as far as making this decision is concerned and it would have been a very tough one for him.
"I don't think John has tried to pre-empt anything that will go on in the hearing. I just think he probably feels it's time to get out of the limelight and get away from the England set-up and concentrate on playing for Chelsea. I hope that people will remember him for his football and he has been an outstanding centre-half. He's been an outstanding captain for England and he's been an outstanding player for England."
Alan Curbishley on how Roy Hodgson replace John terry in his England team
"Roy Hodgson will be really disappointed with it because he's got a vastly experienced player who's not going to be available and he's going to have to look forward to who can replace him. He'll be eagerly looking at that now.
You're talking about Joleon Lescott, Phil Jagielka and Gary Cahill. They've been in the squad, they've played games and they've played with each other. They're going to be in pole position. Michael Dawson's not getting a game for Spurs at the moment, which is difficult if you want to be in the squad. Steven Caulker is one that lots of people are talking about for the future. Rio Ferdinand has said he's available so we'll have to see what Roy does and then there's two other Manchester United players in Phil Jones and Chris Smalling who are out injured at the moment, I also like Micah Richards at centre-half. There are possibilities for Roy Hodgson."
Former FA chief executive Mark Palios on the FA's decision to pursue charges against John Terry
"Players will take it personally but the national game has a responsibility to follow its due process and they clearly believe, having looked at the evidence, that they can take the thing forward from a disciplinary angle and should take the thing forward. And that is what they are doing. When they took the captaincy away, it was more of a policy decision. With regard to a disciplinary offence it is not the executive - it wouldn't be the chief executive or the chairman - who would be making the decision to go forwards, at least it was not in my time.
"The unfortunate thing is people see the FA as one body and the players see the FA as the body that selects them as well as the body that disciplines them. They don't see the differences and the division of responsibility within the organisation. That is a difficulty and I can understand John Terry's views that it is the same FA taking him through the disciplinary proceedings that asks him to play for England."
Former Liverpool striker David Fairclough on green shoots for the Reds
"There were plenty of positive signs. Everyone enjoyed the style Liverpool played with, particularly in the first half. It was free-flowing, they created opportunities and the only frustration is that we are not able at the moment to put enough opportunities in the net.
"Clearly the style that Liverpool are playing is enjoyable to see. They are getting forward, everyone looks very comfortable on the ball and players are trying things that perhaps in the past they might not have. So there are plenty of plusses but again getting that result is the key, and from that they will gain a lot of confidence."
Fairclough on the atmosphere at Anfield on Sunday
"Often a small minority will not remain as well behaved as the main body of fans. Throughout it was tremendous. There was greater appreciation from the United fans and for the most part I don't think that it was obvious that there was any bad feeling.
"They are two huge clubs with fantastic traditions and I think there is a good feeling between the two clubs deep down. You are not going to clear any trouble overnight but there were great signs throughout last week. United did very much play their part, they feeling was all good surrounding the game and it was well contested so I don't think you can any complaints."