John Barnes says it's unfair to label Liverpool striker Luis Suarez a diver
John Barnes has defended Liverpool striker Luis Suarez over accusations that he is a diver.
Last Updated: 10/10/12 4:51pm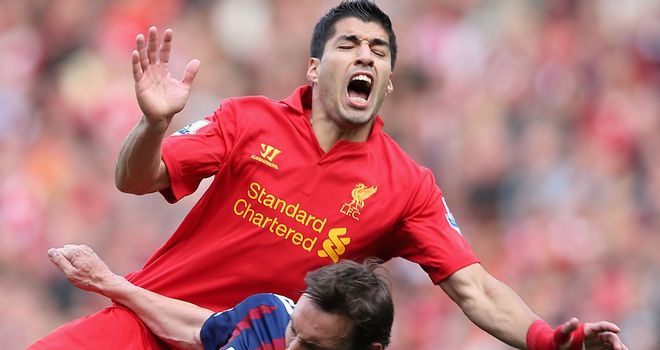 Stoke manager Tony Pulis called the Uruguayan "an embarrassment" this week after he appeared to commit a dive in a bid to win a penalty during Sunday's 0-0 Premier League draw at Anfield.
Suarez has been accused of simulation a number of times already this season, but former Liverpool winger Barnes insists the reputation he has earned is unfair.
He told Sky Sports News: "If you look at Luis Suarez play, very often he goes to ground even though there's no-one around him because of the nature of the way he plays.
"Suarez twists and turns more than anyone I've ever seen in the world and as a result of that he falls over and slips a lot.
"First of all, you have to say that because of the way he plays he's always going to fall over. That doesn't necessarily mean that because there's players around him that he is diving.
"Secondly, when you believe that someone is going to come and tackle you or someone is going to kick you and you take evasive action and they don't kick you and you go over, it is very difficult to say whether someone is diving or not.
"I haven't seen the incident from the weekend, but I'm talking generally."
Quick
Barnes, who represented Liverpool between 1987 and 1997, says Premier League supporters are often too quick to point the finger at foreign players when it comes to diving.
He feels English fans have different attitudes to those in other nations and he says home-grown footballers are often equally guilty of simulation.
He added: "We believe we are the moral guardians of the world unfortunately in England, that's what we believe.
"There are certain situations that have been accepted worldwide in all walks of football from South America to Europe.
"(Jurgen) Klinsmann was the original one, who we would consider to be very close to us being German, but nobody ever called Klinsmann a diver in Germany.
"When it comes to this country we like to take the moral high ground in terms of what we believe should be done. Then we look at English players who've done it in the past - and we've seen it.
"Foreign players generally get more stick and get labelled 'divers' more than English players. Suarez, because of what's happened, will come under that, but he's big enough to take it."