Feeling the heat?
A 1-1 draw with Newcastle United on Sunday leaves Liverpool with just 11 points from their opening ten games, their worst start to a season in 20 years. Matt Stanger wonders when the pressure will start to increase on Brendan Rodgers.
By Matthew Stanger
Last Updated: 05/11/12 1:59pm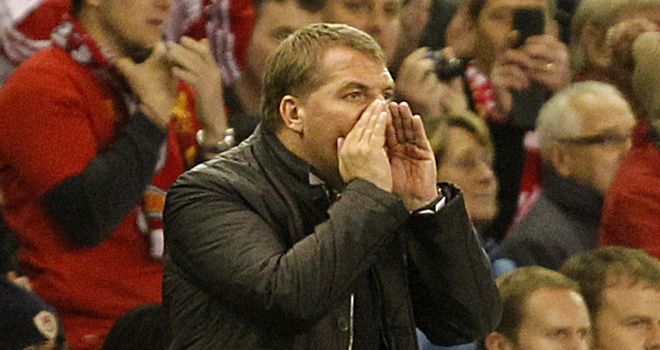 Although Liverpool utterly dominated Newcastle on Sunday, Brendan Rodgers' assertion that his team deserved what would have been a 'brilliant win' smacks of a manager clutching at straws following another wasted opportunity to bag three valuable points.
After running Newcastle ragged in the second half and creating enough chances to win three matches, Liverpool certainly should have secured only their third Premier League victory of Rodgers' reign. But the manager's claim that his team missed out on a 'brilliant' win seems somewhat far-fetched, considering Newcastle are yet to win away in the current campaign and are struggling to find the form that catapulted them into fifth last season.
Perhaps this point is too concerned with semantics, but Rodgers' declaration echoed the memorable line reeled out by Roy Hodgson in October 2010 when he opined that the Reds had secured a 'famous victory' after sneaking past Bolton 1-0.
The reaction to what was seen as Hodgson's rather skewed perspective contributed to the campaign to have the manager defenestrated, with Liverpool's win at the Reebok lifting them to a total of only 12 points after Hodgson's first ten games in charge. Sunday's draw leaves Rodgers' Reds a point worse off at the same juncture.With Rodgers avoiding the same level of scrutiny despite a mixed start to his Liverpool tenure, it seems that Hodgson's biggest mistake during his time at Anfield was failing to announce that he had a 'philosophy' when he arrived in the summer of 2010.
Games Played
Games Won
Games Drawn
Games Lost
Goal Difference
Points
Brendan Rodgers
10
2
5
3
-2
11
Kenny Dalglish
10
6
2
2
8
20
Roy Hodgson
10
3
3
4
-4
12
Rafael Benitez
10
5
2
3
8
17
Despite having a far more extensive and impressive CV than Rodgers - which included taking Fulham to the Europa League final weeks before he joined the Reds - Hodgson immediately found himself under intense pressure, which led to fans petitioning for him to be sacked just 18 games into the season.
Over 10,000 signatures were collected online, with supporters issuing a statement that said: 'Mr Hodgson asked to be judged after ten games. We have given him 18 and he has provided the worst start to a league campaign for 57 years. Even by his own measures, he deserves to go.'
So what then for Rodgers, who thus far has broken several new records in regard to worst starts? With the manager struggling to solve Liverpool's profligacy - which has seen them repeatedly throw away matches they should have won - the Reds continue to dwell in the bottom half of the table with a points average that can be extrapolated to a measly total of 41 over the course of the full season.
The Sunday papers carried the story that Rodgers believes the club's re-building job will take longer than the length of his three-year deal, with the manager seemingly already trying to buy time. "There is no quick fix here," said Rodgers. "We have to balance the finances and that is what we are doing. There will be a bit of pain on the way." The obvious question is just how much pain will those connected to the club accept?
Rodgers will hope that John Henry and the fans will be able to overlook finishing in ninth or tenth this season if there are signs of improvement on the pitch, but bearing the fates of Hodgson and Kenny Dalglish in mind, it's clear that both have a breaking point.
At the moment, the manager's claim to a philosophy is guiding him through a difficult early run. But Rodgers' admission that it will take years rather than weeks for Liverpool to rebuild will not come as encouraging news to fans trying to remain optimistic.
This article first appeared on Football365