The experts' views
See what the Sky Sports experts made of midweek wins for Man Utd, Man City, Spurs and Stoke.
Last Updated: 29/11/12 10:08am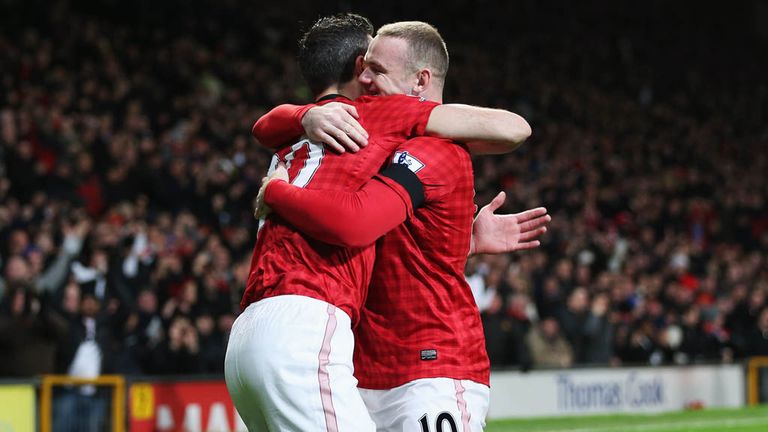 Gary Neville on Man City's 2-0 win over Wigan and the role of Mario Balotelli
It was typical City. Twenty of their goals have come in the second half and they're unbeaten this season and those are the traits of a successful team when you're not playing particularly well. I thought Wigan were more than a match for them for 65 minutes, but City look really difficult to beat at the moment. The two at the back, Matija Nastasic and Vincent Kompany, are forming a good partnership and Gareth Barry did a very good job in front of them. They lacked spectacular play at times in the match, but once they got the goal you knew the game was over and there was no way Wigan were going to get back into it. As a contest it was finished.
Mario Balotelli was involved in every part of the game, it would seem, and he has this relationship with Roberto Mancini. Five minutes before the goal they were so demonstrative with each other, but it was a big moment for him. Edin Dzeko hasn't taken his chance in the last couple of weeks and for some reason Carlos Tevez isn't playing at the moment. Balotelli has come in and it was an unspectacular night in terms of the championship, but it might be a massive night for Mario Balotelli.
Perry Groves on Manchester United's narrow 1-0 win over West Ham
Alex Ferguson changed his system. He played a diamond system with Michael Carrick, Tom Cleverly and Anderson all linking up. They're not at their free-flowing best at the moment, but they can eke out 1-0 wins and you know full well they can get better when it comes to January and February. They've got players coming back from injury - Chris Smalling is back and Phil Jones is back - so it's looking good for Man United. Clean sheets give you confidence and with the firepower they have with Javier Hernandez, Robin van Persie and Wayne Rooney they're always going to score. If they can get it right at the back where they have been conceding goals you know you've got a great chance of winning the title.
West Ham, playing at Old Trafford, would have wanted to be nice and settled to see if they could get themselves into the first 15 minutes without conceding. But they stayed to their team shape, they're a big physical side and they're very well organised. They've had two tough away games, including a defeat at White Hart Lane, but tonight's performance was a lot better than when they played at Spurs.
Phil Thompson on Chelsea's disappointing 0-0 draw with Fulham
This is the European champions we're talking about. This should be a lot more quality. Juan Mata didn't play, he came on after 60 minutes, and Eden Hazard - who was on the pitch for most of the time, made way for Marin and there's all change going on, but it's not looking good. You have to look at the game and say did Chelsea have enough chances to trouble Mark Schwarzer? The answer is no. They're lacking in confidence, they're lacking in cohesion and the only thing that Benitez can say is that it's another clean sheet.
There's not a lot going up there. Yes, David Luiz did stay at the back, but you're not seeing Ashley Cole getting round the back and getting to the by-line in a swashbuckling style. Is that is a Benitez thing? Maybe he's asking them to stay a little bit further back. Bertrand started on the left-hand side and he's a bit more defensive, so they don't have three attacking midfielders. And Torres up front is a shadow of what I saw at Liverpool. I must say Fulham were good value for the draw.
Iain Dowie on Tottenham's 2-1 home win over Liverpool
Tottenham were a good a match for Liverpool in the first half but had the dominant players. Gareth Bale was exceptional for the first 20 minutes and set up the first goal with a mesmeric run. He drifted past Joe Allen and Steven Gerrard like they weren't there then blasted past Martin Skrtel and put in a sublime cross for Aaron Lennon at the back post. Liverpool's response to that was very good but just minutes later they gave away a silly free-kick and Bale put Spurs two up.
But after that the Tottenham fans will be a little bit unhappy because they then sat back a bit. I've got to say, Liverpool were outstanding. William Gallas and Michael Dawson had to be at their very best. There were 29 crosses into the box from Liverpool and they only got on end of four of them which shows how well Gallas and Dawson did. Liverpool deserved to get at least a point out of the game but they didn't because they didn't have enough attacking threat, they didn't have that many options. You can't fault the way they played, they kept pressing and driving. For Spurs, that's two wins in a row without the flamboyant performance. If that was Harry Redknapp's Tottenham you sense they would have gone on from 2-0 as it was it was a defensive second half from Tottenham. They did it well but Liverpool unfortunate not to get back on level terms.
Matt Le Tissier on Steven Pienaar's penalty shout in Everton's 1-1 draw with Arsenal
Was Mikel Arteta a lucky boy on his return to Goodison Park? I think he was. His challenge on Steven Pienaar could easily have been a penalty. The referee, for me, took the easy option. He gave Everton a corner when Arteta had clearly got nowhere near the ball; he wasn't within in a yard of the ball. How he gave a corner I'm not sure. He gave a yellow card to Kieran Gibbs in the first half for pulling back Steven Naismith, there wasn't a great deal in it. There was far more contact in this incident, Arteta's left arm came over, he goes to ground and given what I saw earlier in the game, if there was any consistency from the referee it would have been a penalty.
Charlie Nicholas on Newcastle's 2-1 defeat at Stoke - their fourth straight Premier League loss
Newcastle have a bit of work to do, although I don't see them going down - they have enough about them. They're missing Hatem Ben Arfa and Yohan Cabaye who are both out and they're players who can win you a football match. Cisse got his first goal in a while tonight which was a typical poacher's goal and you thought they'd take the initiative and for five, ten minutes they did, forcing a couple of decent saves from Asmir Begovic to keep them at bay. It looked as if it was going their way but this game turned by two substitutions - Cameron Jerome was brought on and Michael Kightly came on for Charlie Adam, who was poor. And then, in the last 10 minutes, they scored two goals.
Tony Pulis will be pleased with his subs' contribution and the three points. If they continue to play the way they are they'll be up and down all season. In the first half they weren't good. Newcastle, next up they've got Wigan at home and it's vital they win that to give them a little belief and reassurance. But I don't see them as a relegation team.
Perry Groves on Mark Clattenburg's return in Southampton's 1-1 draw with Norwich
It's fantastic to see him back. I think he was abysmally treated and I don't think Chelsea conducted themselves very well. Chelsea have said that they regretted the way they behaved, but I think they should have gone to a full apology. This was a good game to bring him back to as it was more of a low-key game and if he got a decision wrong there wouldn't be a lot of controversy. He is a very, very good referee - probably one of the best in the Premier League - and they are probably trying to ease him back into it. He will get big games again without a doubt. Why should he not referee big games when this was none of his doing? He's been treated terribly, but he's come out with dignity and his head held high and I imagine you'll see him referee one of the big clubs in maybe 10 days' time. They'll ease him back in and he'll get the big fixtures again.
As for Southampton, if you've got a goalscorer like Rickie Lambert you've got half a chance. They've got to get the goalkeeper situation sorted out and he needs a strong, dominant centre-half. It's the St Mary's form that will give them a chance of staying up.