Hunt for justice
Peter Hooton of The Farm tells Sky Sports about the Justice Collective's charity single and potential Christmas number one 'He Ain't Heavy, He's My Brother', which is raising money for the families of the Hillsborough disaster victims.
By Rachel Griffiths - Follow me on Twitter @SkySportsRachG
Last Updated: 19/12/12 3:06pm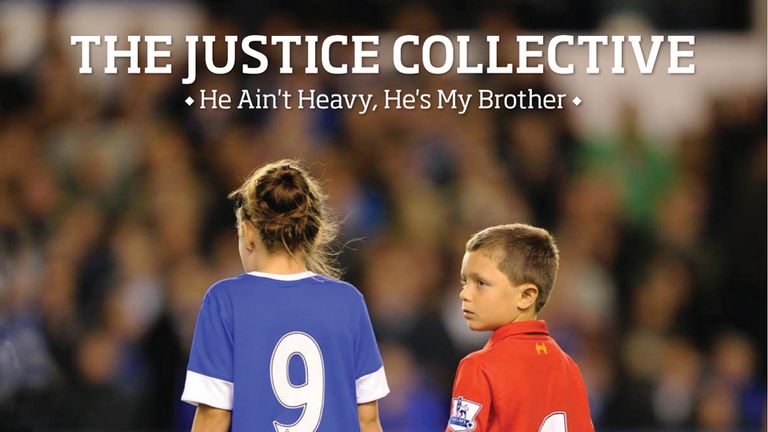 The countdown to Christmas is nearly over and for the families of the 96 Liverpool fans that died in the Hillsborough disaster 23 years ago it will be an especially poignant one.
For those seeking justice for the victims of the 1989 tragedy, the last few months have been momentous, with the damning report into the disaster released on September 12th this year laying bare a cover-up that attempted to shift the blame on to its victims.
Another landmark moment was reached this week, when the High Court quashed the original accidental death inquest verdicts returned after the disaster.
As the families of the 96 continue their hunt for justice, a host of stars including Paul McCartney, Robbie Williams and Paloma Faith have come together to release a charity single, a cover of The Hollies' 1970s hit 'He Ain't Heavy, He's My Brother', under the name the Justice Collective.
Proceeds from the sales of the record, produced by the award-winning Guy Chambers and firmly in the race for Christmas number one, will go towards the legal costs of the families of the supporters who lost their lives at Hillsborough.
Sky Sports spoke to Peter Hooton, frontman of Liverpudlian band The Farm and the brains behind the single, over how it's uniting football supporters worldwide.
Support
"We've had just incredible support from all around the country and all around the world from football fans," said Hooton.
"We've been getting emails and tweets and Facebook messages. A lot of Manchester United fans have been tweeting me today saying they're buying it - although obviously not 100 per cent of them.
"I think it transcends football. It was a human tragedy and I think people realise that.
"As Liverpool fans, we've had to put up with 23 years of being wronged. We were telling the truth all this time and it took the independent panel's report so the world would understand we were telling the truth.
"Liverpool fans felt exonerated on September 12th when the report was released, but now we want to do this. We've had the truth, now we want to see accountability and justice done.
"It wasn't accidental death - everyone knew that. It was duty of care on the day. And that's what they've tried to overturn, the families.
"Now that this has happened I think people want to show their support."
The battle for Christmas number one looks to be a straight two-horse race between the Justice Collective and X Factor winner James Arthur, whose single 'Impossible' was edging 'He Ain't Heavy' by 3,000 sales in Tuesday's figures.
The Hillsborough tribute has been widely backed by bookies to come out on top but Hooton added: "It only went on sale on Monday, whereas the X Factor single went on sale Sunday.
"The first-day sales were over 70,000, which is great, but I don't think it's as cut and dried as the bookies are trying to make out.
"To get to number one, we're looking at between 400-500,000 record sales. If that was the case it would raise hundreds of thousands. If it keeps on going it could get up to millions. But we're just trying to raise as much as possible.
"There's been hundreds of thousands of pounds invested into X Factor promotion. We're doing it by goodwill and word of mouth.
"We're actually going up against a sophisticated organisation in X Factor and they've lost out the last couple of years on Christmas number one so you can tell they've really gone for this.
"It's only the goodwill of people involved that's enabled this to happen. It's almost like fate."
Hooton added: "It's also raising awareness to a new generation - The X Factor generation.
"For some of the people who weren't born when Hillsborough happened, it's just a name to them, it doesn't mean anything. But if their favourite pop star gets involved they might start becoming aware of it and realising it was a life-changing event for so many people and for football."
As a survivor of Hillsborough who witnessed first-hand the horrific events at the FA Cup game between Liverpool and Nottingham Forest on 15th April 1989, Hooton says the single holds a special personal meaning.
"It was surreal, that's the only way I can describe it," he said. "Football fans in the 1980s were used to crushes, we'd grown up on them, but something felt different.
"There was no police control, no-one organising, every person for themselves. That's the biggest nightmare for any football fan. Communication had broken down. It was a catalogue of errors that went to cause the tragedy.
Legacy
"It took the tragedy to massively improve stadiums in the country. People sit down in comfort to Premier League games and Championship games and it's the 96 deaths that led to the safety improvements. It was the legacy of the tragedy.
"As musicians what we can do is try to produce a great record, and I think Guy Chambers has done that."
The decision to release 'He Ain't Heavy' was a result of a moving tribute at Everton after the report was released in September when the song was used to great effect, and Hooton believes the solidarity between the rival fans over Hillsborough is plain to see.
"At the end of the day, football is a game. It's not a war," he added.
"Evertonians have always been there when it comes down to the nitty-gritty. Obviously there's intense rivalry at matches, but when it comes down to it they've been right behind us."
Please buy The Justice Collective 'He Ain't Heavy, He's My Brother', the Hillsborough Tribute single, now!