Gerrard on Liverpool
Steven Gerrard says that Luis Suarez is the best player he has ever played with and hopes he stays at Liverpool for a long time to come
Last Updated: 21/01/13 2:07pm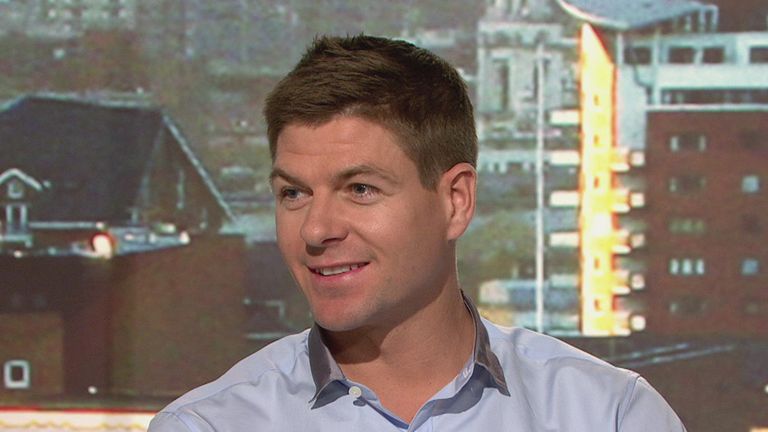 Steven Gerrard speaks to Goals on Sunday's about Luis Suarez's future, Brendan Rodgers' impact and who he would like the club to sign.
Liverpool are hoping to be in a position to compete for the Premier League title and UEFA Champions League crown in the not too distant future, and did their chances no harm with a 5-0 demolition of Norwich on Saturday.
However, there has been much speculation as to whether their star striker Luis Suarez will stay at the club if Liverpool don't make the top four, but Gerrard says that hopefully the club can make that decision for him.
"Luis seems happy and settled at the club," said Gerrard on Goals on Sunday.
"But whether he will leave if we don't make the top four is something only he can answer. He knows what his ambitions and dreams are. Hopefully we can put up a fight and finish fourth and make that decision for him but Luis Suarez deserves to be in the Champions League, I think everyone would admit that.
"I said last week in an interview that he is probably the best player I have ever played with. Which is a big statement as I have played with some top, top players.
"But he just does things that are mind-blowing. He uses every blade of grass, even close to the line in the opposition area. He is impossible to mark. He is a fighter and just does not give up, no matter what the score, that is what you want in your team."
Focus on the positives
Suarez has come in for some criticism recently for admitting to diving, however Gerrard says that he would rather concentrate on his good points and says that it is up to senior players to guide him.
"He was open about it and he will learn from it, added Gerrard.
"It is down to myself and Jamie Carragher to help him and guide him as well. He is still young and still learning. I would rather focus on the good things though, he will be around for a long time and he is one of the best players in the world. Outside of Messi and Ronaldo I would argue that he is as good as anyone else. People want to talk about the things he has done wrong in a game but I just want to praise him and we are lucky to have him at Liverpool - I hope we can keep him for a long time."
Suarez and Daniel Sturridge seem to have finally clicked upfront and Gerrard says that Sturridge has helped to take some responsibility off Suarez.
He said: "I think the start of this partnership was last week's second half against Manchester United, everyone has seen that there is an instant understanding between these two players. It has been the same in training all week.
"As a midfielder when you look up you want to see one of your forwards coming in to give you an easier option and you want to see one on the shoulders - the one in between the centre-halves. I think that is what we have missed; Luis has tried to do the two jobs himself for the season. He is so good that you just want him anywhere in the area where he can cause the opposition some problems."
Rogers backing
Liverpool manager Brendan Rogers has got Gerrard's full backing and he hopes that Rogers is given time to get his ideas across and given the backing to bring in a few more players.
"I am really happy with his appointment and how it has been going so far. I think he will be here for a while and given time to get his philosophy out there," added Gerrard.
"It won't happen overnight and it will take time. We have been a bit inconsistent this season but the majority of the games we have shown to our fans and the neutrals out there that we are playing the right way. Brendan's man management is superb. He puts an arm around player, talks to them and gives players opportunities. He has galvanised players.
"Given time and a little more backing - maybe a few more players - then I think it will work really well.
"I think it is difficult for me to start mentioning names, the manager makes the decisions and the owners decide how much money to give him. I said on record that maybe we need two more - maybe a defender as we have an injury to Enrique. Maybe another 10 or an attacking style player who can play out wide as well - that would give us exactly what we need to push for the top four."
Liverpool's home form has been good but with two tough away games looming - against Arsenal and Manchester City - Gerrard says they need to get a win out of one of those games.
"They are very tough - they will be big challenges. I think that we need to win one of those games. We have not won a big game this season against a side above us in the top four. If we can get three points in one of those fixtures then it will give us a big boost and a lift to go on and finish the season strongly. Our home form is very good at the moment so if we can get a big performance on the road I think we can push those sides above us and put a fight on for fourth."