Theo versus Raheem
Ahead of Arsenal's clash with Liverpool on Wednesday evening we were granted an exclusive audience with Theo Walcott and Raheem Sterling. Two of English football's brightest young talents look back on their careers to date and discuss their future ambitions in a candid head-to-head
By Alex Dunn - Follow me on Twitter @skysportsaldunn
Last Updated: 22/02/13 9:18am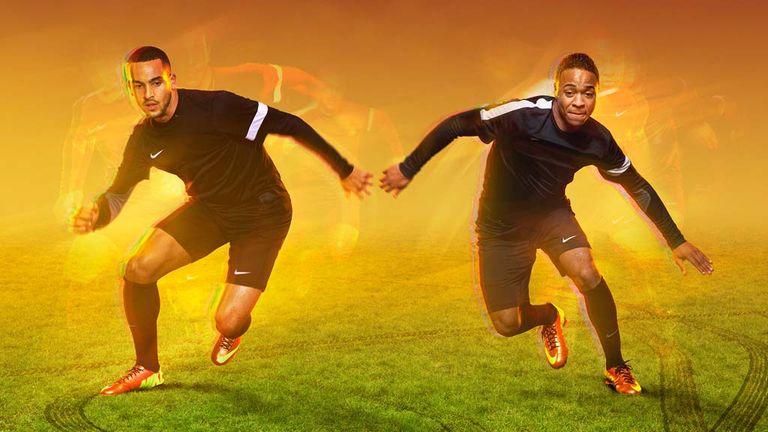 I've seen a lot of Raheem this season and I've been very impressed. Playing at such a young age there can be a lot of pressure, which I can empathise with, but he's handling it really well. The biggest thing is not to compare him to other people. To be honest, I think he's a totally different player to me. He's naturally very gifted at running with the ball and that's a beautiful thing to watch. Not many players in the world can dribble with the ball so comfortably. For me, what stands out is the fact he can play with such a high level of players at Liverpool at such a young age and more than hold his own. Already, he's starting to show he's got everything.
Theo's a player I admire. He's someone whose game you can take things from. He's a player that someone like me can look up to because he's achieved so much at such an early age. When I was starting out and saw people like Theo breaking through and playing first team football, that's obviously something you can aspire to. You look at people like Theo and what they've achieved and think 'yeah, hopefully that's something I can emulate'. It's just a case of kicking on when you get your own chance.
It's always tough when you first break through. You're going into a man's league but on the flip side you're playing with no fear. You can be rash at times, of course, and you don't always make the right decisions. The fact you're new, and people haven't played against you before, is exciting and difficult at the same time. I think the important thing when you have people behind you is that it creates a sense that you're ready. And that's a massive help. It's important to concentrate on the pitch though and not let things outside of it interfere.
When you first train with the senior team it can be intimidating and you're careful of everything you say because you don't want to say the wrong thing in front of the lads. But after a while it becomes more natural and you can gradually find your feet. The first couple of days are hard but you soon get used to it and it becomes easier to get on with the other lads. Nowadays I just feel like I'm one of the team, which is a relief after you get over any initial nerves.
When the other players in the dressing room see you every day in training and can see that you're good enough, you start to earn their trust. You're going to make bad decisions at times, nothing is going to be perfect, but all players have been through something similar themselves and appreciate it. The thing with Raheem is that he wants the ball; he's never afraid and even when he loses it he doesn't hide but wants it again. When you make a mistake you have to keep trying - especially in the position we play in. When you see Raheem doing it at such a young age it's frightening how good he could be in a few years. He'll only keep on improving. The players around him will make sure he's looked after and in time, he'll be able to relate his own experiences to the other lads at Liverpool coming through. He's got good times ahead of him, I'm sure of that.
It was never a problem for me to be honest when I had to go back to the youth team after I'd had a taste with the first team because I just wanted to impress and go on to make my full debut. It was just a case of playing for whatever side I was asked to, in whatever position, and wait for my chance to play for the full side. That was my goal at the time and nothing else mattered.
Thierry Henry was great because I could study first-hand the way he plays, his movement off the ball etc. I appreciated him not just as a player though, but how he was off the pitch as well was fantastic. He's a great leader and when you think of Arsenal, even now, you think of Arsene Wenger and Thierry Henry. That's the stage he got to. When you think of the club, you wanted to be him. The amount of goals he scored, the way he scored them, the aura he had and the impact he had on the whole club was an absolute dream to be part of.
Steven Gerrard has been great. I'm really grateful for the way in which he's looked out for me. Ever since I broke into the team he's been there and I can only learn off people like him and Luis Suarez. At first Stevie used to give me advice about confidence and how it was important not to get intimidated by the crowd. Now he stresses to me the importance of producing the goods and he's keen for me to always play to the best of my ability. It's motivation really and to hear him say that the team needs me is obviously really inspiring. It's brilliant that he's watching over me and really seems to want me to do well.
To listen to what people are telling you is key. I had great players around me when I first came to Arsenal - people like Thierry and (Freddie) Ljungberg. You can't help but learn from these type of guys. When I walked into the dressing room and there were big characters like Sol Campbell and Thierry - people who had really won things - you have to grow up quickly and it'll be the same for Raheem at Liverpool. He'll look at people like Gerrard to help him, which I'm sure he does.
Suarez is brilliant too. Everyone loves watching him play. He's someone I can look at and try and take aspects of his game and work them into my own. It's obviously great to play with him and just training alongside him every day will hopefully help me with my aim of scoring more myself. From what I've seen since I've been at Liverpool, I'd say he thrives off what people say about him and uses it as a motivation. Whatever you say about him won't bother him though because he's been under pressure for the whole of his career. He's had to listen to talk about him for such a long time it's not going to ever get him down. He's not really bothered in my opinion. He's such a brilliant player; I can't really see how anything that is said about him will affect him on the pitch.
Brendan is a good guy and he's a good coach. Overall, I'd say he's just someone you can relate to. You can talk to him not just on the pitch and training ground but off it too. And that's important. I think he's a personal coach and is someone who is approachable in your everyday life. It's good to have someone like him around to speak to. He's a very hands on coach too, always offering advice and telling you how he wants you to play, how he wants the team to play. He lets me know how I need to defend before I can go forward, that's for sure. That's one he reminds me about but at the same time I'm encouraged to express myself and that's the thing I enjoy the most. I love to go out and have fun. Naturally I like to go forward but the defensive side of things, I don't mind either and it's something I've worked on.
Arsene Wenger is such a great man, he'll always give youth it's chance and be available to talk to if you need him. You can always knock on his door. He's always capable of getting that little bit extra out of young players and for me, he's the best at that. The manger has and will always give young players opportunities to prove themselves. He is always talking to you as players; he's brought through some fantastic players over the years that have come up from the youth ranks. He's the sort of manager you want to play for and he has that kind of aura around him. He's one of the greatest managers today and we'll only improve under him.
I spoke to Rafa (Benitez) a few times when I first came to the club but it wasn't too serious because I was only a kid. It was more with Kenny that I was given a break and trained with the first team. Kenny was great; he was a lovely guy and a great character in the dressing room. All the boys respected him, it's one of them where he's an icon and legend at the club so obviously we all respected him straight away. It was someone who we were constantly learning from because he's been there and done it. It was sad to see him go because obviously he's an ambassador for the club. It was disappointing but obviously the owners had their plans and that's something you have to respect.
When you're in the spotlight at such a young age people expect a lot from you early on. A lot of players tend to break through when they're 22 or 23 so to have had the experiences that I've had - to play in massive games and been to World Cups, 200-plus games and a lot of goals for Arsenal - I would have taken that at the start of my career. There's always going to be ups and downs but it's the way you react to them and bounce back. The biggest point for me was not going to the World Cup. It made me a better player and made me think I don't want that to happen again. How do I make sure it doesn't happen again was the question I asked myself. It is probably the worst thing in the world you go through as a player not to represent your country. It hurt a lot but you have to look at yourself. There's no point pointing the finger at anyone else. The best thing for me to was to show the following season on the pitch what I'm about. You have to look at yourself in these situations.
I'm softly spoken, quite a quiet guy. I like to think I've got good manners and I'm someone you can have a laugh with. The media side of things is something I'm still getting used to but it's all good. Regardless of what people are saying it's just a case of playing your natural game. You just try to kick on and not pay too much attention to what's being said. Obviously it's nice when people have a good opinion about you though rather than a bad one.
I'm happy for Raheem that his manager is playing him so often. He's only going to get better with every game. It was a similar thing when Jack (Wilshere) came in here. In his first year he played over fifty games before his injury. He stepped up to the plate and it's the same with Raheem. He's a flair player, the type who gets you off your feet. It's not just fans who want that, managers and players too are exactly the same. It can be overwhelming at times but it's simple really, if you've got someone playing well you don't want to take them out of the team, regardless of their age. When things are going well, you want to play. Just ask Raheem. I remember when I came here I had to wait seven months before I played for the first team. It was tough but when you get the chance to play, to run out in front of those fans, it makes it all worthwhile. It's the best feeling to express yourself and I'm sure Raheem will feel the same. Liverpool have got themselves a good winger there. He needs to look after his body and I'm sure he does, because that's important as he's still young, still growing.
Not one bit did I expect to be used so regularly this season. I was hoping to make the bench at best. I'm just so thankful the manager has given me a chance and from there it's kicked on. I'm obviously very happy with how it's gone so far and feel I've taken my chance. In my first couple of games for the first team the manager said to me 'I'm not putting you in the team because I feel sorry for you - I'm putting you in because you deserve it and have been brilliant since I came into the club'. You don't want to take a break and rest but as a young player sometimes you do need it. I hope to have a rest soon and then I can move on from there.
When we talk of people helping out in the dressing room, even though I'm 23 and still learning the trade myself, it's something I'm happy to take on. Likewise, there's plenty I can learn from the younger players. As I've said before, every player has experienced those first steps at senior level and if I can make that period easier for any of our younger lads I will. I've had so much experience at such a young age I feel my own experiences may help others. I always pop a text out to ask how people are. Maybe they've got an injury problem or not performing well - I'm always there for the players now. I think that's the stage I've got to and I'm willing to take on that responsibility. I don't like to see players injured, or going through a bad spell. I try to lift them.
The best thing about Raheem is that he can take every game as it comes. The fact he's learning every game and going away with England now, performing well, can only help his career. He's got a good manager behind him, supportive team-mates, and they'll help to point him in the right direction.
It was amazing to make my England debut against Sweden, and again a real shock. I always knew that if I played well for Liverpool Jamaica would show an interest but I've played for England all the way up from the youth teams so it wasn't ever really a major decision. I was never going to turn my back on England having represented them at various levels. Roy Hodgson was brilliant with me, put me at ease straight away. I wouldn't mind a trip to Brazil in 2014 - what player wouldn't!
I wouldn't say I aspire to be like any player in particular but of course I like to watch players like Lionel Messi and Cristiano Ronaldo. They're obviously the two best players in the world and while I wouldn't want to put too much pressure on myself, it's good to try and take things from watching those at the top. If you can add stuff to your own game by watching other players that's only a good thing. My mum always keeps me check too, I'm happy to have her around. She'd never let me get too big for myself. I take advice from her and the other people around me, who are there to guide me.
It has to be Thierry for me. He always told me to believe in myself and that meant a lot. The best thing he told me was to trust your team-mates and trust yourself. If you believe in that and can carry it off, you'll go far. I had a number of great chats with him over the years and he was always a real help. We still speak now and I'll always really get on well with him.
One of my main aims for the new year is to get on the score sheet more often and prove myself to be a match-winner. In the same way, I want to get more assists to my name. I was on the score sheet quite a lot as a youth team player but again I think it's just a case of finding your way with the first team and then hopefully the goals will flow more regularly. It's certainly something I'll be trying to do more of next year.
I do set personal goals and to be honest I've nearly hit it already this season. I wanted to score 15 goals and around 15 to 20 assists. I've scored 16 so far so I'm doing okay. The other goal I always set myself is to stay fit. It's important for me to look after myself. They're my goals for the season but I haven't really thought of any yet in terms of the new year. I guess it's just to keep on improving and help Arsenal climb that table. It's about having the mind-set that if we don't play well but get the three points that's the most important thing. Three points every week, I'll take that.
Sometimes I think I've shown the fans what I'm about, but other times I know that I've been sloppy. It's a challenge for defenders to play against the smaller guys like Theo and myself but likewise it can be difficult for us against bigger players. I'm always up for a challenge and it's about working out how you can outsmart your man wherever you are on the pitch. I like to be on the left side or just behind the striker but to be honest I'm not really fussed either way. As long as I'm doing okay and the team are winning that's the main thing. Where I'm actually playing in terms of the position isn't that important. It's natural I guess for an 18-year-old to have ups and downs in their performances and times where you can feel tired. I'm looking forward to 2013, where I'm sure I can kick on and add more consistency to my game.
As a club it's important that we don't get to the stage where we're thinking about other teams. We don't want to be competing with those sides just going for fourth position. We want to be challenging for the league. Don't get me wrong we're a lot of points behind but we don't want to be the sort of team that is only going for the final Champions League place - we want to be going for the title. This season that doesn't look to be the case, and it does look as though we're fighting for fourth, as a lot of teams are, but it's a building process. I believe we're starting to get there, to get to that next level. We need to get there pretty quickly though as a lot of teams are catching up. Teams are getting better every year and as everyone says, there are no easy games in the Premier League. There have been some real surprise results this season which no-one would have predicted and that's where we need to start to think about kicking on as we don't want to be chasing other teams.
I think we've underachieved to be honest. There are plenty of games which we could have won but didn't get the right result. It's a work in progress though and it's a case of day by day our game is getting stronger and stronger. It's one of them where we're not quite at our best all the time but we will get there. To finish third and to quality for the Champions League is something I feel we're more than good enough to achieve. It's all about consistency and if that's something we can achieve then the quality is there to achieve what we want.
Theo Walcott and Raheem Sterling wear the Nike Mercurial Vapor IX which delivers performance innovation and explosive speed for the fastest players on the planet. Learn more about the boot here