Liverpool stats
As we continue the build-up to the forthcoming Premier League campaign, with help from Opta, Sky Sports picks out some key stats for Liverpool fans to consider ahead of the new season.
Last Updated: 27/07/13 2:35pm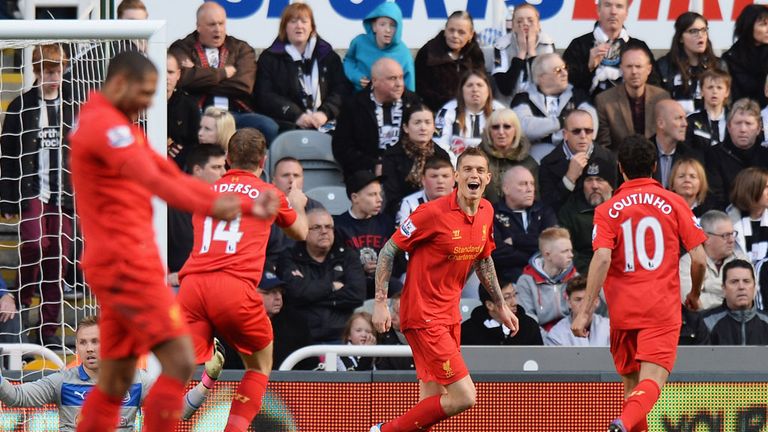 A seventh place finish in Brendan Rodgers' first season in charge at Liverpool was nothing to write home about in many respects. It wasn't the instant turnaround and return to the top four some fans would have hoped for but with finishes of 7th, 6th and 8th going into last season it wasn't too great a shock that they didn't reach those heights.
Steady progress seemed to be the theme of the season and after a shaky start, the Reds looked impressive at times in the second half of 2012-13 with the likes of Norwich, Swansea and Newcastle emphatically beaten. They will hope that further improvement this season can ensure they are at least in the mix for a Champions League spot next spring.
Shots (Players) - PL 2012/13

Player
Team
Shots
Luis Suarez
Liverpool
187
Gareth Bale
Tottenham
165
Robin van Persie
Man Utd
141
The star of last season for Liverpool was undoubtedly Luis Suarez. The Uruguayan splits opinion like no other player currently plying his trade in England's top flight but in terms of footballing ability there are few better in world football. He hit 23 league goals last term, despite missing five games through suspension, including the final four for his bite on Branislav Ivanovic.
Despite that, the striker still managed more shots per game than any other player in the division. 187 shots in all shows just what the Reds will be missing should their no 7 get his wish and leave Anfield. His ability to create something out of nothing and dig out shots from the most improbable of angles would be hard to replace.
As a team, Liverpool also had the most shots per game on average, no doubt helped by the efforts of Suarez. Players such as Steven Gerrard, Philippe Coutinho and Daniel Sturridge are also never shy of having a pop but in spite of peppering the goal with shots and scoring plenty of goals, there is clearly room for improvement. The Reds' team conversion rate was only the 10th best in the league and they must become more clinical if they are to threaten the Champions League places.
Shots (Team) - PL 2012/13
Team
Shots
Liverpool
528
Tottenham
488
Man City
485
At the other end, much has been made over the arrival of goalkeeper Simon Mignolet and whether the Belgian is good enough with his feet to fit into Rodgers' preferred style of play. That remains to be seen but one thing Kopites may have to get used to is seeing their new goalkeeper opt to punch the ball clear, rather than catch it. He chose that option more than any other stopper in the league, punching 11 times more than Petr Cech is second.
Pepe Reina's ability to deal with crosses is one aspect of his game that has been questioned and should he be ousted by Mignolet then Liverpool may have keeper more willing to come and deal with crosses, one way or another.
Punches - PL 2012/13
Player
Team
Punches
Simon Mignolet
Sunderland
39
Petr Cech
Chelsea
28
Hugo Lloris
Tottenham
26