Suarez saga
Luis Suarez was the Liverpool darling but as his transfer away from Anfield threatens to drag on throughout the summer, both player and club have reasons to be worried, writes Daniel Storey.
By Daniel Storey - Follow me
Last Updated: 18/07/13 9:04am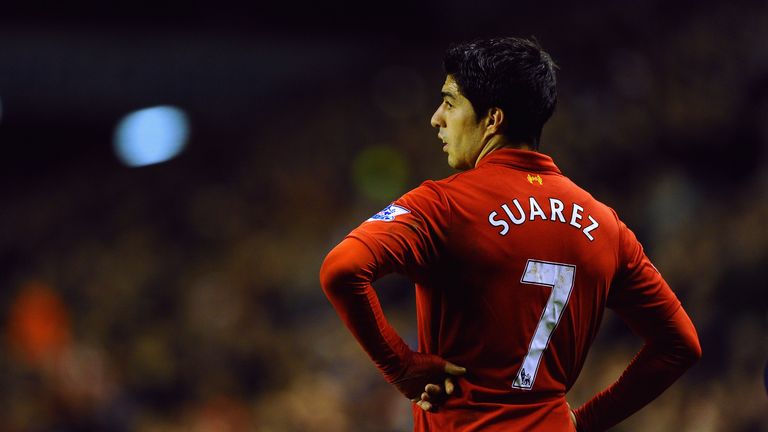 After the initial shock that their top scorer and star player wanted to leave the club, Luis Suarez's demand to leave Liverpool, first expressed in May, perversely gave supporters at Anfield genuine reason for optimism.
Modern player power indicates that there is little point holding onto a player against his wishes. In announcing his intended departure despite loyal and continued support from both club and fans over his multiple controversies, Suarez had effected a turn in the tide of opinion on Merseyside. This was the last straw, fans decided, and if the club could gain a fee of £35-£40million, an overhaul of the squad could be instigated in order to fund a bid for a top-four finish. The signings of Philippe Coutinho and Daniel Sturridge in January had led to sufficient optimism that Liverpool were once again a club that could genuinely be considered as on the up.
Furthermore, Suarez had explicitly stated his desired destination, effectively removing the potential of a drawn out saga. "A player always aspires to be at the top of their profession and Madrid is at the top for any football player. I will give my soul every time I step on the pitch." If a quick deal could be initiated, and Suarez shown the door with the minimum of fuss, it would enable the club to focus on more pressing, and ultimately rewarding matters. Suarez was given a deadline of July 22 to resolve his future before preseason training began.
Unfortunately for both player and club, Real Madrid have not answered Suarez's call. Whilst they may yet choose to make a bid for the Uruguayan, the Spanish club have instead chosen to focus their interests on the signings of Isco, Daniel Carvajal and Asier Illarramendi for a combined €65 million. Liverpool, meanwhile, have named the striker in their squad for the preseason tour to the Far East. The official line is still that the striker is not for sale, but in reality a sufficient bid has simply not been received.
Silence
Such has been Real's comparative silence over signing Suarez that the player himself has been forced to widen his options. This being Luis Suarez, he has done so in public. After originally lashing out at the English media for his supposed mistreatment - "I'm not prepared to continue to put up with the English press. I suffered too much as a kid to get where I am to be attacked unfairly by the English press" - Suarez has backed down from such an insistence in recent weeks, with reported interest from Arsenal offering the possibility of remaining in England and participating in the Champions League. Whether or not the Gunners would be prepared to almost treble their transfer record for a player who is banned until October is a separate matter entirely.
However, if Suarez is alarmed by any delay on a personal level, Liverpool should be more concerned. Having allowed Andy Carroll to leave, Brendan Rodgers reinvested the money in Iago Aspas and Luis Alberto as attacking options (alongside goalkeeper Simon Mignolet) but Suarez's departure places a significant (23 league goal-sized) ceiling on Liverpool's expectations next season. Rodgers will surely be looking to reinvest the profits in a top-class forward, but until Suarez actually leaves the club, such a signing cannot be made. Liverpool are a club that have suffered from buying players at a time when requirement has become desperation through time running out to complete deals (see Carroll, Andy).
More worrying still, this is not the summer in which to be an English club searching for a striker, particularly one unable to offer European football. Despite only Carlos Tevez leaving for foreign climes, every club in the Premier League's top five are actively looking to supplement their attacking options. Furthermore, the decisions from Radamel Falcao, Edinson Cavani, Mario Gomez and David Villa to turn down the clutches of Premier League clubs has significantly shrunken the pool of striking talent. Gonzalo Higuain is now reportedly in discussions with Napoli, whilst Alvaro Negredo looks set to join Manchester City. Reports of the Premier League's inability to attract high-quality players is perhaps over-stated, but Spurs, Arsenal and Chelsea are still left searching for a forward. As yet, Brendan Rodgers is still unable to join that queue.
There is a danger of Luis Suarez's acrimonious split from Liverpool verging into saga territory. The more protracted his sale becomes, the less time the club have to find a replacement - worrying given the inadequate attacking options of last season. Supporters at Anfield know only too well the potential damage caused by big budgets burning holes in pockets on Deadline Day. A speedy resolution is necessary.