Henderson Q&A
Ahead of the new Premier League season, Jordan Henderson speaks exclusively to Sky Sports about Liverpool's top-four ambitions, the need to 'step up to the plate', and the future of Luis Suarez
By Peter Fraser - Follow me on Twitter @SkySportsPeteF
Last Updated: 22/08/13 5:22pm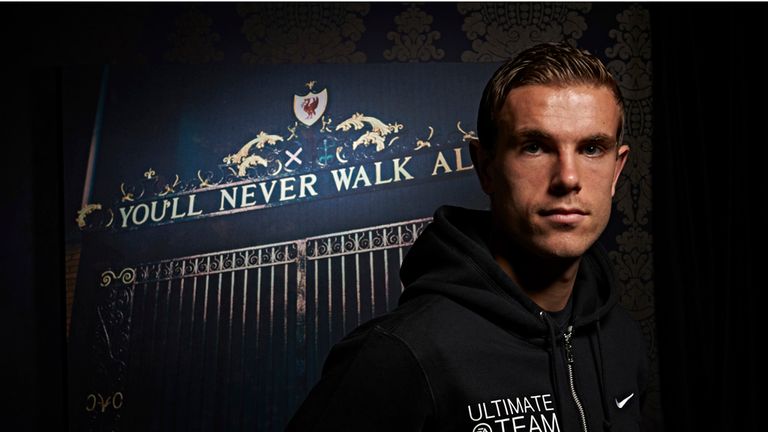 There is a sense of optimism at Liverpool ahead of the new Premier League season. The second year of manager Brendan Rodgers' Anfield evolution holds promise.
Despite the uncertainty over Luis Suarez's desire to leave, the target in the build-up to Saturday's opener against Stoke City is to overcome recent underachievement and return to the top four.
Here, in an exclusive interview with Sky Sports, England international Jordan Henderson - who was speaking at an EA SPORTS FIFA 14 preview event - lifts the lid on Liverpool's aspirations and gives an inside view on Suarez.
The 2011 £16million signing from boyhood club Sunderland also assesses his own Liverpool career to date in answering some of his critics and surviving Rodgers' cull of other Kenny Dalglish signings.
Liverpool have been busy this summer and have already signed Kolo Toure, Luis Alberto, Iago Aspas and your former Sunderland team-mate, Simon Mignolet. How excited are you by the new arrivals?
They have been brilliant and settled in really well. They have done really well in pre-season and I am sure they will strengthen the squad. We are looking pretty good and we are confident going into the new season.
Brendan Rodgers has been keen to improve the strength in depth of the squad. Is that a key to success for Liverpool?
Maybe. It can play a big part, because throughout the season I am sure there will be injuries and fatigue. So, you need to make sure your squad has got good depth and there are players who can come in and do just as good a job. Hopefully that is the case and we start the season really well.
A possible departure over the summer has been Luis Suarez but he could now stay. How much of a boost is that for Liverpool?
It is obviously a huge boost. He is a world-class player and you have got to try and keep your best players. He is definitely one of them, so it is brilliant news he might stay. We look forward to the new season and hopefully he can pick up from where he left off.
Rodgers has said Suarez needs to apologise for his behaviour in seeking a transfer. Do you think he needs to say sorry?
That is not really for me to say. You never really know what goes on behind the scenes in terms of players, managers and owners. That is down to them. But, in terms of for us in the team, there will be no problems. It will just be like it always has been.
How does Suarez rate among the players you have played with in your career?
He is one of the best players in the world. He can do things in a game that not many people can do. It is brilliant news he might be staying and all we can do now is focus on getting ready for the season.
What can Liverpool achieve this season in the Premier League?
The season starts on Saturday and I am looking forward to it. I think we have got to treat each game as it comes. A lot of people are saying top four and stuff like that. But we have just got to improve from what we did last season and, as a team, hopefully we can get that top-four spot.
You have now been at Liverpool for just over two years but, with the changes in manager and players, you are one of the more experienced in Anfield life. Is that a strange feeling?
Like you say, I have been here two years now and I feel a lot more settled. I now feel more a part of it and more involved in the team. Obviously, with being here a couple of years, you get to know people better at the club. So, hopefully that will be positive and I can keep on improving all the time.
How long does it take to settle at a club the size of Liverpool? Was there a moment when you finally felt at home?
You have got to get to know people and moving down to Liverpool from the North East was a huge change for me. But, at the same time, you have just got to get on with it and that is part and parcel of being a footballer.
Your debut for Liverpool was against Sunderland. Do you remember your feelings and how did you react?
Obviously it was an amazing feeling to play for Liverpool for the first time. It was a little bit funny to be playing against Sunderland but it is still an amazing feeling every time I put on the Liverpool shirt.
How did your Liverpool debut compare to your first game for Sunderland in terms of pressure?
There was probably more pressure. When you are very young and come through at a club, like I did at Sunderland, I suppose people do not expect as much and have not really heard much about you. Whereas, when you sign for a club the expectations are higher. You have got to deal with that and get on with it.
How was the level of expectation you experienced when first starting at Liverpool influenced by your £16m price-tag? And, after a good season in 2012/13, is it nice to be proving wrong the critics who questioned your transfer fee?
I have never felt like I need to prove to people that I am worth that sort of money. I have never looked at it in that way. It has nothing to do with me and I do not think about it too much. The most important thing for me is to make sure I am improving every single day. I want to be the best I can be and also help contribute to the team in every game I play.
Part of doing your best would surely involve playing in your strongest position. Your versatility means you have been used in several different roles. Do you have a favourite position?
I would say I am more comfortable in the centre of midfield. But when you are at a big club like Liverpool, you maybe get played in positions with which you might not be so familiar. But you have got to learn the different roles, because it gives you a better opportunity to play. I played a lot last season on the left-hand side of a three in midfield. I enjoyed that role. I thought I scored some good goals from that position. I enjoy playing wherever and you just want to get in the starting XI.
You mentioned learning more about the game. How much have you developed in playing alongside Steven Gerrard at Liverpool?
You learn a lot from people like Stevie. He is a great role model and is a great leader. It is a privilege to be training and playing with him every day. You learn a lot from him in training and in watching him on and off the field - the way he goes about things. Hopefully I can keep learning from him and it will benefit me.
Pundits have suggested you could be the successor to Gerrard in the heart of midfield when he eventually leaves Liverpool. Is that a target for you?
That is a big statement [laughing]! I think Steven Gerrard has been one of the best players in the world for many years. If I achieve a fifth of what he achieves, I will be doing something right. You learn from people like Stevie but to become someone like him, you need to be very focused on what you achieve. Hopefully, one day, I can be in a position like him.
You have captained England Under 21s and you led Liverpool in their pre-season friendly against Valerenga. With the retirement of Jamie Carragher this summer, is there now a need for you as an English player to become more of a leader to support Gerrard in the dressing room?
Steven is obviously the leader as the captain of the team and the club. Dan [Daniel Agger] is also now the vice-captain. But I think everybody has got to step up to the plate. On the pitch, everyone has got to lead in their own way. Hopefully I can contribute to that as well.
Your fellow Kenny Dalglish signings, including Andy Carroll, Charlie Adam and Stewart Downing, have now mostly been sold by Rodgers, while Jonjo Shelvey has also left. Rodgers clearly rates you. How important is that faith?
At first, I might not have started as much as I liked [under Rodgers] but he always had conversations with me on what I needed to improve on and what I needed to work at in order to get in the team. I felt like I went away and did that. I am still doing that. The manager has been brilliant. I have learned a lot from working with him and hopefully can continue to do that for a few more years.
What is Rodgers like as a manager? Does he have fear factor or is he a boss who is approachable?
You can definitely always talk to him. If you have a problem, you can speak to him and he will give you an honest answer. But, at the same time, he will give you a kick up the backside if needed. He has been brilliant for me and for the club in the short period of time since he arrived. He will get better and better as time goes on as well. He has been fantastic for me on a personal level and brilliant for the club as well.
Jordan Henderson was speaking at an EA SPORTS FIFA 14 preview event. Pre-order the FIFA 14 Limited Edition on Xbox 360 and PS3 before August 25th and receive 24 FIFA Ultimate Team PREMIUM Gold Packs only at Game.co.uk